Editor's note: Find the latest COVID-19 news and guidance in Medscape's Coronavirus Resource Center.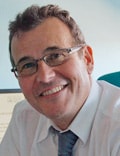 Endocrinology units turned entirely over to patients with COVID-19 when the pandemic struck the French capital could start returning to routine care soon, says one expert from the front line.
Jean-François Gautier, MD, PhD, is professor of medicine and head of diabetes and endocrinology at Lariboisière Hospital, in Paris, France.
Gautier transformed his unit into an inpatient unit dedicated to patients infected with the virus when it struck hard in Paris in March.
Medscape Medical News caught up with him to discover how he made the transformation, what impact this had on his staff and regular patients, and when he envisages going back to routine care.
Why did you transform your department?
The reasons are very simple. The first is that we decided to be involved, as diabetologists, in the care of patients with COVID-19. Everyone involved with my department agreed.
The second reason, which is the most important, is that we share our building with the intensive care unit, the infectious disease department, and internal medicine.
So, in 3 days, when the surge happened, we totally repurposed the department, switching from routine diabetes and other endocrinology patients to noncritical patients with COVID-19.
It was very, very rapid, and all our nurses and physicians had to be trained by the infectious disease and intensive care staff.
How did that affect the team?
It was very stressful for everybody even if we, in our department, are accustomed to taking care of very complex diabetes patients with a lot of comorbidities.
We are trained to take care of heart failure, kidney disease, and infectious disease in patients with diabetes, but it was totally different to monitor oxygen saturation and respiratory frequency, and it was difficult for us.
What did you do with your regular patients?
When the epidemic arrived in Paris, all specialties stopped routine care and they only took care of the emergencies related to their specialty.
We had to disseminate them to other units in other buildings of the hospital, most of them to rheumatology and also to neurology.
We were able to keep 60 beds for non-COVID-19 medical patients for all specialties — diabetes, rheumatology, neurology, etc — and we kept 60 beds for surgery.
The capacity of our hospital is 800 inpatient beds, and with our building totally dedicated to patients with COVID-19, we were able to take care of 125 noncritical patients.
In the intensive care unit, we increased the number of beds from 15 to 18, but of course it was not enough.
So we stopped all routine surgery and transformed the recovery rooms to intensive care units for patients with COVID-19, and the number of intensive care beds increased to 66.
However, overall, we reduced the capacity of our hospital by more than half, because patients with COVID-19 need a lot of staff supporting them.
Even in our building dedicated to noncritically ill patients with COVID-19, we needed to increase the number of nurses and physicians taking care of these patients.
Were any of your staff infected?
In our department, we have 81 nurses and physicians, and 17 of us were infected.
The strange thing was that most were infected before we transformed the department, during a short period of time when mask use was not mandatory.
We have an outpatient center dedicated to diabetes, and most of the infected healthcare workers were working there.
Is the situation improving?
To help the physicians working in the intensive care unit, we ask two residents and two senior physicians to be on duty each night to take care of our 125 noncritically ill patients.
Every night we had a lot of people coming up from the emergency, and we saw some people in very bad shape, but now it's improving.
The building is still full of patients, ie, when one patient goes back home or to post-hospital care, we have another coming in.
But it's calmer. For example, 4 weeks ago, we had more than 250 patients coming into the emergency room per day and now it is around 100.
On my last weekend on duty, only two patients came onto our unit during the night, compared to between 10 and 20 the week before, so it's getting better and slowing down.
On April 24, we closed 22 COVID-19 inpatient beds and opened 13 beds in another building for COVID-19-negative diabetes and endocrinology emergencies. This unit is already full.
When do you think you could go back to routine care?
We are trying to transform back half or one third of our beds to normal activity, and we hope to go back to a little routine care soon, depending on the availability of nonmedical and medical personnel.
We anticipate reopening our outpatient center on May 17.
We will proceed cautiously because we are afraid of the possibility of a second wave of the pandemic.
No funding or conflicts of interest declared.
For more diabetes and endocrinology news, follow us on Twitter and Facebook.
Medscape Medical News © 2020 WebMD, LLC

Send comments and news tips to news@medscape.net.
Cite this: Diabetes Doc Who Turned His Unit to COVID-19 Sees End in Sight - Medscape - Apr 29, 2020.