Editor's note: Find the latest COVID-19 news and guidance in Medscape's Coronavirus Resource Center.
Grief-laden posts are coursing through social media following the suicide on Sunday of emergency department physician Lorna M. Breen, MD, who had been immersed in treating COVID-19 patients at the epicenter of the disease in New York City.
Breen, 49, was the medical director of the ED at NewYork-Presbyterian Allen Hospital in Manhattan.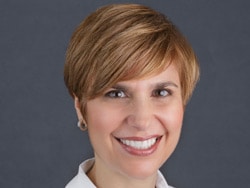 According to a New York Times report, her father, Dr Philip C. Breen, of Charlottesville, Virginia, said his daughter did not have a history of mental illness but had described wrenching scenes, including that patients "were dying before they could even be taken out of ambulances."
The report said Lorna Breen had also contracted the virus but had returned to work after recovering for about 10 days.
Her father told the Times that when he last spoke with her, she seemed "detached" and he knew something was wrong.
"The hospital sent her home again, before her family intervened to bring her to Charlottesville," the elder Breen told the newspaper.
The article indicated that Charlottesville police officers on Sunday responded to a call and Breen was taken to University of Virginia Hospital, where she died from self-inflicted injuries.
"Make Sure She's Praised as a Hero"
Her father told the Times, "Make sure she's praised as a hero, because she was. She's a casualty just as much as anyone else who has died."
That's just how she was described in a statement to Medscape Medical News from Columbia University Irving Medical Center and NewYork-Presbyterian.
"Words cannot convey the sense of loss we feel today," the statement said. "Dr Breen is a hero who brought the highest ideals of medicine to the challenging front lines of the emergency department. Our focus today is to provide support to her family, friends, and colleagues as they cope with this news during what is already an extraordinarily difficult time."
Adam B. Hill, MD, of Indianapolis, tweeted, "A pandemic weight added onto an epidemic of suicide in medicine. The tragedy will be increasingly heartbreaking. Rest In Peace Dr. Breen. I wish so much love to your friends, colleagues & family. We MUST do more for the mental health of our profession. NOW!"
https://twitter.com/Adamhill1212/status/1254856655000526848
Cleavon Gilman, MD, with New York-Presbyterian Hospital tweeted, "This is devastating! I'm mourning the death of ANOTHER colleague, this time ER attending Dr. Lorna Breen. Always with a smile! She cared so much about everyone! Between patients and colleagues, there has been nothing but death the past weeks."
https://twitter.com/Cleavon_MD/status/1254864806600781824
"It's Too Much"
Ebony Jade Hilton, MD, an intensive care unit anesthesiologist in Charlottesville, tweeted: "Behind the white coat & stethoscope we are just humans. I can't explain the emotional load that comes from being the final say on orders that determine life or death for another person. Top that with the threat of your own life & it's too much.
https://twitter.com/EbonyJadeHilton/status/1254859504367230976
The Times reports that Angela Mills, MD, head of emergency medical services for several NewYork-Presbyterian campuses, including Allen Hospital, emailed hospital staffers Sunday to inform them of Breen's death.
Jessica Gold, MD, MS, assistant professor of psychiatry at Washington University in St. Louis, Missouri, told Medscape Medical News while it's impossible to know what led to one particular suicide, this virus has presented some particular challenges.
Because it is a novel virus, she said, there are no proven protocols, and the lack of answers is an equalizer for healthcare workers and managers alike. Managers may feel even more stress as providers turn to them for direction.
Gold, who specializes in physician wellness, said people talk about a "second wave" of mental illness, but she says it is happening in parallel, especially among healthcare workers. A lack of personal protective equipment, for instance, has a mental health consequence as well as a potential physical consequence.
Gold said she hasn't seen signals that a wave of similar tragedies could come.
"It's not a clear-cut inevitable thing that's going to happen," she said, adding, "There are always things we can do. There are always interventions."
One hopeful sign is that people are reaching out to each other in unprecedented ways during this pandemic, she said.
In a commentary published online April 21 in Lancet Psychiatry, members of the International COVID-19 Suicide Prevention Research Collaboration warn that suicide rates are likely to rise as the long-term effects of the pandemic spread.
"Preventing suicide therefore needs urgent consideration. The response must capitalize on, but extend beyond, general mental health policies and practices," the experts write.
Gold agrees with the need for prevention.
Whereas the current focus has been on testing and a vaccine and death tolls, "we also need to start making mental health a priority as well so the resources will be in place when they need them," she said.
For more news, follow Medscape on Facebook, Twitter, Instagram, and YouTube.
Medscape Medical News © 2020

Cite this: ED Physician at Epicenter of COVID-19 CrisisLost to Suicide - Medscape - Apr 28, 2020.