Editor's note: Find the latest COVID-19 news and guidance in Medscape's Coronavirus Resource Center.
As a kid, Mark Hamilton knew exactly what he would be when he grew up: a professional baseball–playing doctor. As improbable as that dream may have seemed, in early April, Hamilton got a medical degree to go with his World Series ring. "My dad always told me it was possible to do both," he explained. "You can only play baseball for so long."
Hamilton's professional baseball career took him through St. Louis, Boston, Atlanta, and even international leagues in Mexico and the Dominican Republic. Now at 35, his professional medical career will start in New York, the American city hit hardest thus far by COVID-19.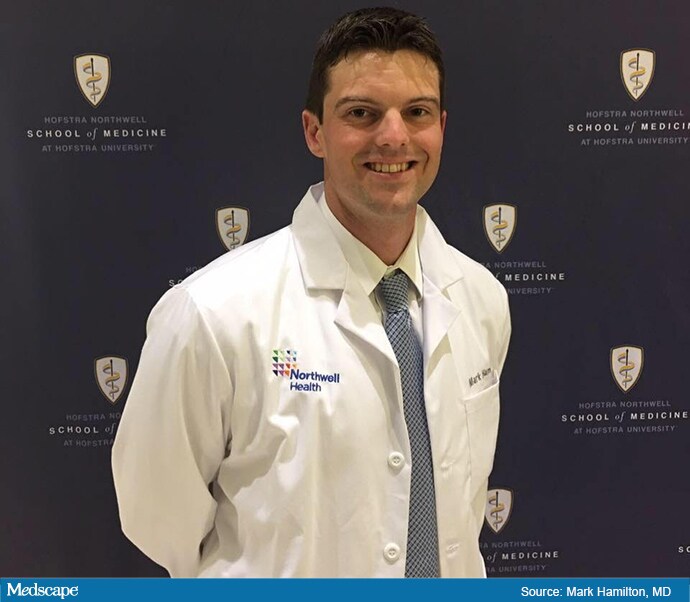 Mark Hamilton, MD, at the Donald and Barbara Zucker School of Medicine at Hofstra/Northwell.
Although this certainly wasn't how he envisioned finally entering medicine, the pandemic has only strengthened his passion. "I love medicine. Something like this doesn't make me change my stance on that." Using an analogy that he is uniquely qualified to make, Hamilton explained that, when it comes to putting his own health on the line for others, "It's part of the game."
From the MLB to Medicine
It was dinner table talk that first got Hamilton interested. Not in baseball, but in scientific advances. "My father was the assistant director of GI pathology at Johns Hopkins," he described. "In the late 80s, over dinner, he would talk about tumor suppression genes." Hamilton loved that his father, Stanley, would describe genomics without simplifying things for his family. "Dad never held back. He didn't obscure the details. I was always curious about his work."
As Hamilton's interest in the medical field grew, so did his talent for baseball. When he declared that he planned to pursue both, his father didn't discourage him. Instead, he gave his son an example. "He told me about Bobby Brown, who played with the Yankees in the 1940s and 50s and became a cardiologist." Brown graduated with a medical degree from Tulane University, which is where Hamilton began his undergraduate studies. "A lot of my decisions about Tulane were based on being able to have a balance of a high-quality education, as well as the opportunity to play baseball."

Mark Hamilton playing baseball at Tulane University.
Hamilton's plan was to start his premedical education at Tulane while seeing how far his baseball career would go. If he was done with baseball by the time he was 30, he would pick up his studies where he left off. In 2006, Hamilton was a first-team All-American at Tulane. He was chosen by the St. Louis Cardinals in the second round of the Major League Baseball (MLB) draft that year. He played in the Cardinals' minor league system and with their major league team until 2012, picking up a World Series ring with the team in 2011. Hamilton bounced between teams and stayed with baseball until 2014, the year he turned 30.
At that point, Hamilton returned to Tulane to finish his undergraduate degree in neuroscience before moving on to the Donald and Barbara Zucker School of Medicine at Hofstra/Northwell, in East Garden City, New York. He graduated early, owing to the COVID-19 outbreak. His final rotation was in internal medicine. The school suspended in-person education on his last day. Hamilton doesn't believe he missed any significant training and feels prepared to begin his residency in interventional radiology at Northwell Health this June. Right now, he isn't sure exactly what his role in caring for COVID-19 patients will be. He is mentally preparing to care for "two different sets of patients," those who are affected by the coronavirus and those seeking the procedures he expected to be performing.
Although the situation is vastly different, Hamilton seems ready for the pressures of the pandemic. "I'm drawing upon my experience in baseball. It taught me how to maintain resolve in stressful situations."
"The Team Aspect Is Still the Same"
Hamilton has always seen medicine as "an industry of innovation and problem solving." To him, in a way, COVID-19 is simply the next problem that needs to be solved. And the spotlight of major sports isn't the only reason he isn't nervous to start his career in the middle of a pandemic. "You always know these risks are out there. Maybe we didn't see it as a clear and present danger, but it is a calculated risk we are aware of when we all choose to begin medical training."
Thinking of his wife, Lauren, and his two daughters, 9-year-old Lillian and 6-year-old Madison, Hamilton confirmed that the outbreak "will make me be more conscious and more aware of my surroundings." But he hasn't second-guessed his second career. "Not at all." If anything, he's eager to join his new colleagues on this new field. "What I saw in baseball taught me how to get together with a group of individuals and attack a common goal. The outcomes and context are different, but the team aspect is still the same."
Unlike most students who feel a sense of competition with their peers, medical school was actually somewhat less competitive to Hamilton than his previous experiences. "When in you're in the minor leagues, you're playing against your own teammates for advancement. They're fighting for that spot on the major league roster just like you. You're always in competition in medical school, but when you're doing things to help people around you, your personal abilities and performance shine through by default."
"High Pressure, High Consequence"
Forced to choose which is harder, medical school or making it to a major league roster, Hamilton begrudgingly admitted, "As a career, baseball is harder, but only because of the luck involved. I felt much more in control of my path in medicine." He was quick to clarify that medical training is exceedingly demanding, but there are fewer variables on the path to success. However, he rarely sees the two tracks in opposition, more often finding parallels.
For example, when it comes to training, "A lot of people think of making the major leagues or becoming a physician as the end of training. It's really not a destination." Having spent time in the clubhouse with some sure-to-be hall-of-famers, Hamilton sees the way the best players approach baseball as guidance for how young doctors should approach medicine. "David Ortiz and Yadier Molina: They don't roll out of bed and onto the field. They prepare. They're in the video room studying how to be better." He explained that great athletes and great physicians have many things in common, but the biggest similarity is a desire to constantly improve.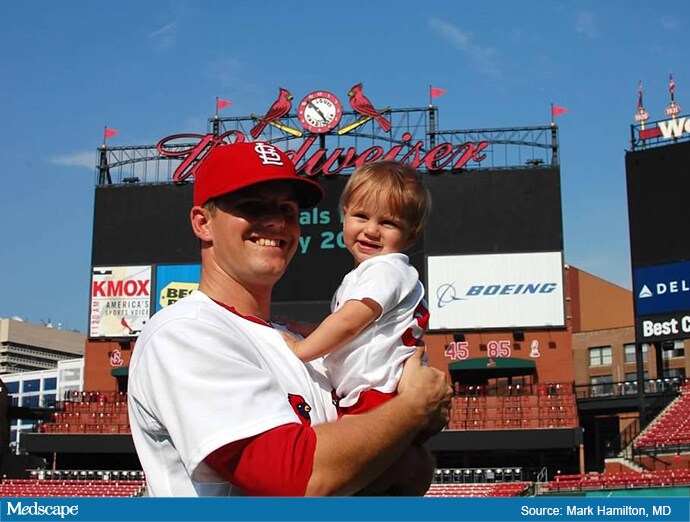 Mark Hamilton and his daughter at Busch Stadium in St. Louis, Missouri.
He may have graduated early, but Hamilton views his training as ongoing. That's part of what excites him so much about interventional radiology: the potential progress. "Everyone assumes athletes who go into medicine are going to do orthopedics or sports medicine," he explained. But what helped Hamilton choose his specialty was partially the innovations, mostly involving oncology. "It's all about patient outcomes," he declared while rattling off a list of breakthroughs he hopes to be involved with soon. The same curiosity and passion that started at his dining table listening to his father talk about progress with P53 still drives him decades later.
Although his journey has been unconventional, the way Hamilton approached athletics is the same way he plans to approach his new career. "In both baseball and medicine, there's high pressure and high consequence. When my focus is on the task at hand and helping the people around me contribute, that's when I end up being the best I can be."
Ryan Syrek, MA, is the section editor for Medical Student and Resident content at Medscape.
For more news, follow Medscape on Facebook, Twitter, Instagram, and YouTube.
Medscape Medical News © 2020

Cite this: Pro Baseball Player Turned Doctor Ready to Fight COVID-19 - Medscape - Apr 21, 2020.