Editor's note: Find the latest COVID-19 news and guidance in Medscape's Coronavirus Resource Center.
Over 7 days, Leora Horwitz, MD, admitted 58 patients for COVID rule-out—50 tested positive. At the time, her hospital had 12 non–intensive care unit (ICU) COVID-19 units; it's now almost entirely filled with COVID-19 patients.
The director of the Center for Healthcare Innovation and Delivery Science at NYU Langone Medical Center shared her experience on social media. She recounted the exhaustion caused by constant vigilance in having to remember to open doors with a paper towel, wipe her computer and phone with bleach before using, and of course not to touch her face.
Then there was the emotional toll of seeing terrified patients without any visitors and knowing some would deteriorate. "I've been spoiled by modern medicine—in general, I'm not used to feeling quite so helpless."
The number one priority for her patients was not to die alone in hospital—an unattainable luxury for many during a pandemic, but Horwitz successfully battled to find hospice care for two and helped others call or message family before anaesthesia and intubation, even though it sometimes took hours and use of her personal Skype.
The Twitter threads from the mom of three, who spent the week alone in a rented apartment near her hospital, resonated far and wide with over 10,000 retweets.

Horwitz in her PPE. It was the first time in 18 years she didn't wear her wedding ring: "Weird feeling. But made donning/doffing much safer and easier. I got to pretend #ILookLikeASurgeon!".
Vineet Chopra, MBBS, the division chief of hospital medicine at the University of Michigan, read Horwitz's thread and added his hospital's experience.
What were these physicians' quick takes and tips?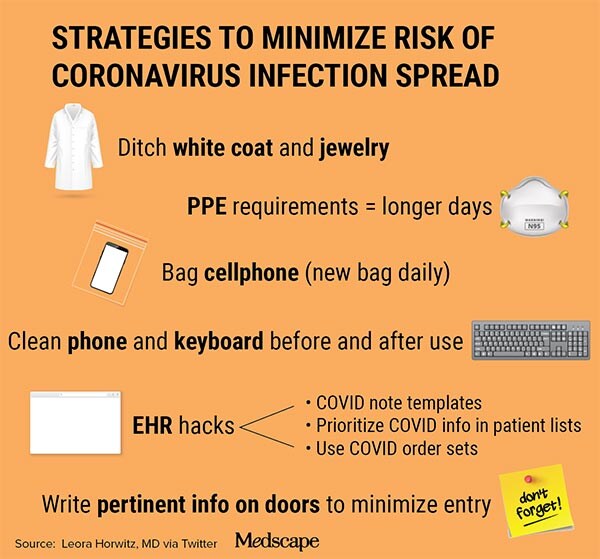 Clinical Course
Patients can deteriorate fast. Horwitz started calling the ICU for any patient who went from room air to requiring 6 L of oxygen per minute in under 24 hours.
Chopra saw two disease phenotypes: 1) those with mild-to-moderate hypoxia, who improve slowly over time, and 2) those with rapidly escalating oxygen needs, who proceed quickly to intubation.
The scary part for him was that it was not uncommon to see young, relatively healthy people end up on a ventilator (as reported in France).
Several of these young patents were obese, Chopra told Medscape, a risk factor for worse outcome in the H1N1 influenza pandemic.
Presentation
Lab and symptoms generally matched the published reports from China. As noted by others, asymmetrical lung involvement was relatively common, but it was rare for only one lung to be affected.
Nearly all of the NYU Langone patients admitted for hypoxemia had had symptoms for 7 to 10 days.
A few patients presented with syncope (two with head lacerations). These patients were early in the course of their disease, had orthostatic hypotension, but were not febrile, leading Horwitz to wonder if the virus has some effect on the autonomic system.
While ferritin and C-reactive protein levels were initially elevated, over time, they often moved in opposite directions, causing some confusion. Ferritin was not a great indicator of outcome: some patients with levels of 3000 µg/L did well and others with levels below 800 µg/L struggled.
In a retrospective analysis from two hospitals in Wuhan, China, published in The Lancet, higher serum ferritin was a predictor of mortality, but there were wide ranges in the survivors.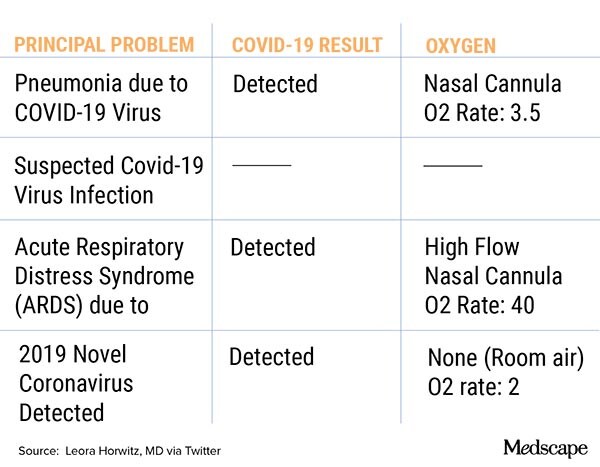 Persistent Fever, Painful Cough
High-grade, oscillating fevers, often with temperatures above 39 oC, were common. Horwitz was shocked by their persistence. Acetaminophen (Tylenol) was of little help, but some of the patients transferred to the ICU did not have persistent fever.
For the non–critically ill patients, persistent painful cough was the main symptom. Horwitz described wheezy coughing spasms, often precipitating oxygen desaturation. They tried cough syrup, albuterol metered-dose inhaler with spacer (they avoided nebulizers), and codeine, with little effect.
Relentless symptoms were also reported by hospitals in Wuhan—survivors had fever for a median duration of 12 days and cough for 19 days, with many still experiencing cough at discharge.
Lungs and Kidneys Primarily Affected
The deterioration seen with COVID-19 was not the usual sepsis picture. Initially there was just respiratory failure, but many ICU patients subsequently developed acute renal failure as others have reported.
In the experience of the Jinyintan Hospital and Wuhan Pulmonary Hospital, end-organ damage occurred late: both acute cardiac and kidney injury occurred a median of 15 days from disease onset.
Myocarditis was rare, possibly because this is a late complication. Chopra noted that some patients, mostly those with existing structural or ischemic heart disease, developed worsening cardiac dysfunction days after extubation.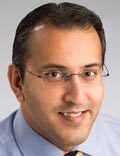 There is growing speculation that COVID-19 may look more like high-altitude sickness than typical acute respiratory distress syndrome or pneumonia in some patients. Lung compliance doesn't seem to be affected much, noted Chopra.
Given the very high d-dimer levels, Chopra wondered if some of the previously reported myocarditis may have been pulmonary embolism than myocarditis.
Both hospitals have started to use prophylactic heparin in critically ill patients.
Hydroxychloroquine and IL-6 Inhibitors
The standard protocol at NYU Langone is azithromycin and hydroxychloroquine/zinc. Horwitz didn't use hydroxychloroquine in patients who were recovering given the low anticipated benefit, and she was also hesitant to use it in patients with coronary disease or at risk for arrhythmia (they tracked corrected QT interval).
Chopra added that they saw gastrointestinal adverse drug reactions and liver function test abnormalities from hydroxychloroquine, without any clear evidence of benefit.
A controversial study from France supporting use of hydroxychloroquine and azithromycin has been criticized by statisticians and others for overstating the benefits of these drugs in COVID-19.
For the patients showing acute decline, Horwitz administered intravenous tocilizumab, an interleukin-6 (IL-6) inhibitor used to treat rheumatoid arthritis, off label. Chopra found that IL-6 blockers seemed to work when given early, but he warned that by the time the patient needed intubation, it was too late.
There is preliminary data from China and Naples, Italy, suggesting that tocilizumab reduced fever and need for supplemental oxygen in patients with severe or critical COVID-19 infection.
The drug is being studied in the TOCIVID19 trial. Chopra told Medscape that they continue to use tocilizumab, but because of national shortages, they try another IL-6 inhibitor, sarilumab, whenever possible.
Both hospitals are now participating in a clinical trial of sarilumab, and NYU Langone will also be a clinical site for trials of a third IL-6 inhibitor, clazakizumab, and the antiviral remdesivir.
Try Proning
The prone position for patients with COVID-19 is standard practice at the NYU Langone ICU. Horwitz said that her ICU team has been pushing hard for them to do it on the floors as well. She found that younger, thinner patients could do it, but it was very tough for older, heavier patients.
Chopra told Medscape that they ask patients to lie on their belly while breathing enriched oxygen, "and it does seem to work." They also have ventilated patients lie prone.
Guidelines on the management of critically ill patients with COVID-19 issued by the European Society of Intensive Care Medicine and the Society of Critical Care Medicine recommends prone ventilation for 12 to 16 hours over no prone ventilation, albeit based on little evidence.
Oxygen Needs and Physical Weakness
Even when ventilated patients seemed to be getting better, they continued to have a high requirement for positive end-expiratory pressure (PEEP). If you take them off too early, the oxygen saturation levels drop precipitously, cautioned Chopra.
Horwitz warned about exertional hypoxia. When she transferred a patient to a lower-acuity floor, he fainted after getting out of the wheelchair. From then on, pulse oximetry was continued on all patients until discharge.
Chopra concurred that patients were very weak "Yes, even a 30-year-old needs assistance to get up and go to the bathroom." He recommended early physical therapy and ambulation as key.
Most of Horwitz's patients ate little, which she attributed to a lack of taste, smell, energy, and misery from the fever.
Team Sport for the Win
Both physicians strongly recommended teamwork and leaning on colleagues. Chopra has never seen a disease that needs so many healthcare works to deliver care. COVID19 care required MDs, RNs, respiratory therapists, advanced practice providers, pharmacists, physical therapists, social workers, subspecialists, and palliative care providers, to name but a few.
Horwitz, a self-described medical minimalist, couldn't resist noting that she did not order a single CT, echocardiogram, or ultrasound for any of her 58 patients. "Turns out, you don't really need them, and this minimizes iatrogenic spread and staff exposures."
Despite everything, Chopra remains optimistic. "It's true, it's a bad disease. But we have discharged many people home after short hospital stays. All felt great at discharge. I'll count that as a win."
Tricia Ward is an executive editor at Medscape. She has written about science and medicine for both consumer and healthcare professional audiences for various publications.
Follow Tricia Ward on Twitter
For more news, follow Medscape on Facebook, Twitter, Instagram, and YouTube
Medscape Medical News © 2020 WebMD, LLC

Send comments and news tips to news@medscape.net.
Cite this: Tricia Ward. COVID-19 Practical Tips: US Docs Share Clinical Strategies - Medscape - Apr 08, 2020.