For the past 2 years, I have enjoyed my position as a staff neurologist at a county hospital in Memphis, Tennessee. Like many public hospitals, mine struggles with a limited budget to provide state-of-the-art care to countless needy patients. The crowding in the emergency and trauma intake rooms constantly reminds patients and staff of the need for better facilities.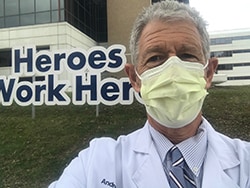 It has always seemed that the hospital administration has done all it could do to get through each day, putting repairs and improvements on perpetual hold. Physicians, nurses, and other employees try to compensate with, as our health system puts it, a "premier" attitude. All of us have signed on to the hospital's charitable mission, even if it means accepting lower salaries and less than optimal workplace conditions. A new $350 million hospital has been proposed, but no one can say when or if it will ever materialize.
A couple of weeks ago, COVID-19 arrived. On March 13, 2020, our hospital's president and chief executive officer created an official COVID-19 website. At that time, only one case had been documented in our county of 1 million people. The CEO called for a "pandemic preparedness plan" in accordance with the Centers for Disease Control and Prevention recommendations. The hospital chief medical officer and chief integration officer took point on announcements and logistics. Patients were limited to two visitors at a time. Given the remoteness of the threat, their position looked like grandstanding and overkill. After all, this wasn't New York.
For our county hospital, like many others across the country not yet facing the full-blown crisis, it seemed difficult to justify rigorous infection-control standards. But maybe hospital leadership knew more than we did, because the number of local cases soon started to increase.
Since then, hospital COVID-19 updates appear daily, and a special ward for coronavirus-positive patients has been established. Visitation has been nearly eliminated; visitors can enter only under exceptional circumstances and after passing COVID-19 screening. Staff stationed at each hospital entrance screen everyone with a questionnaire and temperature check. Any fever or "yes" answer pretty much gets you sent home. I've already been checked twice today (afebrile so far).
Our cafeteria has discontinued self-service items and replaced them with packaged foods. Dining hours are limited to permit more thorough disinfecting, while inpatients are now required to eat in their rooms. Students were banned from campus altogether.
Like everyone, we're expected to practice social distancing and diligent handwashing. On March 23, 2020, a telemedicine policy was enacted, allowing remote emergency room consults and eliminating face-to-face exposure. While the implementation of telemedicine was not without glitches, the speed of approval and acceptance was dizzying. The same day, the city ordered a "shelter-in-place" order, restricting movement to all but essential personnel. One newsletter opined that battling COVID-19 was going to be a "marathon" and that staff must prepare themselves for the long haul.
Innocent queries such as, 'Are you alright?' convey apprehension rather than concern.
The current mood in the hospital is subdued. When two employees tested positive, the attack on our healthcare providers became tangible. Employees come to work despite legitimate concerns about bringing the virus home to family members or catching it themselves. Staff move quietly and purposefully, obligated to avoid corridor chit-chat due to social distancing imperatives. For those on the front lines such as first responders and emergency room personnel, they know it will be next to impossible to avoid exposure. We already have infected patients in the hospital.
I'm trying to do my part, working my normal schedule. I'm a male over 60, and it would be a lie to say I wasn't worried about getting sick myself or bringing the virus home to my family. A recent article in JAMA suggested that it might be wise for hospitals to exclude older clinicians from the front lines as they won't be able to contribute much to the fight if they're dead. I confess to being biased, but it sounds like a good idea.
Despite the unprecedented progress and cooperation, some physicians and staff have become wary to the point of paranoia. Anyone with a cough, even due to an allergy or cold, becomes suspect. Innocent queries such as, "Are you alright?" convey apprehension rather than concern. One coughing physician dutifully making rounds was reported to the highest levels of administration as a menace to patient and staff safety. The unfounded accusation threatened to transform an esteemed physician with seasonal allergies into a pariah. The unfortunate episode illuminated the vulnerability of practiced civility to naked fear.
In the face of what has become a catastrophe of biblical proportions, the dedication of my colleagues to put patients first has been impressive. As I faithfully read the daily announcements, I am amazed at the hospital administration's efficiency and focus. I'm proud to be part of a team struggling to combat COVID-19 and continuing to care for patients with the usual non-coronavirus illnesses. I exercise regularly and try hard to stay healthy. It's going to be a long fight, and I want to continue to do my job.
Medscape Neurology © 2020 WebMD, LLC

Any views expressed above are the author's own and do not necessarily reflect the views of WebMD or Medscape.
Cite this: A Neurologist Over 60 Looks at COVID-19 - Medscape - Apr 06, 2020.