Find the latest COVID-19 news and guidance in Medscape's Coronavirus Resource Center.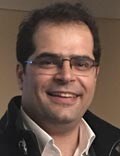 If it weren't for Dr Mohammad Molaei, a radiologist in Qom, Iran, who insisted that his dying brother be tested for the novel coronavirus, Iranian officials would have remained in denial for many more days. In early February, infectious disease experts from Qom and Mashhad had sounded the alarm about a new pattern of influenza that quickly progresses and takes down even the fittest of patients with peculiar radiologic findings, but the health ministry refused to take them seriously.
By February 18, when the first case of COVID-19 was confirmed in Dr Molaei's brother, Iranian health officials were on their second trip to Qom, aiming to calm the hysteria about the "seasonal pattern of influenza" that "should not be cause for concern," according to news reports in Farsi. Ironically, the confirmatory call came during the meeting and reportedly drained all color from the official's face.
In Iran we celebrate the Persian New Year on the first day of spring, March 20. We dress up in new clothes, sit around our decorated "Haft-seen," exchange kisses on the exact moment of the spring equinox, and then visit even the most distant relatives to eat sweets and dried nuts.
We so desperately looked forward to this Nowruz! Iran had experienced an exceptionally horrible year. Multiple earthquakes and floods had added to the economic hardships of crippling sanctions and a government that seems unable to get its priorities right. An uprising over increased fuel prices had been brutally crushed in the fall and the country had barely escaped all-out war against the world's most powerful military, before feeling the chill of winter in the form of a shot-down passenger plane.
COVID-19 was the salt on our many wounds, robbing us of the kisses, the parties, and the sweet hopes of a new beginning.
Iranian officials had been in a state of denial about the possibility of COVID-19 reaching their country. Memories of the last triple pandemic of famine, cholera, and the Spanish flu brought to Iran by British WWI troops had faded into historic amnesia along with the 9 million Iranians it had killed. Moreover, Iran had suffered minimally from contagions caused by SARS, Avian flu, and H1N1, giving it a sense of invincibility.
Now, the index patient was a healthy mountain climber with no foreign travel, in one of Iran's central cities that hosts millions of tourists annually.
BlueDot, the Canadian artificial intelligence start-up that first recognized the pandemic in Wuhan, predicted that Iran and Italy would be next. Yet, Iran failed to stop flights to China — maybe out of desperation as its planes aren't welcome in many airports — or to quarantine travelers. It also failed to prepare for such an event, and now that the virus was staring it in the face, it had no plan of response.
Within a month, COVID-19 showed its ugly face. As Iranian officials debated among themselves whether to lock down Qom with all of its religious significance, the disease spread to all 31 provinces, killed multiple political figures, and overwhelmed the already thinly stretched Iranian healthcare system.
Lack of a synchronized treatment protocol meant that personal preference determined the course of management and resource utilization. Constraints limited testing to those with uncertain diagnoses only, hence the widening gap between number of official PCR-positive COVID-19 cases and clinically diagnosed severe acute respiratory syndromes. In Qom, a city of 1.2 million, five of seven hospitals were converted to coronavirus treatment centers to meet the onslaught of patients seeking treatment.
In Tehran, Masih Daneshvari Hospital, the country's top pulmonology center, was hit the hardest, being forced to drop regular duties and turn away non-COVID patients, with unknown consequences for those populations. In northern Iran, hospitals were caught off-guard with the sudden surge, sending unprepared and unprotected personnel to battle a microscopic monster that is merciless.
As one former colleague put it, "This disease is calling out the weak and the elderly from every nook and cranny to take them on a journey with no return, and some of us will get entangled in the crowd."
Healthcare fatalities and casualties mounted indiscriminately. Nurses, medical university deans and chancellors, interns, veteran pulmonologists, and my EM colleagues — no one was spared. Physicians with whom I had worked side by side fell ill, and videos of them gasping for breath brought me to tears. Mahdiar Saeedian, a physician activist, reported as of March 28 that 927 clinicians had been infected, while 78 had passed away.
But it was the picture of Dr Farahi, an emergency physician in Qom, writing her own admission order that shook Iranian social media to its core. A few days back she had shared a video complaining about the inadequacies of PPE for frontline providers and had scolded officials for their lack of response.
Cries roared from around the country, echoing her concerns. Officials who had sent several batches of PPE to China only a few weeks ago now found themselves having to buy back the same equipment at a higher cost.
Sanctions were no help; although not to blame for the spread of COVID-19, they will bear responsibility for part of its mortality. The inability of the Iranian government to sell oil has limited its investments in healthcare, essentially crippling a much-needed overhaul of the system. Add to that the inability of Iranian companies to make any purchase through international banking systems and the fear of retributions, and you have the perfect storm.
And so, caught between a rock and a hard place, Iranian healthcare workers started dancing in symbolic defiance of the outbreak.
https://twitter.com/i/status/1235662251786465283
COVID-19 has proven to be as big a cultural phenomenon as it is a medical one. At the heart of the coronavirus despair, videos of Iranian healthcare workers in full-body PPE dancing to beloved Persian tunes have instilled joy in the fearful heart of a nation; a theocracy that has frowned disapprovingly on much less has turned a blind eye, despite the fact that public dancing is forbidden.
A surprisingly forward-thinking declaration by a top clergy in Mashhad allowed Iran's most iconic religious establishment, Imam Reza's shrine, to be closed to the public, and millions of pilgrims were turned away at the city gates. Physicians were once again hailed as saviors while traditional medicine men were brushed to the side. The crisis was the litmus test that revealed people's true colors.
But in the back alleys of the abandoned Persian bazaars are the forgotten many whose livelihood depends on a daily income. It appears that no matter what the threat — incompetent rulers, international sanctions, or infectious pandemics — they are the ones paying the price. For now, they stay home but Maslow told us a long time ago that fear of hunger precedes fear of death.
Meanwhile, Iran's respectably resilient healthcare system has risen to the challenge. Middle East's largest mall in Tehran has been converted into a field hospital to cope with the influx. Treatment protocols are updated weekly, while Iran's award-winning Blood Transfusion Organization has started collecting plasma from COVID survivors to use in severe cases.

Quarantine measures finally are being strictly imposed and the once vibrant streets of Tehran, mosques of Mashhad, bazaars of Tabriz, beaches of Ramsar, and riverbanks of Isfahan are deserted like the opening scenes of an apocalyptic Hollywood movie.

Soroush Sarjami, an emergency medicine PGY3 from Mashhad, is optimistic: "We had a rocky start because there was no leadership, but when reason prevailed, we started catching up to the disease."

Still, COVID-19 is a formidable foe. Iran's death toll is consistently increasing, and fears of a second wave are at the back of everyone's mind.

It's been a month since the Iranian Health Minister went on television and boasted that he knew this would all pass, since he had sought comfort from the 14th century Persian poet Hafez and a hopeful sonnet had revealed itself. These days, alongside an ever-growing photo gallery of deceased medical personnel, the sonnet's opening verse circulates:
The gladdest tidings arrived to say, that times of grief will not remain
The times have not stayed as they were, and this time too shall not sustain
Ali Tabatabaey was an emergency medicine physician in Iran, now studying health informatics in Toronto, Canada. He blogged for Medscape as a medical student.
Follow Medscape on Facebook, Twitter, Instagram, and YouTube
Medscape Emergency Medicine © 2020 WebMD, LLC

Any views expressed above are the author's own and do not necessarily reflect the views of WebMD or Medscape.
Cite this: Iranian Doctors 'Dance' to Defy Coronavirus - Medscape - Apr 03, 2020.