Here are some of the main UK and Global events of the COVID-19 pandemic to date.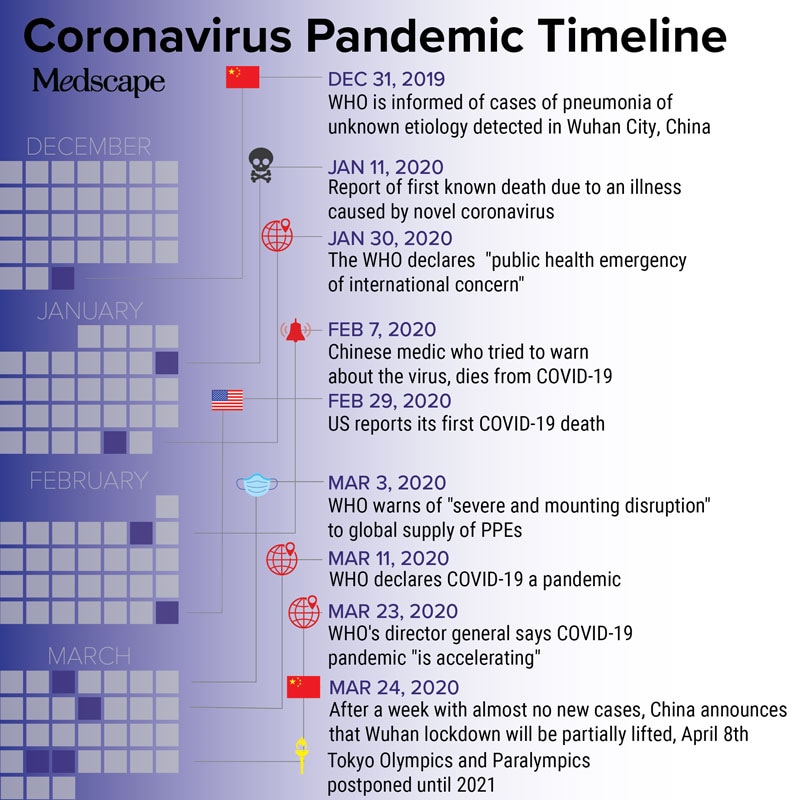 December 2019
31st Dec 2019: The World Health Organisation (WHO) was informed of cases of pneumonia of unknown etiology detected in Wuhan City, Hubei Province, China.
January 2020
11th Jan: 2020: Chinese state media reported the first known death from an illness caused by the novel coronavirus – a 61-year-old from Wuhan who had underlying health conditions.
12th Jan: China shared the genetic sequence of the novel coronavirus for countries to use in developing diagnostic kits.
13th Jan: Thailand reported the first imported case of lab-confirmed novel coronavirus (2019-nCoV) from Wuhan.
22nd Jan: Public Health England raised the risk level for novel coronavirus from 'very low' to 'low'.
29th Jan: The UK's first two patients, both Chinese nationals, tested positive for COVID-19.
30th Jan: The WHO declared the 2019-nCoV outbreak a "public health emergency of international concern".
Italian Prime Minister Giuseppe Conte confirmed two cases of coronavirus in the country but said; "There is no reason to create social alarm or panic."
February 2020
6th Feb: The UK records a third person with COVID-19, who contracted the virus while at a conference in Singapore.
7th Feb: Dr Li Wenliang, a Chinese medic who tried to warn about the virus, died from coronavirus.
28th Feb: UK authorities confirmed the first case of the illness to be passed on inside the country.
The first Briton – a passenger on the Diamond Princess cruise ship – was confirmed to have died from COVID-19 by Japanese authorities.
Feb 29th: The US reported its first death from COVID-19, a man in his 50s with an underlying health condition.
March 2020
3rd Mar: The WHO warned of "severe and mounting disruption" to the global supply of personal protective equipment (PPE), putting the lives of healthcare workers at risk.
4th Mar: The UK saw the largest one-day increase in cases of the virus, up by 34 to 87.
Italy announced it was closing schools.
5th Mar: A woman in her 70s in Berkshire became the first person to die in the UK from COVID-19.
8th Mar: Several northern provinces in Italy were placed in 'lockdown', with restrictions extended to the rest of the country the following day.
11th Mar: The WHO declared a pandemic.
12th Mar: President Trump announced travel restrictions on 26 European countries, later extending the ban to the UK and Ireland.
The UK raised the risk level from COVID-19 from 'moderate' to 'high'.
13th Mar: Sporting events, including Premier League fixtures and the London Marathon were postponed.
16th Mar: Modelling by Imperial College London suggested that a policy of suppression would save more lives than trying to mitigate against the virus.
Prime Minister Boris Johnson held his first daily press briefing during which he urged people to work from home and avoid pubs and restaurants to ease pressure on the NHS.
17th Mar: Sir Patrick Vallance, the Government's chief scientific adviser, told MPs it would be a "good outcome" if mortality from the virus could be kept below 20,000.
NHS England announced that all non-urgent surgery would be suspended from 15th April for at least 3 months to free up NHS resources.
18th Mar: The Government announced that schools in England would close for most pupils from Friday 20th, while Wales and Scotland also announced a closure timetable.
20th Mar: Pubs, restaurants, and other social venues told to shut for the foreseeable future.
The General Medical Council wrote to recently retired doctors, asking them to return to work to help out during the pandemic.
21st to 22nd Mar: Photos emerged of large groups of people mixing together in public spaces on a sunny weekend, ignoring appeals for 'social distancing'.
22nd Mar: The Doctors' Association said its members felt like "cannon fodder" because of a lack of personal protective equipment.
23rd Mar: Boris Johnson announced an immediate nationwide 'lockdown' for at least 3 weeks, backed by police enforcement and fines.
MPs began debating the Coronavirus Bill that would give the Government sweeping public health powers to help control the virus from spreading.
The WHO's director general said the COVID-19 pandemic "is accelerating".
GPs send letters to around 1.5 million people most vulnerable to COVID-19 asking them to self-isolate (shielding) for the next 12 weeks.
24th Mar: The lockdown in Wuhan, where the global coronavirus outbreak began, would be partially lifted on 8th April, officials announced after a week with almost no new cases.
The Tokyo Olympics and Paralympics were postponed until 2021.
25th March: Prince Charles tests positive for COVID-19.
26th Mar: The Coronavirus Act 2020 became UK law.
UK daily reported deaths exceeded 100 for the first time.
27th Mar: The US overtook China and Italy as the country with the most confirmed COVID-19 cases. Globally, coronavirus cases exceeded 531,000.
Prime Minister Boris Johnson and Health Secretary Matt Hancock test positive for COVID-19, England's CMO Prof Chris Whitty self-isolates.
1st April: Wimbledon and the Edinburgh Festival were cancelled.
Editor's note: This article will continue to be updated with key events.

© 2020 WebMD, LLC

Send comments and news tips to uknewsdesk@medscape.net.
Cite this: Peter Russell. COVID-19: Timeline of a Pandemic - Medscape - Mar 25, 2020.