UPDATED April 3, 2020 // Editor's note: This article has been updated to include CMS guidance released on March 30 that expands telehealth services as well as allowing some reimbursement for certain services by telephone.
Many medical practices have long wanted to use telehealth to perform office visits and other evaluation and management (E/M) services. The technology readily exists and many electronic health records are set up to do telehealth visits.
The problem has been getting paid for those visits. Medicare limited telehealth services to patients in underserved areas, and commercial insurances wouldn't pay. But amid the COVID-19 crisis, things have changed.
On March 17, Congress passed a law allowing Medicare to waive some telehealth restrictions only during a government state of emergency, which we are in now. Specifically, the patient no longer needs to be in a medically underserved area and no longer needs to go to an originating site, such as a hospital. The patient can be located anywhere in the country and be in their own home.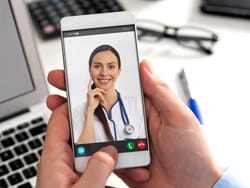 Further, CMS is waiving the requirement that the practitioner use a HIPAA-compliant platform for the telehealth service. The service must still be provided using a real-time audio/ visual platform, but that could be via FaceTime or Skype, both of which are readily available via a patient's smartphone or home computer. Audio alone —that is, phone calls between physician and patient —is still insufficient.
Billing for Telemedicine
There are two lists of services that you can bill for telehealth. One of the lists is in Medicare's telehealth fact sheet and includes both CPT and HCPCS codes. The second is in your CPT book, Appendix P, and lists only CPT codes.
Practices may bill all of the Medicare-covered telehealth services using these new rules. This includes new and established patient visits 99201–99215. It includes inpatient and skilled nursing services, for which CMS uses HCPCS codes in place of CPT codes.
Some notable additional services that you may bill via telehealth are: smoking cessation, transitional care management, advanced care planning, psychiatric diagnostic interviews and psychotherapy, and initial and subsequent Medicare wellness visits. The Welcome to Medicare visit is not on the list.
CMS released a rule on March 30, 2020, changing its instructions on billing for telehealth services. The practice should use the place of service that would have been used for the face-to-face visit, and append modifier -95 to the CPT or HCPCS code. If the visit would have been an office visit, use place of service 11. Medicare will pay the higher, non-facility rate for the service. For services that would have taken place in an outpatient or inpatient setting, services will be paid at the facility rate.
CMS also relaxed the documentation requirements for evaluation and management services during the time of the public health emergency. While these aren't official CPT changes, CMS stated that a practitioner could select the level of service based on total practitioner time for the visit, or medical decision making. Neither history nor exam are required components at this time.
The Office of Inspector General (OIG) is allowing practices to reduce or waive copays and patient due amounts. However, a practice is not required to waive the copay or patient due amount for a telehealth service.
Medscape Business of Medicine © 2020 WebMD, LLC

Any views expressed above are the author's own and do not necessarily reflect the views of WebMD or Medscape.
Cite this: Betsy Nicoletti. Emergency Rule: Docs Can Bill for Telehealth and COVID-19 Tests. Here's How - Medscape - Mar 20, 2020.