Editor's note: Find the latest COVID-19 news and guidance in Medscape's Coronavirus Resource Center.
Wang Weici, MD, was going to miss her twin boys' second birthday. She wanted to get home by February 17, but with Wuhan, China — the epicenter of the worldwide coronavirus outbreak — under lockdown since January 23 and Wang unable to come home because of her work, there were no candles, no cake, and no Mom.
As Wuhan faces a critical need for clinicians to fight the ongoing coronavirus outbreak, Wang is one of the physicians at the front lines. She works at Wuhan Union Hospital West Campus, which has been transformed into a designated center for the disease.
Wang is a vascular surgeon who is now using her education to focus on the infectious disease spreading worldwide. She left for training on January 27 to learn how to treat patients with COVID-19. The training included workshops on diagnosing and treating the virus, using respirators, putting on and taking off protective gear, how to enter and exit isolation units, and how to prepare documents to enter the "cabin" where coronavirus patients' beds are located.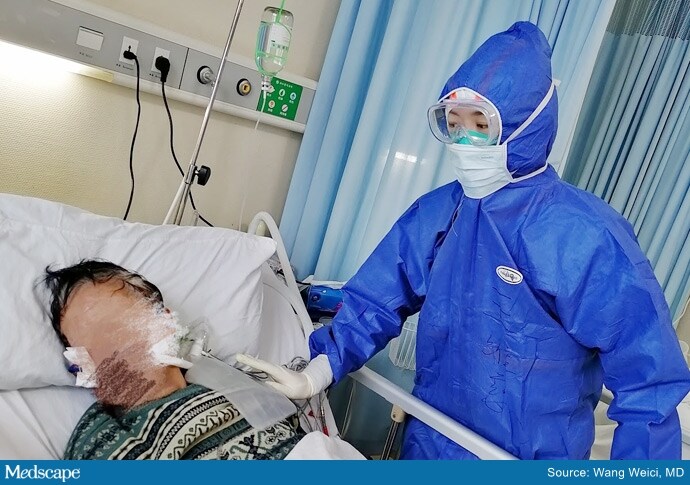 Wang tending to a coronavirus patient in the "cabin."
She started her 8:00 PM to 8:00 AM night shifts on February 1. She has not had a day off or been home since. Her twin boys and little girl are at home with her husband.
"As long as I am at home, I will be with them wholeheartedly and take care of the details of their lives," Wang told Medscape Medical News in an interview conducted in Mandarin over the WeChat app. "Children love mothers by nature, so, when I'm home, the children only sleep with me. As long as I hug them, they will fight for attention, so I often have to hold one in each arm and one by the leg."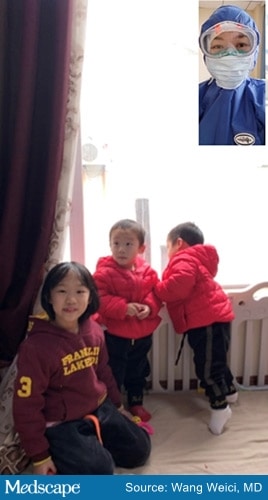 The night before she first began work, Wang's mother had a high fever, one of the most common symptoms of the disease.

"At that time, my heart jumped," Wang said. "I questioned her for a long time without figuring out an obvious cause of the fever. Although my husband brought [fever-reducing medicine], I couldn't sleep all night."

If her mother were infected with coronavirus, it would be likely that her family would also become infected. SARS-CoV-2 — the virus that causes the disease COVID-19 — can likely survive for an extended amount of time on some surfaces, and families under the same roof share a lot of surfaces.
"At the front line treating coronavirus, I wouldn't be able to take care of all of them," Wang said. "Fortunately, [my mother's] okay after taking the medicine, and my family is healthy, God bless, but my husband makes me worried."
Her husband is an "enthusiastic person" who frequently volunteers in their community.
Around mid-January, Wang bought hundreds of masks for use at home — she realized the severity of the outbreak when her uncle abruptly passed away from what was later suspected to be coronavirus. When some of their friends or neighbors didn't have any masks, her husband delivered them to their doors. He would also help distribute the vegetables that their community would send to each household.
This wasn't just any volunteer delivery. He was also putting himself at higher risk of becoming infected by leaving home while the city was locked down.
"He always tells me that he doesn't leave home, so I can sleep at night," she said.
One time, he drove to Xiantao — a city in Hubei province, 50 miles away from Wuhan — to help pick up a technician skilled in nucleic acid detection, one of the ways to diagnose COVID-19 through DNA sequencing, to bring them to work in Wuhan.
"By the time I knew, he was already on the road," Wang said. "I was angry and could not say anything. He was doing a good thing, but I was also afraid that he would get infected and bring it home. There are three children and the elderly — if something were to happen, it's unthinkable."
Hitting Home
The danger of contracting the virus while trying to help is very real. Taxi drivers and food delivery workers have contracted the disease while shuttling people to hospitals and getting meals to doors. Even some of the workers who built the new hospitals in record time caught the virus in the construction process.
In the second week of February, at the height of the Wuhan outbreak, Wang's uncle died 2 days after being admitted to the hospital. This was around the same time news was circulating about the death of one of the first physicians in China to go public about the new disease (and to face government reprimand for it), Li Wenliang.
"I felt fear to the first degree," Wang said. "What if I became infected? What would I do?"
Her 7-year-old daughter and 2-year-old sons have no idea about the risks she faces. In a poem to Wang on her twins' birthdays, her husband wrote that the kids think Mom is just at work like usual and will be back soon.
Long hours, stressful situations, and time away from her family aren't foreign to Wang. Her normal role as deputy director of vascular surgery at Wuhan Union Hospital meant frequent operations and night shifts, the main difference now being the danger of contracting coronavirus.
When Wang was a vascular surgeon, her husband used to bring their daughter to visit her during her night shifts, but after having the twin boys, it was not feasible to bring three little visitors.
Wuhan is still under lockdown, so her husband is with the kids at home 24/7. But she still worries about them, especially the second child, who would cry when she left for work. He might be waking up in the middle of the night, asking and looking for Mom, Wang said.
"Now that it has been a long time, I am slowly getting used to it," she said. "What else can I do?"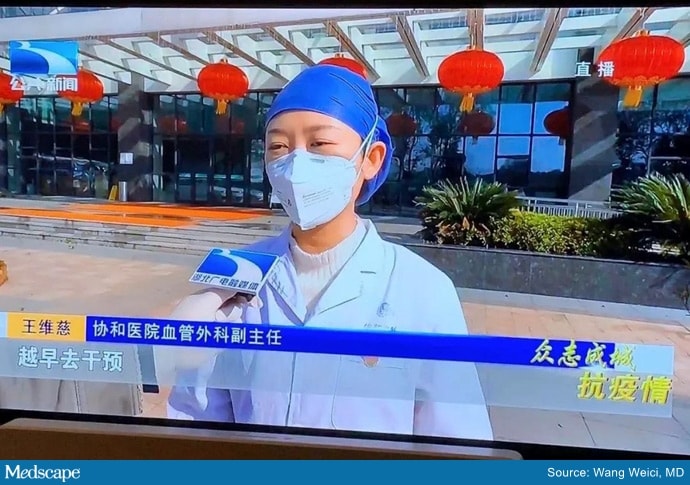 In a photo taken by her husband at home, Wang is interviewed on TV in front of the hospital where she is working.
"I turned on the TV to see my wife's patients being released from the hospital after recovering [from coronavirus]," Wang's husband wrote in his poem. "Then, I saw my wife, her eyes showing toil and exhaustion."
Although waning, there is still a long battle ahead for Wuhan. The epidemic hasn't stopped, and "one new case could push it back another month to completely end it," Wang said.
Before, the epidemic was disastrous enough that doctors had no time to notice fatigue. But, as the outbreak is slowing, Wang senses medical workers are succumbing to exhaustion.
"The country should implement a compulsory rotation system," she said.
About 42,000 medical workers have been sent to Wuhan over the course of the epidemic to aid in coronavirus relief, according to the Wall Street Journal, but even those numbers haven't been able to relieve the front line doctors' workloads.
"All of our doctors at Wuhan Union West have been working more than a month without the rotation time off," Wang said. "There are probably not so many [specialists] available if we take time off. We might need to work every day until this epidemic ends."
With well over 3000 health professionals reportedly contracting the coronavirus while treating the sick, Wang feels like the longer she works, the more susceptible she will be to getting infected herself.
Light at the End of the Tunnel
But there may be a light at the end of the tunnel. On Tuesday, Chinese President Xi Jinping visited Wuhan for the first time. According to the National Health Commission, on Monday only 19 new infections were reported in mainland China, down from 40 the day earlier.
"The situation is almost over," Wang told Medscape Medical News. "The makeshift cabin hospitals are basically closed, and there are few new patients in the ward. We may need until the end of March or early April to rest because our ward is still almost full of patients.
"I don't know when I'll be able to see my kids," she said. "I've been living isolated in a hotel this entire time. Every day my family sends me photos and videos of the kids, which helps."
One of the photos shows a birthday cake Wang's 7-year-old daughter made for her brothers. She drew a giant, colorful cake towering behind her, her brothers, and her dad.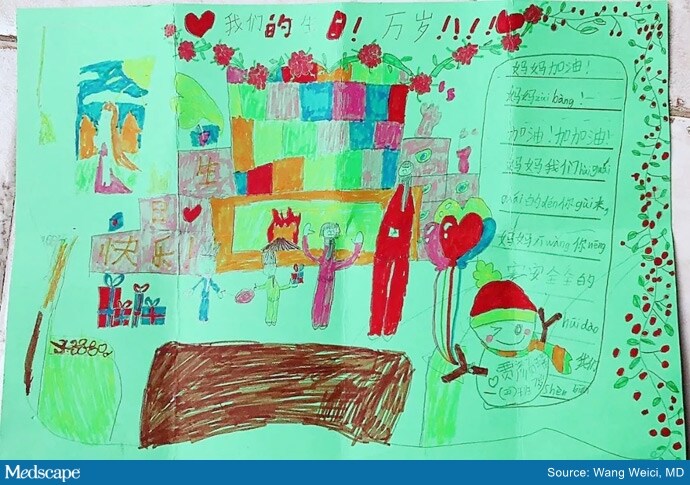 A drawing of a birthday cake Wang's daughter made for her brothers.
Behind a snowman holding heart balloons, the banner reads: "Stay strong Mom, you're the best. We've been good kids.... Stay safe and come back to our sides."
Follow Medscape on Facebook, Twitter, Instagram, and YouTube.
Medscape Medical News © 2020

Cite this: A Wuhan Doctor on the Front Lines: 'Fear to the First Degree' - Medscape - Mar 11, 2020.