The Coding Expert Answers Your Questions
Betsy Nicoletti, MS, a nationally recognized coding expert, will take your coding questions via email and provide guidance on how to code properly to maximize reimbursement. Have a question about coding? Send it here.
In this column, Nicoletti explores advance care discussions versus advance care paperwork, and how to bill correctly for in-house x-ray services.
Billing Properly for Advance Care Planning
Question: I want to know when to bill for advance directives. At our oncology office, we go over the application in the office and give a blank copy to the patient, as they want to take it home to fill it out. Can we bill even though the application was not completed in the office but reviewed in the office?
Answer: There are two time-based codes for advance care planning:
99497: This covers advance care planning, including the explanation and discussion of advance directives such as standard forms (with completion of such forms, when performed), by the physician or other qualified health professional; also the first 30 minutes of face-to-face with the patient, family member(s), and/or surrogate.
There is also the add-on code:
99498: each additional 30 minutes (list separately in addition to code for primary procedure).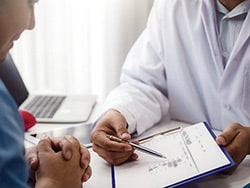 For the situation you describe, you would not be able to bill these codes cited above because the required discussion has not taken place. Your practice may only use these codes for the time spent by a physician or advanced practice registered nurse or physician assistant in discussion with a patient.
These Current Procedural Terminology (CPT) codes are used when a physician, nurse practitioner, or physician assistant has a discussion with the patient and/or the patient's family member or surrogate about healthcare decisions, when the patient may be unable to participate in the decision-making. It informs the healthcare delivery team and the patient's family of the patient's wishes.
CPT says "with completion of forms, when performed" and this means that completing forms is not required for reporting this service. CPT specifically describes this as work done by a physician or other qualified health professional.
These codes follow CPT's time rule, which says that a unit of time is met when time passes the half point. According to the American Medical Association's CPT 2020 Professional Edition (page xvii): "A unit of time is attained when the mid-point is passed. For example, an hour is attained when 31 minutes have elapsed (more than midway between zero and sixty minutes)."
And, of course, the billing clinician may not double-count the time spent in an office visit or any other service with the time spent in the advance care planning discussion.
Ensuring Full Payment for In-house X-rays
Question: Our orthopedic practice does in-house x-rays. We bill globally, both the technical component and interpreting the x-ray. What do we need to document to ensure full payment?
Answer: X-ray services have two components:
the technical component, which includes providing the equipment and the staff to do the x-ray; and

the professional component, which is the physician interpretation of the test.
If the practice provides both, then the diagnostic imaging is billed without a modifier. Those services can be split into the technical component, reported with modifier -TC, and the professional component, reported with modifier -26. The total reimbursement is the same whether billed globally or in parts.
The professional interpretation should include:
Diagnosis or symptom that is the reason for the test;

Number of views of the anatomic site; and

Findings
The AMA, which writes the coding rules, says in its 2020 coding guide:
A written report (e.g., handwritten or electronic) signed by the interpreting individual should be considered an integral part of a radiologic procedure or interpretation. With regard to CPT descriptors for radiology services, "images" refer to those acquired in either an analog (i.e., film) or digital (i.e., electronic) manner. With regard to CPT descriptors for imaging services, "images" must contain anatomic information unique to the patient for which the imaging service is provided. "Images" refer to those acquired in either an analog (i.e., film) or digital (i.e., electronic) manner.
CPT says there needs to be a "separate report." Reasonable coders can and do disagree about what that separate report means: a separate page in a paper chart, a separate tab in an electronic health record, a separate section in an office note, or something else completely.
Some are of the opinion that a separate section in an office note meets the requirements for a professional interpretation, if the above information is in the record. Others recommend a separate tab in an electronic record.
Wherever the information is found, use a header that labels it as the professional interpretation of the diagnostic test, and include the required components noted above.
Have a coding question? Send it in and it may be answered in a future column. (Please be sure to note your specialty in the text of the question.)
Betsy Nicoletti, MS, is a consultant, author, and speaker as well as the founder of CodingIntel.com, a library of medical practice coding resources.
Follow Medscape on Facebook, Twitter, Instagram, and YouTube
Medscape Business of Medicine © 2020 WebMD, LLC

Any views expressed above are the author's own and do not necessarily reflect the views of WebMD or Medscape.
Cite this: Betsy Nicoletti. Billing Correctly When the Words Count More Than the Action - Medscape - Mar 16, 2020.