#FlipYourScrip, a first-of-its-kind national program for donating unused prescription drugs, is now open for business and accepting unexpired bottles of pills or capsules in order to pass them along to needy patients. The program is administered by Remedichain.org, a nonprofit based in Memphis, Tennessee.
Donation involves a simple process that uses a smartphone text to initiate the transaction.
"We've made it as easy as possible for clinicians or any individual to donate a prescription," said Phil Baker, PharmD, president of Remedichain.org.
The organization attempts to match the donation to a financially needy patient in their database, and eventually puts any matched donation (delivered free via FedEx) through a multi-step inspection to ensure safety.
If donors have any questions along the way, the organization has support staff on duty to walk and talk the donor through the process – via phone or text. "They're real people – not an automated system," said Baker.
Remedichain.org and #FlipYourScrip are outgrowths of the work of Baker, who is a leader in a growing movement in the United States to reclaim unused drugs instead of trashing them in landfills and toilets. He is also the founder and head of the Memphis nonprofit Good Shepard Pharmacy, which provides dues-paying members with prescriptions at cost and runs a free pharmacy technician training program for low-income people. "We've created a pharmacy model that didn't exist before," he said in 2018.
The donation process begins by a would-be donor texting #FlipYourScrip to
1-833-999-1003.
The donors get a text in return, prompting them to take a photo of the bottle (if unopened) or take photos of the back and front of a pill (if the bottle is already opened). The donor then attaches the photos to the text and clicks Next.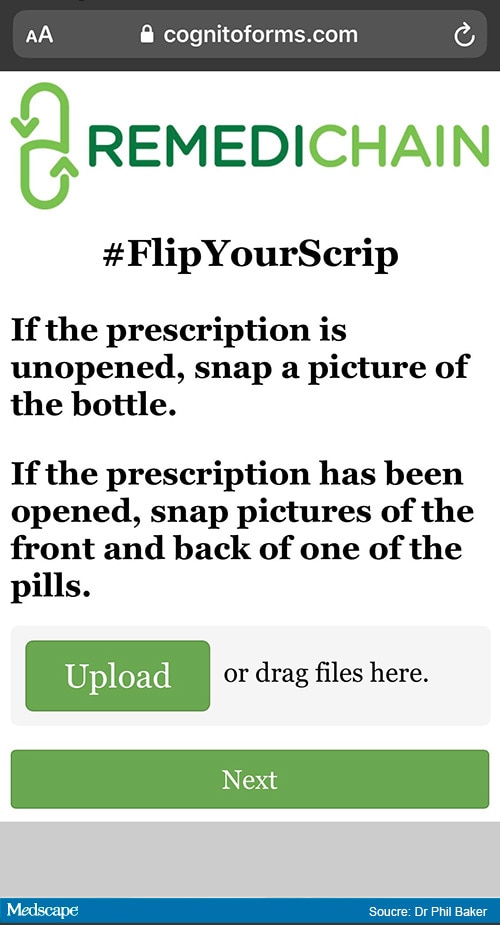 On the subsequent screen, the donor enters the name of the drug, the dose, and number of pills, clicks Next for the following screen, enters his or her email and zip code, and hits Submit.
And that's it — for the initial outreach.
Remedichain follows up by emailing donors a Fedex label and scheduling a Fedex pickup. Alternatively, donors can drop the donated drug by any Fedex store. Shipping is free.
If Remedichain has no patient match for a would-be donation, they text the donor the location of the nearest "take-back box" to enable safe disposal of a medication. The organization tops it off with a "thank you" $5 Amazon gift card via snail mail.
"You'll be helping a vulnerable patient, protecting the environment, and earning rewards all at the same time," said Baker.
Remedichain Addresses Stigma of Leftover Drugs
Recycling drugs is full of challenges, including the fact that leftover drugs are stigmatized, according to Baker.
"Some needy patients may be reluctant to take donated medicines because they don't know 'where they've been' so to speak," Baker said.
Remedichain "taps back into" the supply chain data and re-creates any missing information, such as manufacturing and expiration dates, he explained. This re-creation of the "chain of custody" via blockchain technology assures a medication's origin and quality.
Recycling medicine and technology from the American healthcare waste stream is not new. For example, My Heart, Your Heart, is a US-based effort to recycle pacemakers for use in low-income countries. The group has received over 20,000 pacemakers in the mail and works with a nonprofit to make the devices sterile, re-analyzed, and available to people in poor and underdeveloped countries who otherwise would not have access.
In the US, drug recycling dates from the late 1990s. Currently, 38 states have enacted drug donation and reuse laws, and 13 states have cancer drug-specific reclamation laws. "However, only a handful of states actually have functional reclamation programs," said Baker.
The new #FlipYourScrip initiative is accepting a wide variety of medications, but has a long-standing interest in oncology products, such as oral chemotherapies, because of their expense. This has also led the American Society of Clinical Oncology (ASCO) to recently endorse the recycling of oral drugs used in cancer so they can be passed onto patients who may not be able to afford them.
Remedichain.org says it "hopes to effectively create a 'national' program by networking the existing state repository programs with cancer clinics, oncology offices, and anyone else who serves vulnerable cancer patients."
"The call to action is "Text #FlipYourScrip to 1-833-999-1003,' "said Baker.
Follow Medscape's Nick Mulcahy on Twitter. For more from Medscape Oncology, follow us on Twitter
Medscape Medical News © 2020

Cite this: Text #FlipYourScrip to Easily Donate Unused Drugs - Medscape - Mar 10, 2020.