Lucy Langer, MD, knows firsthand what burnout can do to a physician. She experienced it when she studied for her board recertification a few years ago. "It was awful," she told Medscape Medical News. "I just felt sort of angry. I felt tired. I felt worried that I wasn't paying as much attention as I should be."
Since then, Langer, who is president of her practice, Compass Oncology in the Portland, Oregon suburb of Tigard, has made it a priority to develop policies that could alleviate burnout for her colleagues, such as giving doctors adequate parental leave. For her own mental health, she makes sure she knows her limits and gets to Colorado every summer for hiking and fly fishing.
Langer is also cochair of US Oncology's Genetic Risk Evaluation Committee, and vets new technologies as Medical Director of Practice Solutions. She went to Columbia University in New York City for Chinese studies, inspired by a high school trip to China. A newfound love of musical theater, however, propelled her to study economics and theater management. She was nearly finished with her bachelor's degree when a career in healthcare caught her interest.
The following conversation between Langer and Medscape Medical News contributor Donavyn Coffey has been condensed and edited for clarity.

Langer, far right, with her medical assistant and scribe on Halloween 2019.
How did you come to pursue a medical career?
I chose economics as my undergraduate degree because I thought it would help me in [theater] management. I focused on microeconomics and, among many other things, we studied the healthcare market. I thought, "This is a really compelling topic, kind of futuristic. Maybe what I should do is study medicine." I didn't do premed [studies] until I was a second semester junior in college and ended up completing most of it as a postbac. I supported my postbac work by working in a genetics lab at the medical school.
Tell me about an interaction with a patient or colleague that left a lasting impression.
Last week was my scribe's last day in the clinic. There is a patient who my scribe has known from the very beginning of this patient's odyssey, which started about 2 years ago. On my scribe's last day, we sat down with this patient and her family to tell her this was the time that we were recommending she consider a hospice, that we weren't able to offer any more active treatments that would provide her benefit. It was a very meaningful and poignant interaction. The patient was tearful, her husband was tearful, I was emotional. We had a really big long hug at the end of the visit.
After the visit was over, my scribe and I were sitting in my office, she was writing up the notes and I was moving on to other things. She asked me, "How do you do that? How do you keep your emotions in check and how do you handle those conversations? It seems like it would be so hard."
It was an opportunity to talk about how, over the course of medical school, it's important to keep your humanity and not become coldhearted, to allow yourself to feel emotion. You might not cry, but you feel that emotion deeply.
How do you practice empathy?
Dying is always a bad thing, but everybody dies. In many, many cases in oncology, when someone succumbs to their illness, they have become, because of the ravages of the disease, a shell of themselves. It's hard to admit, but patients' families will sometimes say it's such a relief that they have finally passed on. I develop very warm and caring relationships with my patients and their family members, and when patients die, I feel very sad that they're gone and I miss them. But I also know that they, many times, are in a better place — that they are not suffering anymore.
When I was a medical student and I did oncology rotations, there were attendings who did not know how to speak to patients when they were doing poorly or at the end of their life. I felt, "I can do that. I can do that better. I can be a good doctor, and I can also be someone who is a witness with you for the things that doctors have no control over."
I don't want to sound like I'm the angel of death, but in a world where cancer is becoming a chronic illness and one that many people will die from, I think it would be nice to have a doctor who can walk you through it, prolong your life successfully, maintain your quality of life for as long as possible, but when we need to shift gears, that person is also there.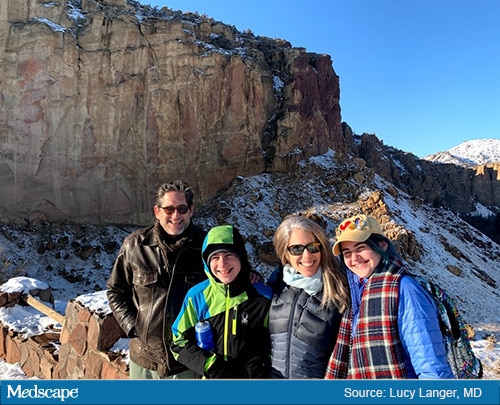 Langer and her family hiking at Smith Rock in Oregon.
When did you recognize that you were experiencing burnout?
I experienced burnout myself when I studied for my recertification for boards a couple of years ago. When it was happening, I just had in the back of my mind, "This is probably burnout. I wonder what the bottom is going to look like." During that time I tried to avoid reading literature about physician suicides because I felt like all I needed was a nudge to jump off the cliff. It was a really bleak time. It felt bad. I didn't — I wouldn't — do that. I have a family.
Nothing felt good. My interactions with my patients really were the high points for me in that time. I just felt sort of angry. I felt tired. I felt worried that I wasn't paying as much attention as I should be.
All of that was directly related to taking boards. Of course, I passed my recertification, but I studied really, really hard for it as any good doctor does. I would go to work all day and I would come home and spend 2 hours studying every single night for 6 months. When the test came up, I studied 6 hours a day for a couple of weeks beforehand. Then when I finally took the test, there were still things on that test that were so hard.
And so studying for the test didn't make me feel better. It didn't make me feel like I learned much more or refreshed my memory. It just made me feel terrible. The 10-year system is brutal and I vowed to myself after that test, I'll never take a 10-year test again. So if I have to take a 10-year test at year 20, that's when I'm retiring. I absolutely will not take it.
What is the most unusual item in your office?
I have a rock on my desk. It weighs about 2 pounds. It's pink and it has some shine in it. I don't know what it is. I picked it up when I was fly fishing in Colorado this summer, put it in my waders, packed it in my suitcase, and brought it home.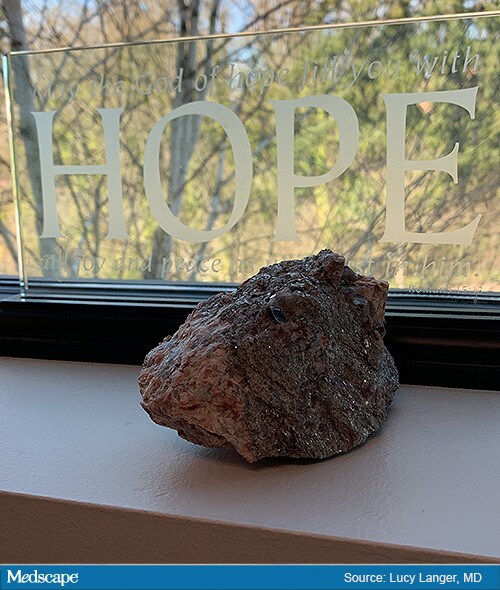 Langer considers this pink rock the most unusual item in her office.
Donavyn Coffey is a freelance journalist in New York City. She interned for Medscape in the fall of 2019.
Follow Medscape on Facebook, Twitter, Instagram, and YouTube.
Medscape Medical News © 2020 WebMD, LLC

Send comments and news tips to news@medscape.net.
Cite this: Oncologist Confidential: I've Experienced Burnout - Medscape - Mar 04, 2020.