The family of a child who was partially paralyzed after receiving treatment at a hospital in the state of Washington will receive a $10 million settlement, the News Tribune reports.
A few months after she was born, the child of Chante Ramirez — identified by her initials "JL" in court records — was diagnosed with acute lymphoblastic leukemia. As part of JL's treatment, Ramirez brought her to Mary Bridge Children's Hospital, in Tacoma. The hospital is a member of MultiCare, a large not-for-profit healthcare organization. There, she was treated by a doctor who worked for Pediatrics Northwest, a multispecialty pediatric group with two offices in Tacoma and offices and clinics elsewhere in the state of Washington.
On August 3, 2017, the doctor administered a chemotherapy injection to then 13-month-old JL. Following the injection, Ramirez noticed that her child had become unusually irritable and had ceased moving her legs.
Ramirez requested that JL be evaluated. She was informed that her baby's spinal cord had been injured, resulting in partial paraplegia. Ramirez sued both MultiCare and Pediatrics Northwest.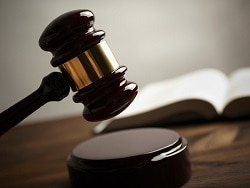 According to a sworn declaration by one of her attorneys, the injury occurred because the doctor who had treated JL performed the lumbar puncture "higher than customary and most likely done at the T12-L1 level," which is a "clear violation of the standard of care" when injecting the lumbar region of an infant.
JL has undergone one hip surgery to improve her mobility and will likely need additional procedures in the years ahead, although she will always be wheelchair dependent.
A spokesperson for MultiCare declined to comment on the details of the case but did express the organization's "sincere sympathy to the Ramirez family," adding "we are so very sorry for their experience."
Pediatric Northwest didn't respond to the News Tribune's requests for comment.
New Proposal Would Make It Harder to Seek Punitive Damages Against Physicians
A proposal under consideration by Missouri lawmakers could have a major impact on whether punitive damages are awarded in personal injury cases, including medical malpractice suits, according to a report in the News Tribune.
The proposal, spearheaded by state Sen. Bill White (R), would place an additional burden of proof on plaintiffs seeking punitive damages in a personal injury lawsuit. (Punitive damages are intended to punish defendants for their negligence; compensatory damages are aimed at offsetting plaintiffs' losses.)
If the bill passes into law, plaintiffs seeking damages intended to punish a defendant would be required to submit convincing evidence at the beginning of the trial that the defendant had intentionally harmed them — that is, had acted in a willful, wanton, or reckless manner. In the absence of such proof, plaintiffs wouldn't typically be permitted to file for punitive damages.
In arguing for his proposal, White says that trial attorneys often pursue such filings to intimidate defendants into settling, because compensatory awards are covered by liability insurance whereas punitive damages aren't. (In Missouri, half the punitive damages awarded end up being covered under the state's Tort Victims Compensation Fund.)
White cites the state's experience with medical malpractice suits to bolster his argument. Since 2014, he says, med-mal plaintiffs have filed for punitive damages in 94 cases, which shows the tactic is a "widespread practice."
But Brett Emison, president of the Missouri Association of Trial Attorneys, says that, in raising the bar for punitive damages, White's bill could deter legitimate attempts from moving forward. As evidence, he points to a suit against a Hy-Vee Supermarket in St. Joseph, Missouri. In that case, a store employee who had been promoted without proper training from florist to pharmacy technician gave a customer the wrong prescription, thereby causing her death.
Clearly, the tech didn't intend to kill the woman and did not act with deliberate disregard for her safety, Emison adds. Yet, under the White proposal, the plaintiff's family would in all likelihood not be permitted to file for punitive damages against either the tech or the supermarket chain.
The White bill also proposes granting "sovereign immunity" protection against punitive damages, which would insulate the state from being prosecuted. In 10 separate judgments over the past 5 years, Missouri has paid out roughly $11.4 million in such damages from its legal-expense funds.
At the time the newspaper went to press, indications were that the sovereign immunity provision might be incorporated into a separate proposal. If it passes, it would be added to the White bill.
A Judge's Instructions to the Jury Spark Controversy
In a recent 5-4 vote, the Alabama Supreme Court upheld a verdict in favor of an obstetrics clinic in a case that turned on whether the trial judge had erred in instructing the jury prior to its deliberations, as reported in Legal Newsline.
The underlying suit was brought by Niloofar N. Nichols and John Matthew Nichols against Tennessee Valley Ob/Gyn Clinic, in Huntsville, and one of its physicians. In 2014, Niloofar Nichols claimed she was injured after the physician left a surgical sponge behind during the delivery of her baby.
The trial jury disagreed, however, finding in favor of the doctor and her clinic. The plaintiffs then appealed, arguing that, in instructing the jury, the Madison Circuit Court judge hadn't adequately explained the special circumstances of what are called "retained foreign objects" cases, which include those in which a surgical sponge or other object has been left behind after a procedure.
In Alabama, the fact that a foreign object has been left behind is in itself sufficient, though not necessarily conclusive, evidence of clinical negligence. For this reason, the burden of proof in such cases typically shifts from the plaintiff — who in most other circumstances must prove negligence on the part of the defendant — to the defendant, who is now faced with the task of disproving that he or she wasn't negligent.
It was precisely this extra bit of information, Niloofar and John Nichols argued in their appeal, that the trial judge had omitted, thereby skewing the jury verdict in favor of the defendants.
But the state's high court didn't see things this way.
In his majority opinion, Justice Michael Bolin wrote that, in setting out what judges could and couldn't say to a jury prior to deliberation, the committee of "selfless experts" charged with this responsibility (the Alabama Pattern Jury Instructions Committee) couldn't cover every contingency and circumstance — nor should anyone expect it to have done so. Bolin said that proper instructions to the jury evolve over time on the basis of an ongoing study of statutory law (ie, legislatively derived law) and case law (ie, judicially derived law).
In his dissent from the majority opinion, however, Chief Justice Tom Parker sided with the plaintiffs: "By giving jury instructions that inaccurately stated the law, the Circuit Court exceeded its discretion." For this reason, the chief justice said, he would have reversed the lower-court decision and sent the case back for a new trial.
Wayne J. Guglielmo, MA, is an independent journalist based in Mahwah, New Jersey.
Follow Medscape on Facebook, Twitter, Instagram, and YouTube.
Medscape Medical News © 2020

Cite this: Physician Botches Pediatric Lumbar Puncture, Family Collects; More - Medscape - Feb 24, 2020.