The University of Manitoba (UM) community and fellow clinicians and colleagues around the world are mourning the death of Francis (Frank) Plummer, MD, a widely known scientist, academic, and trailblazing HIV/AIDS researcher.
Plummer, 67, died in Nairobi, Kenya, on Tuesday, where he was celebrating the 40th anniversary of the Manitoba/Kenya research collaboration, according to the university. The BBC reports that he died of a heart attack.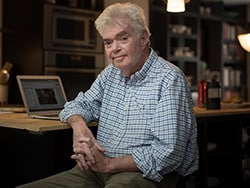 The Canadian Broadcasting Corporation (CBC) reported that Plummer was a keynote speaker at the annual meeting of the University of Nairobi's collaborative center for research and training in HIV/AIDS/STIs. The news organization reported that Plummer collapsed at the meeting and was pronounced dead at a hospital in Nairobi.
The University of Manitoba said that Plummer, an UM alumnus, was senior scientific advisor of the Public Health Agency of Canada, director general of the Centre for Infectious Disease Prevention and Control in Ottawa, and scientific director general of the National Microbiology Laboratory in Winnipeg.
"He was admired and regarded highly by academics and researchers around the world, and his legacy of seeking to develop an HIV vaccine remains one of the landmarks of infectious disease prevention," David Barnard, UM president and vice-chancellor, said in a news release.
The BBC reported that Plummer was also recognized for his leadership during the Severe Acute Respiratory Syndrome (SARS), H1N1 flu, and Ebola epidemics.
"Out-of-the-Box Thinking"
Steffanie Strathdee, PhD, associate dean of Global Health Sciences in the department of medicine at the University of California San Diego, told Medscape Medical News he had a strong influence on her life.
"When I trained as an aspiring HIV epidemiologist in Canada, Frank Plummer was one of about four infectious disease epidemiologists who were experts on HIV. His work was an inspiration to me as I decided to specialize as an HIV epidemiologist. Frank was known for his inventive out-of-the-box thinking that inspired novel HIV prevention research, which included the hypothesis that there was a subset of female sex workers who remained uninfected despite being continuously exposed."
According to the UM release, the research involving that group of women in Kenya was perhaps his most widely known scientific contribution.
"(Plummer) focused on their immune systems and genetics to identify the basis for this resistance, and the project provided vital new information for HIV vaccine and drug development. Today, global interventions and campaigns have been built on his work," the university noted.
"As an epidemiologist, he never forgot that behind each data point, there was a person who had a story, and he was one of the few that took the time to listen," Strathdee said.
The BBC also reported that Plummer "had recently spoken publicly about undergoing experimental brain surgery to treat alcoholism."
Plummer praised the positive results of the procedure, deep brain stimulation.
"Dr Plummer said the surgery had given him a new lease on life after a series of health problems had forced him to confront his battle with alcohol addiction," the BBC reported.
A former student and then colleague, Keith Fowke, PhD, head of medical microbiology and infectious diseases at UM, said in a statement to the university, "Frank's work was highly innovative and saved hundreds of thousands of lives. He was an outstanding and world-class researcher who was a dear colleague, mentor and friend to many of us lucky enough to work with him, and beside him."
Fowke told the CBC that the research partnership between the University of Manitoba and the University of Nairobi was established when there was little global awareness of HIV/AIDS. Through the partnership, Plummer's team discovered that HIV could be passed on to women or to babies through breast milk.
"He helped to identify a lot of the key factors that are involved in HIV transmission in the early days," Fowke said.
Among Plummer's awards were the Order of Canada, one of the country's highest honors, and the Canada Gairdner Wightman Award, which recognizes work that has had a significant impact on health outcomes in the developing world.
For more news, follow Medscape on Facebook, Twitter, Instagram, and YouTube.
Medscape Medical News © 2020

Cite this: Renowned HIV Researcher Frank Plummer Dies Suddenly at 67 - Medscape - Feb 07, 2020.