A novel pilot study is the first in what researchers hope will be a series of steps to demonstrate that an exoskeleton can safely and effectively enhance rehabilitation of patients with multiple sclerosis (MS).
Prior research demonstrated physical therapy training with an exoskeleton could improve outcomes for people after a stroke or among those living with spinal cord injuries.
"People with MS had heard about the technology and wanted to know if they could benefit from it — that is how I got interested in this in the first place," principal investigator Francois Bethoux, MD, told Medscape Medical News.
Bethoux just completed evaluation of the fifth and final patient enrolled in this proof-of-concept research, "Pilot Study of Power Exoskeleton Use for Gait Rehabilitation in Individuals With Multiple Sclerosis."
"In terms of getting some informal feedback, it was all very positive," said Bethoux, director of rehabilitation services at the Mellen Center for Multiple Sclerosis, Neurologic Institute at the Cleveland Clinic in Ohio. Full results are expected to be published later in 2020.
Each person participated in 24 physical therapy sessions while wearing the Ekso Bionics Gait Training (Ekso GT) exoskeleton. The rehabilitation protocol was three 1-hour sessions over 8 weeks.
Participants have relapsing or progressive MS and severe mobility limitations, defined as score between 5.5 and 7.5 on the Expanded Disability Status Scale.
Primary and Secondary Outcomes, So Far
Bethoux reports being particularly encouraged by the primary outcome, defined as the percentage of participants who did not complete the study.
"No one dropped out. They each attended all training sessions, which is highly unusual," he said. "Some of these patients are quite disabled, and it's an effort for them to come to us for these physical therapy sessions."
The fact that participants attended all sessions, including a follow-up evaluation at 14 weeks, "really shows a high level of motivation and a high level of satisfaction with the use of the device," he added.
A second primary outcome is to assess adverse events during or between training sessions. "It's not fully analyzed data," Bethoux said, "but we didn't see any safety concerns that arose during this proof-of-concept study."
"It looks like, in terms of safety and feasibility, it all looks good," he added.
The US Food and Drug Administration cleared use of a powered exoskeleton (ReWalk, Argo Medical Technologies) to aid in the rehabilitation of people with spinal cord injuries, as previously reported by Medscape Medical News.
A prior pilot study evaluated use of this exoskeleton in people with MS. Some improvements in sitting, standing, and walking posture were associated with consistent use.
The current study is the first to evaluate use of the Ekso GT exoskeleton in this patient population.
One goal is to augment participation in the physical therapy sessions, which include stretching, over-ground gait training, and gait training. "The ultimate goal is to improve their day-to-day walking without the device, using a walker, cane, or no assistive device," Bethoux said. However, he added, independent walking may not be a realistic outcome.
"My gut feeling from having done a number of rehab studies in MS is we rarely hope to get people off whatever walking aide they were using before. It's about more day-to-day mobility, so they can participate in more activities, or participate better or longer," he said.
One idea to prolong the benefits of exoskeleton training and/or offer greater access to people with MS is to partner with local gyms that could offer the device for long-term rehabilitation. In some cases, this type of arrangement is made for people with spinal cord injury, Bethoux said.
"The cost is borne mostly by the gym, and people gain access to the device as an exercise tool. That could be an option, but again we would have to look at the safety and effectiveness," he said.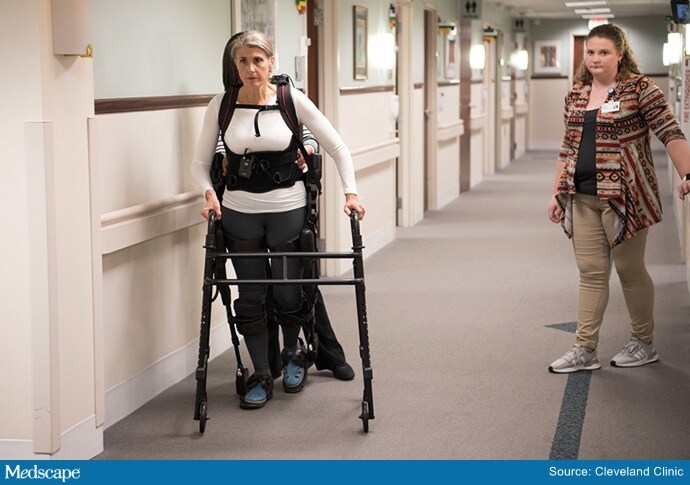 A Combination Approach?
Beyond rehabilitation, Bethoux believes devices such as the exoskeleton could be combined with medical treatments before MS progresses to the stage where people experience difficulties walking.
"What I think is very exciting is...we can pair rehab with other treatments," he said. "Not only can we try to stop the disease in its tracks, but to use the medical treatments for MS paired with rehab to produce functional improvement that is more durable."
Another "very exciting" option would be to combine rehabilitation with regenerative therapies such as stem cells "when they finally pan out," he added.
Bethoux explained that synergy between the neurologic approach and the rehabilitation approach "has been around for a while, but more and more, it's becoming a meaningful reality for the patient and their families."
Even though he is encouraged by the pilot study so far, Bethoux said, "obviously, this is not ready for prime time in MS."
Future plans include a larger randomized controlled trial to compare outcomes between the exoskeleton and another form of rehabilitation. The research would be single blind, with raters unaware of which participant did or did not wear the exoskeleton during rehabilitation.
The study was sponsored by the Cleveland Clinic. Bethoux has reported no relevant financial relationships.
Follow Damian McNamara on Twitter: @MedReporter. For more Medscape Neurology news, join us on Facebook and Twitter.
Medscape Medical News © 2020 WebMD, LLC

Send comments and news tips to news@medscape.net.
Cite this: Exoskeleton Could Support Enhanced Physical Therapy in MS - Medscape - Jan 29, 2020.