When Evan M. Tomkiewicz, MD, interviewed for medical school, he wore a business suit that covered the colorful lattice tattoo on his shoulder that wraps around to artwork on his neck. In his second year of medical school, he got another tattoo as a tribute to his sister after she died unexpectedly: a tree at his ankle that spreads around his leg, the branches overhanging a stargazing girl. He covered that with long pants and socks while on hospital rounds.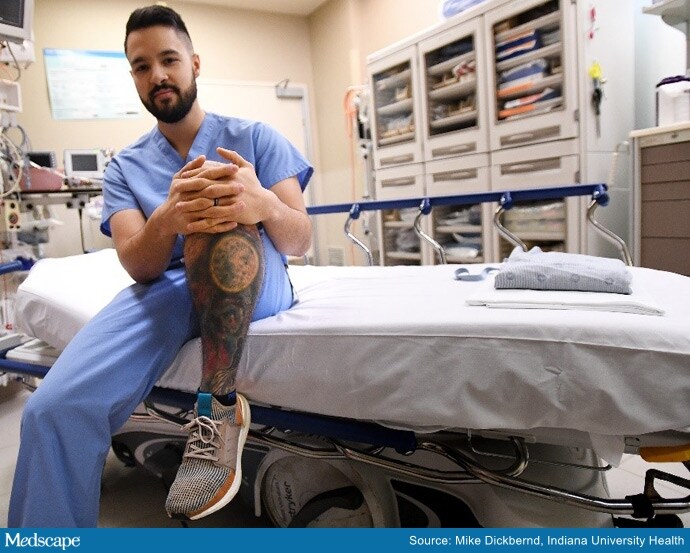 Evan M. Tomkiewicz, MD
Now an emergency medicine resident at Indiana University Health, Tomkiewicz is no longer concerned about whether his tattoos are visible. The institution pared its 50-page dress code down to just five pages in 2018, allowing tattoos, body piercings, and colorful hair. "It shows a big cultural shift in how we view tattoos, and an institution changing and adapting with today's culture," Evan said. "Anytime you don't have to hide who you are...you feel more at home and comfortable."
According to a Harris poll, nearly half of millennials and more than a third of GenXers, the generation now entering middle age, have at least one tattoo. That means a significant portion of young doctors — and their patients — now have some kind of body art. In response, a growing number of institutions are revising their standards. As the boundaries between personal expression and professionalism are being redrawn, the debate is no longer whether doctors should have body art at all. It's whether tattoos should be covered and piercings should be removed while in the workplace.
What Doctors and Patients Really Think About Body Art
Aliye Runyan, MD, didn't take any chances when she entered medical school. She had a tattoo she often chose to keep hidden — a Pisces symbol on her ankle. Then one day, she glimpsed a tattoo on an ob-gyn who had become one of her mentors. He had been careful to keep the ink where it could be covered by scrubs, but it had briefly become uncovered. Just knowing that an older authority figure also had body art made her feel as though her individual style wouldn't conflict with her career in medicine. Provided she was discreet....
Today, as an ob-gyn in White Plains, New York, she expresses herself with body art but still keeps it low key. She has several tattoos that are small but personally meaningful — and she usually chooses not to display them at work. However, the tips of her hair are purple, and her nose piercing is on view. "There definitely needs to be a level of professionalism. But at the same time, I think doctors are pretty good at self-policing," she said.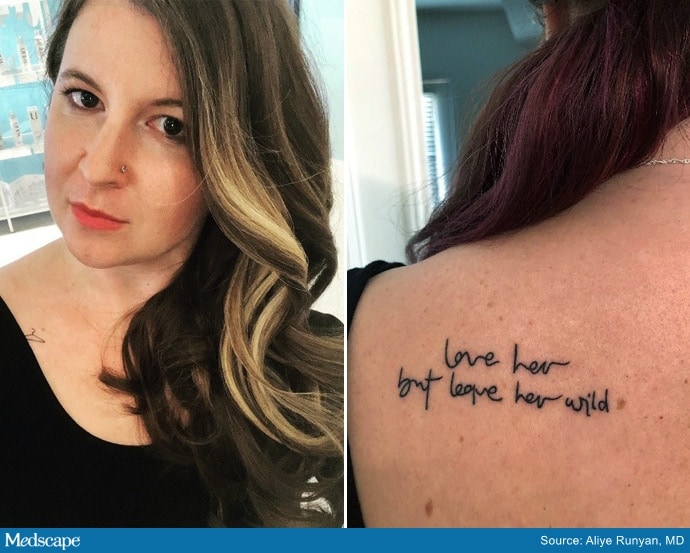 Aliye Runyan, MD
It is not too surprising that generational attitudes toward body modifications still differ. Older adults are much less likely to have a tattoo or say that they would feel comfortable being treated by a doctor with a tattoo. Medical students and residents also perceive that some medical fields are more conservative (eg, surgery) whereas others are more accepting (eg, emergency medicine, psychiatry).
A recent Medscape poll of medical professionals found that nearly 60% think it is appropriate for clinicians to have tattoos. However, more than 60% said there should be restrictions, with the largest portion of respondents (41%) indicating that tattoos should still be covered up by work attire.
But what do patients think about doctors with tattoos and body piercings? Their perspective is quite similar to that held by those inside medicine. The Harris poll asked respondents how they felt about doctors having tattoos. Almost two thirds of patients said they would feel extremely comfortable or somewhat comfortable with a doctor who has a tattoo, whereas 38% were not comfortable. Sentiments varied by age. About half of millennials said they would be extremely comfortable receiving care from a doctor with a tattoo, but only 15% of adults aged 70 years or older felt that way.
In another study, researchers in Hawaii conducted interviews in 2014 and 2015 with 314 randomly selected individuals. Without mentioning tattoos or piercings, they showed photos of a doctor's neck to the interview subjects — one depicting a prominent tattoo and one without. The same man was in each photo, the collar of his button-down shirt and part of his white coat visible. They also showed drawings of a man's face with large, prominent piercings — an ear ring elongating his ear lobe, a nose ring ― and he was wearing both rings.
Although roughly the same number of people said they felt comfortable with the tattooed doctor compared with the non-tattooed doctor, the tattoo significantly affected their level of clinical confidence. More than half said they would not trust or would feel less trust in providers with piercings. The findings didn't significantly differ by rural or urban location, gender, or age. The authors concluded that "although patients may state that they have no preference about certain aspects of physician appearance, attire may still have an impact on their comfort and confidence with a physician."
Similarly, a study of patient preferences at 10 academic medical centers found that patients were more likely to favor formal physician attire, although regional differences were reported: Southerners were more likely than Northeasterners to prefer formal attire with a white coat. "There are always going to be some people who have a preconceived notion of what they expect their physician to look like," said lead author Christopher Petrilli, MD, SFHM, "but other people won't care."
Still, concern about patient comfort and confidence underlies the dress code policies at many institutions. For example, the Standards of Dress and Appearance at the Emory University School of Medicine in Atlanta, Georgia, states: "A professional image conveys credibility, trust, respect, and confidence to one's colleagues and patients." Among other requirements — for example, a prohibition on casual wear such as jeans — the standards call for tattoos to be covered.
Body Art as a Bridge Between Doctor and Patient
Rebecca Jeanmonod, MD, wondered whether more theoretical surveys and studies, such as the one from Hawaii, reflect the real-life sentiments of patients who are actually in a healthcare setting. Jeanmonod is currently an associate program director of the allopathic emergency medicine residency program at St. Luke's University Health Network in Bethlehem, Pennsylvania. Her own experience as a doctor with tattoos has been overwhelmingly positive. Patients who see the tattoo on her lower arm often compliment the artwork, which depicts her family in a canoe at their favorite vacation spot. Many of the patients she treats have tattoos. "They're human beings who are scared, and when they come into an emergency department, it's nice for them to see we're just like them," she said.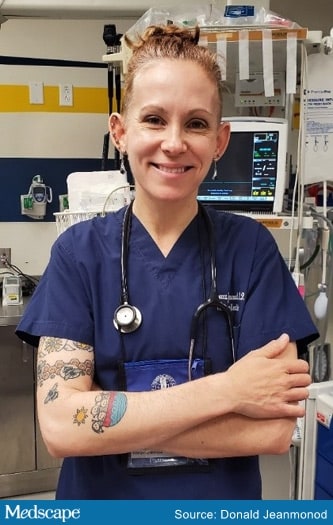 Rebecca Jeanmonod, MD
With this in mind, Jeanmonod designed a different kind of body art study. She recruited emergency doctors who had nonvisible tattoos and doctors who had no tattoos at all. For the 9-month study period, they alternately wore fake but realistic-looking armband tattoos, a fake hoop earring (for men) or nose stud (for women), both, or none. They all wore navy blue scrubs and ID badges.
More than 900 patients received patient satisfaction surveys about how comfortable they felt with their doctor and how they felt about their doctor's competence, professionalism, and caring. The survey didn't specifically mention tattoos or piercings. Satisfaction results did not differ significantly regardless of whether or not doctors wore tattoos or piercings.
Holly Stankewicz, DO, also an associate program director of the emergency medicine residency program at St. Luke's, felt a little uncertain when she first wore the fake tattoo. But patients' comments were positive. "Even older people would ask me about the tattoo and say, 'I really like that tattoo. That looks so cool.' I was shocked," she said.
Navigating the New "Gray Zone"
Sheryl Heron, MD, MPH, assistant dean of clinical education and student affairs at Emory Medical School, is sensitive to the power of first impressions. Formal dress with a white coat conveys a visual signal — one that may be especially important for women and people of color, who still confront lingering stereotypes originating from an era when the vast majority of physicians were white and male, says Heron. She is coeditor of a book on diversity and inclusion. Heron wants young doctors to instill confidence in patients, not doubt. But that doesn't mean all tattoos are taboo, she said, expressing her personal opinion and not Emory's policy. She cautioned that doctors should "be mindful or aware of the perceptions that may be out there."
Balanced against potential patient bias or discomfort is an individual's prerogative to express themselves, says bioethicist Mary Catherine Beach, MD, MPH, a professor of medicine at Johns Hopkins University School of Medicine in Baltimore, Maryland. Clearly, tattoos with offensive words or symbols are inappropriate, and piercings that are an expression of a religious, ethnic, or cultural tradition should be honored, she says. Beyond those obvious caveats lies a gray zone that clinicians and healthcare employers must navigate. The pendulum is swinging toward greater acceptance, Beach says. "As things become more normative, they become less distracting," she said.
Mayo Clinic received press coverage when it loosened its tattoo policy in 2018. Mayo officials declined to comment for this story but issued a statement that reflects a balance between tolerance for self-expression and concern for patients' feelings. The message suggested that the institution's dress and decorum guidelines are designed "to ensure that our patients feel welcome, respected, comfortable and safe. While aspects of the policy have changed, employees are still expected to project a professional appearance and demeanor."
Although policies at many institutions are evolving, administrators at medical schools in particular may still have conservative attitudes about physician appearance, cautions Ryan Gray, MD, founder of Medical School Headquarters, which provides advice to prospective medical students through a website, podcasts, and a Facebook group. He still tells students to dress formally for their interviews and to cover tattoos. "Once you're accepted, you can read the student handbook, feel out the culture, and hopefully be yourself and be accepted for who you are," said Gray.
Moving Beyond Old Stereotypes
Kendra Campbell, MD, founder of Free Range Psychiatry in Luray, Virginia, has long been a maverick. In medical school, she had pink hair and a Mohawk. She had an "industrial" ear piercing, which is a barbell that goes between two holes. She had tattoos that were sometimes visible.
Her residency director once met with her to discuss her appearance. She asked him if he had gotten any complaints from patients, and he admitted that he had not. "Until you know this is in any way affecting my patient care, I think I'm going to continue doing what I'm doing," she recalls telling him. "If it's negatively affecting someone, I'll change." The director agreed, and the subject never came up again.
Today, in her private practice, she feels free to be herself. Her body art and attire reflect her personality: creative, nonconformist, bold. She doesn't feel that it has negatively affected her career. "The patients themselves don't seem to care that much," she said. "It's more that healthcare providers themselves think there is a stereotype."
The opposition by those inside medicine is often attributed to a desire to protect patients from feeling uncomfortable and to uphold previous standards of professionalism. This is usually linked to the perception that people with tattoos are rebellious or antiestablishment, despite evidence that clearly shows that body art has become an increasingly common form of expression.
Shannon DeLuca, an EMT and firefighter in Pittsburgh, has been shadowing doctors at three hospitals as she prepares to apply to medical school. Even before she started, she received an informational email that included instructions about covering tattoos and removing all but single ear piercings. And yet, when the flowers on her wrist pop into view or her scrubs shift to reveal a Star Trek tattoo, patients have nothing but compliments.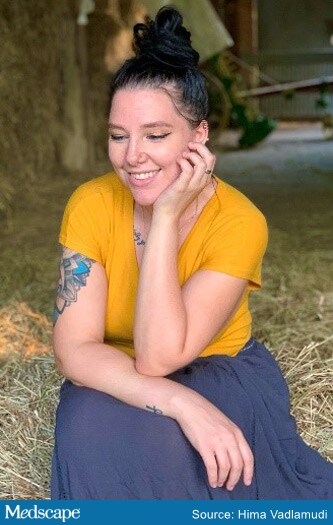 Shannon DeLuca
"I never understood this stigma towards tattoos," she said. "My tattoos and my art have nothing to do with my intellect and my ability to provide good care." When she applies to medical schools, she says she plans to keep her tattoos visible. She wants to find an institution that will accept her as she is.
Although it is likely that there will always be some disagreement, signs point to a medical culture that no longer sees body art as completely off limits, even if many inside medicine still insist it should be covered up. As tattoos and piercings have become more ingrained in daily life, so too have they begun to more comfortably fit with modern assumptions about what a doctor looks like.
Michele Cohen Marill is a health and medical writer based in Atlanta. In addition to her work for Medscape Medical News, she is a regular contributor to Wired and Health Affairs.
Medscape Medical News © 2020

Cite this: An Ongoing Cover-Up: Docs With Tattoos and Body Piercings - Medscape - Jan 08, 2020.