BALTIMORE — Women with epilepsy are significantly less likely than their counterparts without the disorder to initiate breast-feeding, new research suggests.
Results from a large prospective study show women with epilepsy were 15% less likely than unaffected mothers to breast-feed, but also revealed that if they did initiate it they were just as likely to continue.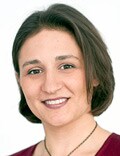 "We need to try to better understand why women with epilepsy aren't starting to breast-feed and to explore that with them," study investigator Elizabeth E. Gerard, MD, associate professor of neurology, Northwestern University's Feinberg School of Medicine, Chicago, Illinois, told Medscape Medical News.
This involves counseling about the safety and benefits of breast-feeding, she added.
"Some lines of evidence suggest that giving breast milk, in any amount, ever, is beneficial," Gerard noted.
She added that hers is the study largest to prospectively assess breast-feeding rates among women with epilepsy.
The findings were presented here at the American Epilepsy Society (AES) 2019 Annual Meeting.
Income a Key Predictor
Part of the Maternal Outcomes and Neurodevelopmental Effects of Antiepileptic Drugs (MONEAD) study, a multicenter investigation of pregnancy outcomes, the analysis included 325 pregnant women with epilepsy and 98 without the disorder.
Gerard noted MONEAD is the largest study to prospectively examine breast-feeding rates in women with epilepsy.
After giving birth, all women were regularly assessed and asked if they were breastfeeding. These data were recorded in an electronic diary and collected for 2 years.
Researchers adjusted for variables known to affect breast-feeding initiation, including race, multiple gestation, preterm birth, and income level. Although maternal education is another predictor of breast-feeding initiation, it is "strongly correlated" with income level, and so the investigators did not control for either of these factors, Gerard noted.
Results showed that 74.8% of women with epilepsy initiated breast-feeding compared with 89% of those without epilepsy (odds ratio [OR], 0.3; 95% confidence interval [CI], 0.2 - 0.7; P = .003).
The main predictor of breast-feeding in both groups was income level.
"Women with a higher income level, and probably higher education level, were more likely to breast-feed," Gerard said.
She acknowledged that the breast-feeding rate might be elevated because women in the study are "informed and motivated."
Breast-feeding Barriers
Women with epilepsy face "barriers" to breast-feeding, including concerns about seizure control, sleep deprivation, and hormonal changes, Gerard said.
Although there is also worry that traces of antiseizure medicines will turn up in breast milk, "this doesn't make sense" because the child has been exposed in utero for the duration of the pregnancy, she added.
In the MONEAD study, antiepileptic drug (AED) levels in children who were breast-fed while their mothers were on these drugs were "extremely low," Kimford J. Meador, MD, professor of neurology at Stanford University and clinical director at the Stanford Comprehensive Epilepsy Center, California, told a discussion group on pregnancy registries during the AES meeting.
In many of these children, "this didn't even reach a quantitative level that can be detected in the assay," Meador said.
Gerard and her colleagues also wanted to understand whether breast-feeding duration differed between the two study groups. Using Kaplan-Meier survival curves to compare duration of breast-feeding, they found no significant difference in duration between women with and without epilepsy (P = .920).
"So it doesn't seem to be the case that women with epilepsy are not as successful at breast-feeding", said Gerard. "Even though they had lower rates of starting, they do just as well in the long-term."
The study also examined the effect of different AED regimens on breast-feeding. After adjustments, there was no significant difference between women with epilepsy taking multiple drugs and those taking only one drug.
Researchers also analyzed the impact of AEDs with and without evidence of safety. AEDs with the safest profile include lamotrigine and levetiracetam, but there are fewer data on older anticonvulsants such as topiramate, ethosuximide, oxcarbazepine, and phenobarbital.
"That doesn't mean they're dangerous. It's just that we don't have great data," said Gerard.
"Permissive Environment" Needed
Although the study didn't show a significant difference in the odds of breast-feeding for women taking AEDs with, and without, evidence of safety, Gerard believes this might not be the full story.
Potential reasons for not capturing that information could include that fact that the study was underpowered to detect a significant effect, she noted.
New information about the safety of AEDs in breast-feeding women has emerged in recent years. Some research has shown superior IQs among breast-fed children of women with epilepsy, even in children whose mothers were taking antiseizure medications, said Gerard. However, she acknowledged some "leftover" concern about these medications might remain.
Gerard noted that women with epilepsy receive advice from multiple sources, including neurologists, obstetricians, and pediatricians, all of whom "might have different perceptions."
She added that women with epilepsy need support and a "permissive environment." She also emphasized the importance of sleep because sleep deprivation is a trigger for seizures.
In the future, Gerard and colleagues plan to look at rates of breast-feeding in women with different seizure frequencies and examine the impact of depression on breast-feeding initiation.
More Women Breast-feeding
Commenting on the findings for Medscape Medical News, Anna Serafini, MD, director of the Epilepsy Monitoring Unit and assistant professor of neurology at the University of Illinois at Chicago, noted that in this study the percentage of women with epilepsy who started breast-feeding is higher than in previous research.
Serafini pointed to the Neurodevelopmental Effects of Antiepileptic Drugs (NEAD) study, which was published in 2010 but completed enrollment in 2004. It showed that the rate of breast-feeding among women with epilepsy was only 42%.
At that time, "people were more afraid" of the negative effects of some AEDs on offspring, she said. "As the years went by, we started using more medications that are known to be safe."
A limitation of the current study is that it included only academic centers, said Serafini. She runs the Women with Epilepsy program at her center, which was not involved in the current research.
Her patient population has an income and education level that is much lower than that at academic centers, as well as lower rates of breast-feeding.
"You'd think the less money you have, the more likely it would be to breast-feed, because formula is expensive," but this isn't the case with her patients, Serafini noted.
She blames a lack of awareness about the benefits and safety of breast-feeding. She also noted that lower-income women are also less likely to adhere to their epilepsy medication regimen.
Serafini commended the investigators and their plans to further study whether women with more seizures are less likely to breast-feed.
The MONEAD study was funded by the National Institutes of Health, NINDS, and NICHD. All study authors and discussants have disclosed no relevant financial relationships.
American Epilepsy Society (AES) 2019 Annual Meeting. Abstract 1.25 and Abstract 1.246. Both presented December 7, 2019.
For more Medscape Neurology news, join us on Facebook and Twitter
Medscape Medical News © 2019

Cite this: Breastfeeding Rates Still Lower in WomenWith Epilepsy - Medscape - Dec 18, 2019.