When Zachariah Reitano was a teenager, he discovered he had trouble achieving an erection. Fortunately, he felt comfortable discussing the problem with his father, a physician who gave anatomy lessons to the family over dinner.
They soon found out that the problem stemmed from a heart condition, and Reitano ended up having heart surgery. He considers himself lucky. He knows that other men with similar problems are often too uncomfortable or embarrassed to seek care.
It's a story Reitano tells often to explain what led him to cofound Roman, a digital health clinic for men aimed at helping with "taboo conditions," such as premature ejaculation, hair loss, and genital herpes.
"Our one-line mission is to be a patient's first call," he said during a panel discussion at the HLTH: Create Health's Future 2019 meeting in Las Vegas.
"A lot of what we try to do is provide that initial trust, the access to start that conversation with a doctor that leads to a stronger, more authentic relationship," he explained.
Digital health companies like Roman are using the internet and smartphones to provide patients with a level of privacy and control that has the potential to overcome the stigma associated with subjects some people find uncomfortable, such as painful sex due to menopause, erectile dysfunction, infertility, sexually transmitted infections (STIs), pre-exposure prophylaxis (PrEP) for HIV, and postpartum depression.
Last year, Roman's parent company, Ro, launched Zero, a smoking-cessation digital health clinic, and earlier this year it launched Rory, the "first end-to-end service" for women in perimenopause.
Beating Stigma With Privacy, Flexibility
"This ability to have people come on their own time and on their own terms — filling out an online questionnaire rather than having to deal with the logistics of a time and place — is what has allowed us to reach so many patients so quickly," said panelist Varsha Rao, chief executive officer of Nurx, a company that has provided birth control, emergency contraception, PrEP, HPV testing for cervical cancer, and STI home testing to more than 200,000 patients.
"These are all areas that can be difficult to talk about, and we feel we're giving people the ability to get the care they need without feeling judged," she told Medscape Medical News. This "allows people to feel safe and puts the control in their hands as far as getting care for their issues."
Quality control was an early concern faced by companies that offer at-home testing, prescriptions, and similar services, as outlined in an article on Nurx published in the New York Times.
Rao, who joined Nurx earlier this year, said the company follows guidelines from the Centers of Disease Control and Prevention (CDC) for screening and serving patients. Now, adherence to the CDC Medical Eligibility Criteria for Contraceptive Use at several online providers, including Nurx, is 93%, according to a recent study.
"These findings suggest that telecontraception may reduce barriers to contraception because vendors are convenient and accessible," the authors of that study conclude. "In addition, adherence to guidelines among telecontraception vendors may be higher than it is among clinics that provide in-person visits."
Tracking Progress
Digital health companies can also offer providers a level of data collection not previously possible.
Neuroflow, for example, is a comprehensive digital platform that uses a mobile app and a data-analytics engine so that physicians can monitor the behavioral health of their patients, according to Chris Molaro, chief executive officer of the company.
Companies like Nurx and Ro mainly offer self-contained end-to-end service, whereas companies like Neuroflow and Babyscripts, a prenatal digital platform that helps patients and providers monitor weight and blood pressure, are offered through a patient's primary care provider and the data collected are integrated into their records.
"We've risk-stratified the patients so providers can reach out to the patients in a timely manner," Molaro told Medscape Medical News.
Patients use the Neuroflow app to fill out initial standard prenatal depression, anxiety, and substance-use questionnaires. Then, "we have an AI component that will tailor the experience for each patient based on the data we're collecting and analyzing," he explained.
A patient with emerging symptoms of prenatal depression, for example, will have access to videos and activities aimed at helping her manage or address her symptoms while her providers monitor the severity of the symptoms.
"The care team can make a judgment call about whether they want to reach out and engage that patient," said Molaro. "Even if patients don't have diagnosable depression or anxiety, they can still download the app and have access to resiliency training, and providers and care teams can more consistently track the behavioral health of patients between appointments."
Neuroflow, which has partnered with Jefferson Health and the US Air Force, currently works with more than 100 clinical organizations across the country, more than 700 physicians, and about 25,000 patients, Molaro reported. The company's internal data show an improvement in depression or anxiety symptoms in more than 65% of pregnant women.
At Mid-Atlantic Behavioral Health, which has adopted the platform, more than 75% of patients have engaged with the app after signing up, said Traci Bolander, PsyD, the company's chief executive officer.
Before Neuroflow, Mid-Atlantic Behavioral Health relied on pencil and paper to collect data from patients at each appointment, which clinicians used to recommend activities to the patient. But the system was inefficient. Patients did or didn't do the activities or even remember what they did, different providers were recommending different activities, and it was difficult for patients and providers to track progress.
"Patients didn't know what it meant to 'get better'," said Bolander. "They saw what they did in the moment, but they couldn't track their progress. There's no point in collecting data if you can't track progress."
Neuroflow gives providers incremental data between appointments, unlike the pen-and-paper approach, and the app allows providers to offer incentives, such as gift cards for journaling activities, that motivate patients to actually do recommended activities.
"You get points if you fill out a journal that you can share with your therapist, so it really empowers the patients to say what's on their mind and gives the therapist a heads up about what was is going on with the patient," Bolander said. "The feedback we're getting from patients is amazing. They love it. Many people feel safer writing it down or noting it in the app than saying it aloud."
Molaro said the platform addresses some of the major barriers to care for behavioral health: cost, provider shortages, and stigma.
"For the longest time, it's been that mental health is treated over here in this dark corner of the hospital where no one goes, and primary care occurs over here, and the two never come together," he said. "The digital part of this is private, it's personal, it's on your phone, and it's engaging the patient with her OB/GYN, not necessarily the therapist or psychologist. It normalizes it a little bit more."
Reaching Unengaged Populations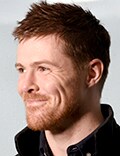 Digital health can also reach patients at risk of falling through the cracks in traditional healthcare systems, according to Peter Foley, chief executive officer of LetsGetTested, who spoke at HLTH.
LetsGetTested specializes in hard-to-reach people who aren't engaging with existing services, he told Medscape Medical News. For example, a payer will contact LetsGetTested with the name of a patient who needs a screening test but hasn't gotten it. The company then reaches out to that patient through regular mail, text messaging, or phone calls to encourage screening.
"We'll manage the aftercare and support for that patient and we'll report back to the payer, who will deal with CMS directly," said Foley.
After making contact, LetsGetTested mails a specimen collection kit to the patient with next-day delivery. The patient registers on the app, answers questions — which a company physician reviews in case the patient needs additional support or services — completes the screening test, and returns it using a prepaid shipping label.
LetsGetTested relies on a diverse network of large reference labs, and patients receive results from a nurse in 2 to 5 business days.
"One of our big selling points is that every single person gets a call from one of our nurses," said Foley. "And you can engage with our nurses or physicians at any point with any questions that you have on the phone or on asynchronous chat."
All orders and results are reviewed by internal physicians who follow protocols that are integrated with primary care.
"Say someone tested positive for HIV or for colon cancer. We'll follow up with them and we'll tie in with their primary care providers to relay the information needed to avoid duplication of testing and to make sure they get referred into the right level of care," he explained.
As the digital health industry grows, the opportunities for addressing stigmatized health issues will only increase.
"We're very committed to sensitive health, so we're going to keep investing to build out more service lines in this area," Rao said. "We are looking at what other sensitive health needs our patients have so we can make sure we are serving them as best we can."
HLTH: Create Health's Future 2019.
Follow Medscape on Facebook, Twitter, Instagram, and YouTube
Medscape Medical News © 2019

Cite this: Overcoming Stigma of 'Taboo Conditions' - Medscape - Dec 18, 2019.