The concept of healthcare-associated pneumonia (HCAP) gained widespread acceptance in 2005 after it was endorsed by an American Thoracic Society (ATS)/Infectious Diseases Society of America (IDSA) guideline. Since then, labeling patients with HCAP has lost favor as it drove up prescriptions for broad-spectrum antibiotics without an associated improvement in outcomes. As a result, some have argued that the term needs to be retired. When the ATS/IDSA hospital-acquired and ventilator-associated pneumonia guidelines were updated in 2016, I expected that the document would address the issue. It didn't. But now that the ATS/IDSA has published their community-acquired pneumonia (CAP) guidelines, it's now confirmed: HCAP is dead.
The notion of HCAP came from a good place. It was designed to account for two things: (1) certain patients diagnosed with CAP are at elevated risk for infection with drug-resistant organisms (DROs), and (2) mortality from pneumonia is higher if the initial antibiotic regimen fails to cover the causative bacteria. Contact with the healthcare system puts patients at risk for DROs, so it made sense that patients with pneumonia who had such contact would be labeled and treated differently to reflect this DRO risk. Thus, HCAP was born.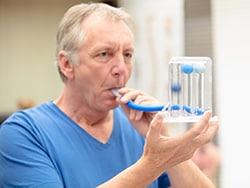 Patients achieved the HCAP label if they met any of the following three criteria: residence in a nursing home or other long-term care facility; hospitalization for more than 2 days during the past 90 days; receipt of home infusion therapy, chronic dialysis, home wound care, or a family member with a known antibiotic-resistant pathogen. These patients received antibiotic coverage for pseudomonas and methicillin-resistant Staphylococcus aureus (MRSA), meaning "double gram-negative coverage" for the former and vancomycin (or linezolid) for the latter. That way, empiric treatment would cover offending organisms.
Unfortunately, there are several flaws to this approach. To start, none of the criteria used to identify HCAP are strongly associated with DROs. This led to overprescription of broad-spectrum agents, without an accompanying improvement in outcomes. One could argue for a better model, but predicting the presence of DROs is more difficult than it sounds. Risk factors vary across populations and across different DROs (in other words, the same variables associated with pseudomonas may not be associated with MRSA).
The solution proposed by the 2019 guidelines is rather cumbersome but it makes sense under the circumstances. Although the term "HCAP" is retired, the concept is not. Hospitals are advised to develop their own predictive models based on local risk factors for DROs. In the absence of such data (and let's be honest—it will often, if not always, be absent) clinicians are instructed to obtain sputum and blood cultures in patients suspected of having HCAP. If pneumonia is non-severe, empiric broad-spectrum antibiotics (to cover DROs) are withheld while waiting for results of cultures. If it is severe, empiric broad-spectrum coverage is prescribed and tapered after 48-72 hours if culture results are negative for DROs.
As is often the case in medicine—and in life, for that matter—the HCAP predictive model proved to be oversimplified. It would be nice if some universal set of risk factors optimized sensitivity and specificity for DROs across different populations. Empiric broad-spectrum antibiotic coverage could save lives without increasing bacterial resistance and costs would go down. All providers would wash their hands and adhere to guidelines. For now, we have to settle for the pragmatic, though slightly more complicated, recommendations made in the 2019 CAP guidelines.
Dr Aaron Holley is an associate professor of medicine at Uniformed Services University and program director of pulmonary and critical care medicine at Walter Reed National Military Medical Center. He covers a wide range of topics in pulmonary, critical care, and sleep medicine.
Follow Medscape on Facebook, Twitter, Instagram, and YouTube
Medscape Critical Care © 2020 WebMD, LLC

Any views expressed above are the author's own and do not necessarily reflect the views of WebMD or Medscape.
Cite this: Aaron B. Holley. New CAP Guidelines: The Demise of Healthcare-Associated Pneumonia - Medscape - Feb 12, 2020.