ORLANDO, Florida — Treatment with chimeric antigen receptor (CAR) T cells may soon find its way into the treatment landscape of relapsed and/or refractory multiple myeloma (RRMM). This would be a new indication, as so far these novel therapies are approved for use in certain types of lymphoma and leukemia.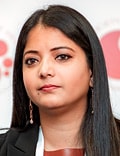 Two products with impressive response rates were highlighted here at a press briefing at the American Society of Hematology meeting.
Furthest in development is Janssen's JNJ-4528, which achieved a 100% overall response rate (ORR) in the CARTITUDE-1 trial, presented by Deepu Madduri, MD, of the Tisch Cancer Institute at Mount Sinai, New York City (abstract 577).
"We are seeing a high response rate, with most patients achieving minimum residual disease (MRD) negativity," Madduri said in a statement. "Considering these patients have all received multiple prior therapies, these results are extremely encouraging."
She noted that RRMM patients who have had multiple lines of therapy have a median overall survival of less than 12 months. "'Cure' is not the right word for these patients," Madduri said, but she added that "a one-time treatment means these patients no longer have to come into the clinic for weekly treatments and some are well enough to travel."
JNJ-4528 is a bicistronic CAR T cell targeting two different epitopes on B-cell maturation antigen (BCMA). The product has just been granted breakthrough therapy designation by the US Food and Drug Administration.
A global, multicohort, phase 2 study of JNJ-4528 is being investigated in patients with multiple myeloma in various clinical settings to evaluate the overall MRD rate. A global phase 3 trial, CARTITUDE-4, is already underway and compares treatment with the CAR T cell to standard triplet therapy.
Madduri noted that CARTITUDE-1 is similar to the LEGEND-2 trial (abstract 579) that showed impressive responses in a Chinese population with an identical CAR T-cell construct (LCAR-B38M).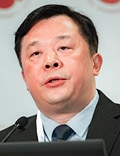 The other product, BM38 CAR T cells, showed an ORR of more than 90% in a Chinese patient population in a trial presented by Yu Hu, MD, PhD, of Union Hospital, Huazhong University of Science and Technology in Wuhan, China (abstract 930).
BM38 is a bispecific or dual-target CAR T-cell therapy that targets two different proteins — BCMA and CD38.
"Our thinking was that targeting both of these proteins would improve treatment efficacy without increasing toxicity and induce deeper, more durable remissions," Hu commented in a statement.
"BM38 CAR T cells have a high ORR, a longer duration of stringent complete response, and effective elimination of extramedullary lesions," Hu said at the press conference.
Experts Weigh In
Adriana Rossi, MD, hematologist at the Multiple Myeloma Center at Weill Cornell Medicine and NewYork-Presbyterian, New York City, explained to Medscape Medical News that multiple myeloma is lagging behind other hematologic malignancies and currently there is no approved CAR T-cell therapy for patients with RRMM.
Now with the results from CARTITUDE-1, "there is hope that one may be on the horizon in the near future," she said.
"When LEGEND-2 read out, we were very impressed with the data," she noted. "But LEGEND-2 was in a Chinese patient population, which is different from a US population — especially with respect to drugs that are used to treat patients."
CARTITUDE-1 is a triple-refractory study in a US "penta-exposed" patient population, and it shows similar results, Rossi said. "To see similarly impressive responses with tolerable toxicity as in LEGEND-2 is impressive, and having an established dose is important," she added.
Penta-exposed refers to patients having received the five drugs approved in the United States for the treatment of multiple myeloma: bortezomib (Velcade, Takeda), lenalidomide (Revlimid, Celgene), carfilzomib (Kyprolis, Amgen), pomalidomide (Pomalyst, Celgene), and daratumumab (Darzalex, Janssen Oncology).
The first-generation CAR T-cell products already on the market target CD19.
These new products, JNJ-4528 and BM38 CAR T cells, may be considered the next generation CAR T-cell therapy, Rossi commented.
Similar to other approaches used in multiple myeloma, targeting the disease from two different angles (BCMA and CD38) allows caregivers to target and to eradicate a greater proportion of myeloma cells, Rossi explained. "The bispecific CAR T cell is a good proof-of-concept and sets the stage for further development," she said.
Michael R. Bishop, MD, director of the Hematopoietic Cellular Therapy Program at the University of Chicago, agreed. "Targeting both BCMA and CD38 is what makes the Chinese study unique," he said and explained that BCMA can be altered or down-regulated leading to loss of efficacy of a CAR solely targeting BCMA. "Targeting two different targets may overcome that obstacle," Bishop said.
However, both Rossi and Bishop indicated that as with LEGEND-2, BM38 CAR T was evaluated in a Chinese population and more work is needed for this to advance in the United States. "These results will have to be replicated in a representative US population that has access and exposure to the drugs approved in the US to treat multiple myeloma," Rossi said.
Bishop added that in the Chinese study, patients were only required two prior lines of therapy and did not require prior treatment with a monoclonal antibody treatment such as daratumumab. "As such, future FDA approval will require a lot to be done," Bishop said.
The experts also noted that there is another product — Celgene's and bluebird bio's anti-BCMA CAR T-cell therapy bb2121 — that may be closer to the market than JNJ-4528 in the race to become the first CAR T-cell therapy for patients with RRMM.
CARTITUDE-1 Study Details
CARTITUDE-1 was a phase 1b/2 study to characterize the safety of JNJ-4528 and establish a dose that can be evaluated in a phase 2 efficacy portion of the study.
Patients with RRMM were required to have received at least three prior lines of therapy and should have received all three classes of agents (proteasome inhibitor, immune-modulatory drugs, and anti-CD38 therapy). Patients' T cells were collected and genetically engineered to express JNJ-4528. Prior to being infused with the engineered cells, patients received lymphodepletion therapy.
Patients received a median dose of 730,000 CAR T cells and median follow-up was 6 months. "Unlike other CAR T-cell therapies, JNJ-4528 is given as a weight-based dose," Madduri said.
The 29 patients in the study had a median age of 60 years and had received a median of five prior lines of therapy, with some patients receiving as many as eight. All patients were "triple exposed" (86% were triple refractory) and 72% were "penta exposed" (31% were penta refractory).
CAR T-associated adverse events were cytokine release syndrome (CRS) (all grades: 93%; grade 3 or higher: 7%) and neurotoxicity (all grades: 10%; grade 3 or higher: 3%). Madduri indicated that JNJ-4528 was different in that, unlike other CAR T cell therapies, median time of onset of CRS with JNJ-4528 was 7 days, with 90% of patients experiencing CRS between 5 and 9 days.
One patient experienced a prolonged grade 4 CRS that converted to grade 5 at day 99.
"As a field, we are getting better at mitigating and managing the toxicities associated with CAR T-cell therapy such as CRS," Rossi said, noting that CRS is now typically managed with tocilizumab.
Hematologic adverse events included (all grades/grade 3 or higher): neutropenia (93%/93%), anemia (86%/55%), thrombocytopenia (86%/69%), leukopenia (52%/52%), and lymphopenia (45%/31%).
Nonhematologic adverse events were uncommon: grade 3 or higher liver enzyme elevation was seen in two patients and anemia was seen in one patient.
"Early, deep, and high responses were seen in CARTITUDE-1," Madduri noted. All patients responded to therapy for an ORR of 100%, with 66% showing stringent complete responses.
Several other clinical outcomes were also noteworthy:
Median time to first response: 1 month

Median time to complete response: 1 month

100% of patients evaluable for minimal residual disease (MRD) were MRD-negative

27 patients remained progression free at the 6-month follow-up period
All patients showed a consistent peak of expansion of CAR T cells between day 10 and day 14 and, at the peak of expansion, there was a preferential expansion of CD8+ memory T cells, which are important for sustaining effector function.
Madduri noted that the manufacturing of JNJ-4528 was not unique, but the data indicate a preferential expansion of the memory CD8+ T-cell phenotype. She also pointed out that within 3 months, only 40% of patients showed CAR T cells. "Detectability of CAR T did not play a role in deepening of response," she said.
"We still need more studies, but JNJ-4528 is expected to be approved in the near future," Rossi said.
The Chinese Study
The Chinese study with BM38 enrolled 25 patients. Before receiving the engineered cells, patients received lymphodepletion therapy and 22 patients received BM38 CAR T-cell infusions; of these, 19 were alive at the median follow-up of 36 weeks.
Median age was 59 years, and 16 patients had one or more documented cytogenetic abnormalities; nine patients had extramedullary disease.
CRS was the main CAR T-cell adverse event and was reported in 20 patients (grade 3 or higher: five patients). Notably, there was no neurotoxicity, which is unusual as it has been reported in all other CAR T cells clinical trials so far.
ORR was 91% (20/22 patients), with 12 showing stringent complete response. MRD-negativity in the bone marrow was reported for 18 patients (81.8%). The estimated progression-free survival rate at 9 months was 79%.
Peak time for CAR T cells in peripheral blood was between day 7 and 15 after infusion for patients who achieved stringent complete response. Using a PCR assay, CAR T cells were seen in the blood of patients as long as 450 days after infusion.
"The early results in the study are promising, but the claim of extended responses is a little overreaching," Bishop said.
Hu reported case studies showing the efficacy of BM38 across different myeloma lesions, including a patient with extramedullary disease.
Roughly 1-in-10 patients with multiple myeloma develop tumors in the organs or soft tissues such as the blood vessels, muscles, and nerves. These extramedullary tumors respond poorly to treatment, and patients who develop them have a poor outlook and poor quality of life, Hu explained.
"Our results show that this CAR T cell product can effectively achieve elimination of extramedullary tumors," he said.
Rossi agreed. "Although these are preliminary data, they are encouraging for patients with multiple myeloma who have not responded to other therapies. Seeing the extramedullary response is particularly exciting as extramedullary disease is challenging to treat," she said.
Rossi indicated that although early and deep responses seen with CAR T cells are impressive, new terminology may be required for some clinical responses. She noted that MRD in the marrow may be misleading, as these assessments are being made regardless of hematologic response, rather than only at time of stringent complete response.
"Whether this represents a delay in clearance of proteins due to its half-life or truly residual disease is unclear, and requires longer follow-up," she told Medscape Medical News. Madduri supports the delay in clearance explanation. "Paraprotein in the blood takes a longer time to clear," Madduri said.
Indeed, duration of response and persistence of CAR T products are areas of current research and opportunities to improve our current experience in myeloma, she noted.
CARTITUDE-1 was supported by Janssen. The Chinese study was supported by Cellyan Therapeutics. Madduri consults with AbbVie, Foundation Medicine, Celgene, and Takeda. Rossi consults with Celgene, Janssen, and Amgen, and receives research funding from Bristol-Myers Squibb. Bishop consults with CRISPR Therapeutics, Novartis, Kite, Juno, and Celgene. He is also on the board of directors or advisory committees for CRISPR, Novartis, Kite, Juno, and Celgene; receives research funding from Novartis; and is on the Speakers Bureau of Kite and Celgene. Hu has disclosed no relevant financial relationships.
American Society of Hematology (ASH) 2019 Annual Meeting: Abstract 577, Abstract 930. Presented December 9, 2019.
For more Medscape Oncology news, join us on Facebook and Twitter.
Medscape Medical News © 2019

Cite this: Alexander M. Castellino. CAR T-Cell Therapy on the Horizon for R/R Multiple Myeloma - Medscape - Dec 07, 2019.