The ISCHEMIA trial had cardiologists' hearts skipping a beat long before it was presented at the American Heart Association (AHA) Scientific Sessions 2019 in Philadelphia last month.
The hotly anticipated study, seen as a follow-on to the COURAGE trial, aimed to determine the best management strategy for high-risk patients with stable ischemic heart disease. Revascularization combined with optimal medical therapy (OMT) and OMT alone tied for the main outcome of a reduction in major cardiac events.
As is increasingly the case in cardiology, the most lively discussions about ISCHEMIA and its implications were on Twitter. In the immediate lead up to the presentation — and the instant it began — cardiologists lit up the social media network with their thoughts and opinions. Nearly 600 cardiologists fired off more than 2000 tweets during the 75-minute AHA session, with some of the biggest names in the specialty weighing in.
Who Said What
Gregg W. Stone, MD, Icahn School of Medicine at Mount Sinai in New York City, put together a "tweetorial" succinctly explaining his take on ISCHEMIA's implications and limitations. Many called the study practice-changing, others saw it as reaffirming, and some said they'd need more details before they considered the debate settled. A few cardiotweeters cautioned mainstream media not to overstate the results.
A flurry of cross talk among cardiologists about what the study might show and how it would be received began long before the conference. Between November 9 (one week before AHA started) and November 18 (the conference's final day), 7500 of the more than 13,000 tweets concerning the trial (excluding ISCHEMIA-CKD) were posted by cardiologists.
Besides the conference hashtag, #AHA19, most tweets included #Cardiotwitter, demonstrating the power of this hashtag and its role in sharing the most up-to-date, cardiology-related information.
Check out this curated Twitter moment to see how the ISCHEMIA story unfolded.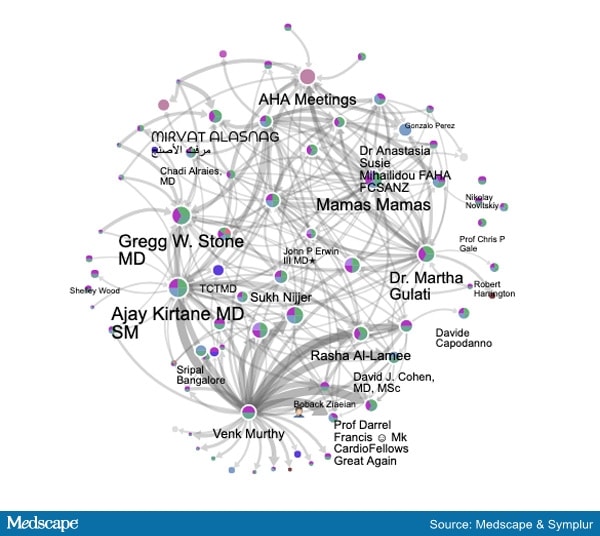 Top Physician Influencers
This visual represents the top 100 physician movers and shakers on ISCHEMIA in the twittersphere. The first tweet in interventional cardiologist Robert Yeh's 10-thread explanation of how he manages patients with stable ischemic heart disease was the most retweeted by cardiologists in a 10-day period between November 9 and November 18, followed by the shaky mobile phone video live stream of the ISCHEMIA presentations by Purvi Parwani, MD, of Loma Linda University Medical Center in California.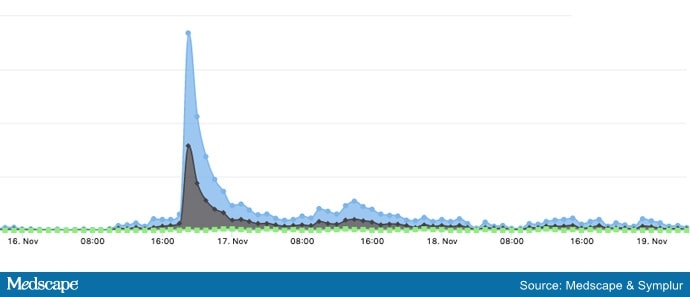 ISCHEMIA Tweet Activity
An hour-by-hour plot of related tweets starting November 14 shows peak ISCHEMIA tweet activity began at 2 PM eastern time on Saturday, November 16 as the first presentation began, though the embargo was broken a few hours earlier with stories posted by some major news outlets.
Is Twitter the New Peer Review?
The ideal platform for heated debate of clinical trials was a subject for discussion on, you guessed it, Twitter. Cardiologist C. Michael Gibson, MD, CEO of the Baim Institute for Clinical Research in Boston, proposed a debate of the results scheduled later in the day to allow participants time to absorb the chatter in the hallways and on social media.
https://twitter.com/CMichaelGibson/status/1201343337371975680
The ISCHEMIA study is not yet in print and will yield many more analyses in years to come, so watch for #ISCHEMIA and #ISCHEMIAtrial to blow up again on social media.
Liz Neporent is Medscape's social media editor and Tricia Ward is a cardiology editor. They previously collaborated on articles about CardioTwitter's response to the ORBITA and Apple Heart studies.
Follow Tricia Ward and Liz Neporent on Twitter
Follow theheart.org | Medscape Cardiology on Twitter
Follow Medscape on Facebook, Twitter, Instagram, and YouTube
Medscape Medical News © 2019

Cite this: Cardiotwitter Takes the ISCHEMIA Study to Heart - Medscape - Dec 06, 2019.