Julie Sierra, MD, was frantic. Her 18-year-old patient had been suffering from a pounding headache for days and was starting to vomit. He needed an MRI. But the young man, who had recently been released from detention after crossing into the United States from Mexico, had a metal monitor around his ankle. Sierra didn't know what to do.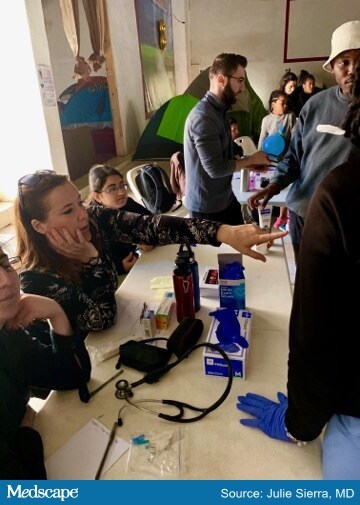 "The poor kid was in so much pain," said Sierra, a primary care internist with the University of California, San Diego. As her patient worsened, she spent most of the night and the next day calling every border protection office she could to get the shackle released but got no answer. Finally, she did something she never learned to do in medical school: She cut off the monitor using a scalpel. "Wires were sparking everywhere," she recalled.
Sierra, who speaks fluent Spanish, talked to the young man extensively to get his history and believes that he did not receive appropriate care for an easily treatable case of otitis media while in detention. After his release, worried family members brought him to the emergency department (ED). Imaging confirmed that he had developed mastoiditis and required immediate surgery. Although he is now recovering and continuing the process of seeking asylum, Sierra said the young man may never fully recover his hearing on the affected side.
Sierra is just one of thousands of physicians responding to pressing healthcare issues on America's southern border, treating patients in makeshift clinics cobbled together in bathrooms and parking lots, scrambling to get diagnostic tests for uninsured patients, and testifying in court to document the torture scars of asylum seekers. Many physicians, even those who live and work far from the nation's southern border, find themselves rethinking how and why they practice medicine. They are eager to share their stories and call attention to a situation they describe as overwhelming.
"I constantly feel like I'm screaming into the void," said Kim Mukerjee, MD, a pediatrician caring for migrant families in New Orleans. "It's isolating. It's frustrating. It's exhausting."
Responding to the Call
Claudia Mercado, MD, runs a small family medicine clinic in Laredo, Texas. Earlier this year she was seeing newly released migrants, sometimes hundreds a day, deposited at her local Greyhound bus station. When Mercado learned that one of her regular patients ran a shelter for transitioning migrants but could offer no medical care, she visited immediately. "I just had my stethoscope and a plastic table," Mercado recalled. "I saw 20 people that night."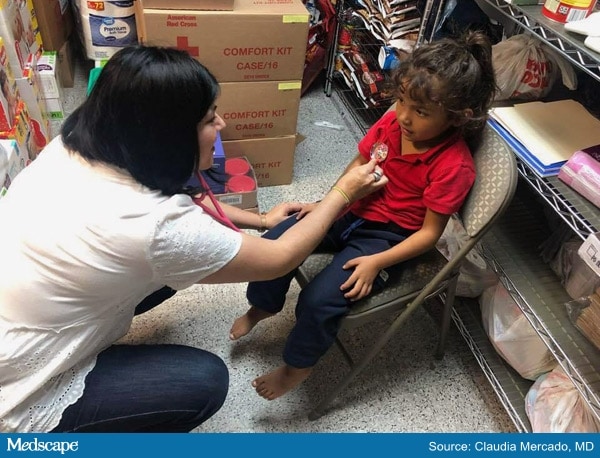 Mercado returned to the clinic after work daily, seeing 20 to 30 patients a night and treating everything imaginable, including scabies, measles, lice, and diarrhea. More difficult was something she couldn't treat: terror. "As soon as I got in, my heart stopped. I could literally smell their fear," she said. "I saw kids with no shoes, people who hadn't had a shower, so much trauma."
Mercado, who migrated to the United States at age 17 and attended medical school in Chicago, hugs her migrant patients and speaks to them softly in Spanish. "I want them to know they are welcome here," she said. "I want them to know we see them as human beings."
In her first days at the shelter, Mercado bought a small pharmacopoeia—acetaminophen, ibuprofen, polyethylene glycol, loperamide—paid for out of her own pocket. She bought a scale and blood pressure cuff. She doesn't have the resources to pay for x-rays or labs.
Mercado estimates that she has treated thousands of migrants since the crisis started and has never been more exhausted—or more exhilarated—by her work. "My soul," she said, "is happy."
Just 2 hours to the southwest and less than a mile from the Rio Grande River, Starr County Memorial Hospital is often the first stop, and sometimes the last, for many migrants attempting to swim from Mexico to the United States.
Javier Margo Jr, MD, has treated many migrants dealing with the effects of near-drowning and heard many more stories of those who disappeared under the Rio Grande's swift and unpredictable surface. "The river," he said, "is a treacherous place."
Border agents carry migrants into his ED suffering from dehydration, heat-related illnesses, and trauma. "They're tired, they're hungry, they need help," he said. "They're showing up in a place where there's no medical care for hundreds of miles."
He's also seen migrants sickened by nearly every kind of infection: measles, varicella, E coli, staph. They come in unpredictable waves, and sometimes they overwhelm his 10-bed ED. "It takes a toll. We're one of the poorest counties in the country," Margo said. "We don't really have a health safety net."
Recently, he has delivered a number of infants to mothers who had received little or no prenatal care. "That lack of prenatal care is huge," said Margo, who is president-elect of the Texas Academy of Family Physicians.
Medscape Medical News © 2019 WebMD, LLC

Any views expressed above are the author's own and do not necessarily reflect the views of WebMD or Medscape.
Cite this: Physicians Caring for Migrants Are 'Screaming Into the Void' - Medscape - Dec 02, 2019.