Tim Wong, MD, 35, a family practitioner near Pittsburgh, was burnt out. He did all the customary primary care work as an employee and director of quality for a mid-size group practice: morning rounds, seeing patients during the day, then spending evenings and weekends catching up on charting. He was frustrated by pressure from insurers to meet evolving quality measures while also continually jumping through hoops to get his patients the care he thought they needed.
"It really weighs on you," he said. "I realized the system was failing, and I felt I was part of the system so I'm also part of the problem." He decided to make a huge change — opening a practice where he wouldn't accept any insurance. He thought insurers were a huge contributor to the burnout he felt.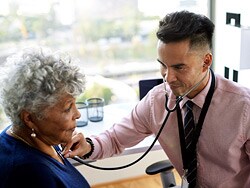 Wong wrestled for several months with the idea of forfeiting a secure paycheck to strike out on his own. He considered direct primary care, but thought a membership model was too elitist. He felt it would eliminate too many of the patients he liked to see and that it would be out of their price range.
"I actually follow the free market because I believe it has more intrinsic efficiency." He strategized with his wife, a physician at the same group practice. She would remain employed to ensure they had a steady income.
They decided the time was right for him to take a leap of faith and open a micro-practice. These ultra-small practices are sparse, with just one physician, a waiting room, and an exam room. Patients book appointments online or just walk in. Voicemail replaces a traditional receptionist. There's usually no other staff. Keeping overhead low keeps costs down, helping stretch a smaller budget.
His clinic has been open only a few months, so it's difficult to project future income. However, he estimates that seeing 20 patients daily will earn him around $190,000 annually, not much less than an average family physician in Pittsburgh earns.
"And I get my life back," said Wong.
A recent AMA study found that in 2018, employed physicians outnumbered self-employed physicians. Over the 6-year period from 2012 to 2018, more physicians shifted toward larger practices and hospital-owned practices. In 2018, employed physicians (47.4%) outnumbered physician owners (45.9%), according to the study. Other data also show this shift in practice models in which a majority of physicians work in some employee-type arrangement.
Although many physicians don't want to make a change as drastic as Wong's, they still toy with the idea of switching from employed to self-employed or vice versa.
Whether they opt for self-employment or employment by a physician group, hospital, or other practice model, there are always trade-offs. Some of the pros and cons to each are subjective; what some physicians consider anathema to them, others enjoy.
There's no one-size-fits-all solution to balancing income potential against factors like desired lifestyle and independence. Everyone needs to figure out the right approach for them, said Michael Belkin, divisional vice president of recruiting for physician recruiting/search firm Merritt Hawkins. He suggests looking at the different pathways available and picking the one that's the right fit for your life and career goals.
Higher vs Steady Income
According to the Medscape Physician Compensation Report 2019, salaries for self-employed primary care providers average $359,000 nationally, compared with $289,000 for employed physicians.
Self-employed income can fluctuate, depending on factors like location and payer affiliation. Additionally, in a very small practice, if you take a vacation or are out sick, your practice may not earn any revenue on those days.
Employed physicians can generally rely on a steady base salary, with incentives or penalties for performance measures. Reimbursement is generally higher for services provided in hospital-owned settings than in physician offices, according to a Physicians Advocacy Institute (PAI) issue brief. However, Wong said he doesn't mind trading some income for flexibility and independence, along with the ability to "cut out a ton of red tape."
Autonomy vs Handing Off Some Tasks
Employed physicians, especially those affiliated with a hospital or HMO, give up varying degrees of autonomy and clinical decision-making authority in exchange for shared resources and a regular paycheck.
Employed physicians are being asked to do more, with fewer resources and loss of autonomy. Meanwhile, they're often making less money, said Nisha Mehta, MD, a radiologist, speaker, and founder of the popular Facebook group Physician Side Gigs, which has nearly 50,000 members. Members tell her "they don't necessarily see a direct correlation between their productivity and earning potential or happiness or satisfaction with medicine, because of so many external sources dictating the terms of their careers," she said.
There's staff to handle billing, collections, and other administrative tasks, so they can focus on clinical care. However, they must meet specific payer quality measures or follow certain payer-mandated protocols.
Spending Time on Administrative and Business Issues
Solo and small group practitioners must worry about overhead and staff, along with evolving regulations and reporting requirements, like electronic health records and meaningful use. This gets very expensive, according to Belkin. Additionally, consolidation among large insurers makes it increasingly difficult for small practices to negotiate or push back against administrative decisions when it comes to clinical care.
Those in group practices may gain a better sense of financial security and more control over lifestyle. They can also share costs and resources of administrative tasks, according to the American College of Physicians. However, autonomy tends to decrease as the practice grows, potentially leading to conflict or increased bureaucracy.
For employed physicians, there's often pressure to squeeze in more patient visits and provide ever-increasing documentation, eating into physicians' nights and weekends.
That's one reason hospitals continue to acquire medical practices at a rapid pace. A report from Avalere Health and PAI found that in the 18-month period between July 2016 and January 2018, hospitals acquired 8000 medical practices; an additional 14,000 physicians left private practice and entered into employment arrangements with hospitals.
Gaining Peer Support and Colleague Communication
Employed physicians generally work set days or shifts, depending on whether they're part of a group or employed by a hospital, like Vinu Kurian, MD, a hospitalist at Huntington Hospital on Long Island, New York. "You're able to flex your compensation up by taking extra shifts, or down, if you need some time off," he said.
He likes the opportunities to discuss cases with colleagues. "Every day, there are 10 to 15 doctors in that office. Rather than being in the middle of nowhere, you always have someone you can talk to." New residents can especially benefit from this arrangement, because they have multiple senior physicians to mentor them.
Wong admits that being a self-employed, solo physician can get lonely. However, an independent practice association, or IPA, like the Minnesota Healthcare Network (MHCN), is one way solo and small group practices can get support and feel less adrift. MHCN encompasses 30 practices with some 300 physicians, says CEO Tom Lorentzen.
These physicians have their own practices, which range from single-physician offices in inner cities to a 65-person clinic in rural Minnesota. The organization assists members with issues such as contracting, care management, and creating best practices, as well as securing value-based contracts to augment their income from fee-for-service revenues. Independent practices require an entrepreneurial spirit and a willingness to take a certain amount of financial risk.
"If you're independent in this day and age, you're doing something pretty intentional to be there because financially, it's just a difficult road to hoe," Lorentzen said. "There are always going to be a set of physicians that really have in their mind they want to practice personalized medicine, not some sort of corporate medicine."
If you're independent in this day and age, you're doing something pretty intentional to be there because financially, it's just a difficult road to hoe.
A Better Work-Life Balance?
Hospitalists like Kurian don't mind forgoing some autonomy in exchange for reduced paperwork burden. Kurian says being a hospitalist provides good work-life balance and peace of mind.
"I spend about 80% of my time on clinical care and 20% on administrative, like committee work, which helps to serve a higher purpose." And when he leaves at night, he knows a trusted colleague will be there to take care of his patients.
Although Wong currently works 7 days a week, "the real difference is you're doing this for yourself and not for somebody else's profit. And the nice thing is, when I go home, I go home." He says he gains back 2 to 3 hours at night because there isn't insurance documentation to worry about.
Popular Practice Models for Self-employment
For those considering self-employment, there are several different practice models that have pros and cons.
Some self-employed primary care physicians have shifted to direct primary care or concierge medicine, where they can better set the terms of their doctor-patient relationship.
"If we don't get more creative about the different options that are out there, we're going to lose a lot of these people who are kind of on the fence as to whether or not they're going to stay in the system, and we're going to further exacerbate the physician shortage," said Mehta. She lives in Charlotte, North Carolina, and currently works locum tenens, which provides flexibility to take on speaking and other business engagements.
Concierge medicine is a membership model in which physicians — usually internal medicine or family medicine doctors — care for a relatively small group of patients (300–600 per physician). Patients have 24/7 access, a physician's personal cell number, and get same-day or next-day appointments. Physicians spend as much time as necessary with each patient.
They do not accept insurance. Fees typically average $125 to $220 per month per patient, according to Concierge Medicine Today. Concierge physicians can generally earn the equivalent salary of a specialist. As with traditional solo or small group practices, there are trade-offs when managing a small business, such as lack of a safety net or access to more extensive resources.
Direct primary care (DPC) is a less expensive alternative to concierge medicine. Fees are about half of what a concierge practice may charge. Patients also receive unrestricted direct access to care and can use the services as much or as little as they want. Many DPC practices are open 7 days a week and offer same-day or next-day appointments.
Because DPC practices don't accept insurance, they avoid the challenges of dealing with third-party payers. This can result in significant cost savings, since managing insurance relationships can consume as much as $0.40 of each medical dollar spent. Trade-offs are similar to those of concierge practices in managing a small business.
Thomas LaGrelius, MD, a geriatrician in Torrance, California, tried several practice models over his 45-year career. He started with a small, independent group in 1974, but rapid practice growth eventually caused a need for additional revenue. That resulted in signing an HMO contract.
"It was a rude awakening to the realities of managed care," he said. LaGrelius was concerned about the number of denials that occurred in HMOs.
The gatekeeper concept and delays in patients' accessing care prompted LaGrelius and several partners to exit the arrangement. He tried working with PPOs, but "they kept asking for more and more of a discount, as high as 40%." It became infeasible financially. He moved to a cash practice and also accepted Medicare. Then he got wind of concierge medicine.
He converted his practice in 2005 and hasn't looked back. "We've been very successful." LaGrelius has since brought in two fellows, one as a partner. Patient panels are capped at 400 per physician, which he says allows him to spend an hour or two with each patient. "That's why I went into medicine ― for the patient, not for the government or insurance company or the hospital."
That's why I went into medicine ― for the patient, not for the government or insurance company or the hospital.
A micropractice entails a lot of cost cutting, and many administrative tasks are done by the physician. The payoff is that the physician is his or her own boss, and the low overhead allows him or her to have a profitable practice without having to earn a huge amount of revenue. Micropractice fees are most often direct-pay, although some practices offer payment plans.
Some physicians accept limited private insurance, Medicare, or Medicaid, but others, such as Wong, eliminate third-party payers all together. They share a philosophy that the patient-provider relationship is most important in determining health and that nothing should stand in the way of delivering optimal care.
"I can offer price transparency, which is almost unheard of in medicine, and keep it simple."
Wong charges $35 for the first problem he treats at each visit and $10 for each additional problem he treats at the same visit. Payment at the time of the service eliminates surprise bills. He relies on technology ― such as an automated check-in system, accepts only credit cards, and uses a simple EHR system ― to support his solo effort. Wong does everything himself, from greeting patients and administering flu shots to taking out the trash.
While each type of practice has pros and cons, it's important to choose the ones that resonate as most important to you.
Liz Seegert is a healthcare writer based in Little Neck, New York.
Follow Medscape on Facebook, Twitter, Instagram, and YouTube
Medscape Medical News © 2019

Cite this: Employed vs Self-employed: Would You Be Happier Making a Change? - Medscape - Nov 25, 2019.