Paul Cline will never forget the day he almost didn't make it home.
It was winter, and a heavy snowstorm had wrapped itself around the mountains north of Phoenix, Arizona. Cline was working as an aviation nurse aboard an air ambulance — Helicopter Emergency Medical Service (HEMS), in the parlance —based in the town of Safford, on the eastern edge of Arizona. A boy had fallen while skiing in the mountains and had broken his femur. He needed to get to a hospital, stat.
The weather blocked all the Phoenix-based choppers, and it looked pretty iffy to the east, too, but it might be possible to get through from Safford, 165 miles away. Cline and his partner, the helicopter's pilot, faced the kind of life-or-death-decision that HEMS crews face all the time. Do we launch and put our own lives at risk — or stay safe and leave a patient to his fate? "We were a long way away, and the storm was closing in," Cline recalls.
They decided to give it a shot. "We said, 'We'll just launch and take a look when we get there.' You can't do that. That's how people die." The danger is that when a pilot who is flying by visual reference to the ground flies into a cloud or fog, it becomes incredibly difficult to tell which way is up. "You turn it upside down and you die," Cline says.
They launched and headed northwest, up into the mountains, threading between storm clouds. When they touched down at the accident site, "there was snow and zero visibility on three sides of us. There was only one way out, over the top of a mountain. We had 20 minutes, or we were going to be grounded for 2 days. My partner reconfigured the helicopter in NASCAR-pitstop time so we could fit this kid with his splint in. We launched. The ride back was the bumpiest I'd ever taken. We were really getting our butt kicked in turbulence. We looked at other, like, 'Why are we here? What the hell are we doing?' This is how things go bad in a heartbeat."
Cline was lucky that day. The way through the clouds stayed open, and they made it home safe. But not all HEMS crews have been so lucky. Between 1972 and 2018, 339 people have died in 127 fatal crashes in the United States, according to data compiled by Ira J. Blumen, MD, medical director of the University of Chicago Aeromedical Network.
Despite recent efforts by operators and regulators to stem the tide, the risk remains significantly higher than in other forms of commercial aviation. Air ambulances have a fatal accident rate 800 times greater than commercial jets in the last decade.
Some of the danger springs from the nature of the flying itself; patients may need to be picked up at remote sites that are unfamiliar to the pilot, with unknown potential hazards like power lines or steep terrain. But critics say the way the industry is set up makes HEMS even more dangerous and expensive than it needs to be. "It's the poster child for healthcare market failure," says Ge Bai, PhD, a professor of accounting at Johns Hopkins Carey Business School in Baltimore, Maryland, who studies health care economics. Congress is taking note.
"If an airline had a safety record like HEMS, they would have been shut down," Cline says.
Profit and Growth
The roots of the problem lie in the way the business has evolved. Though helicopters were used to transport injured soldiers during the Korean and Vietnam wars, they weren't used to move civilian patients in the United States until the 1970s. Even then, air ambulance helicopters remained relatively rare. As recently as 1980 there were fewer than 50 in service in the United States, most of them operated by hospitals.
Medicare reimbursements were based on costs incurred by the operator, and favored nonprofit over for-profit providers by capping reimbursements made to the latter. In 2002, Medicare's approach to HEMS changed. Henceforth, both kinds of operators were treated equally under a payment system that paid a base amount for each flight plus a fee for each mile flown.
Under the new rules, the number of HEMS helicopters tripled in just over 3 years and then continued to grow. Today there are more than 1000. The industry as a whole transports some 400,000 patients a year, or about one every 90 seconds.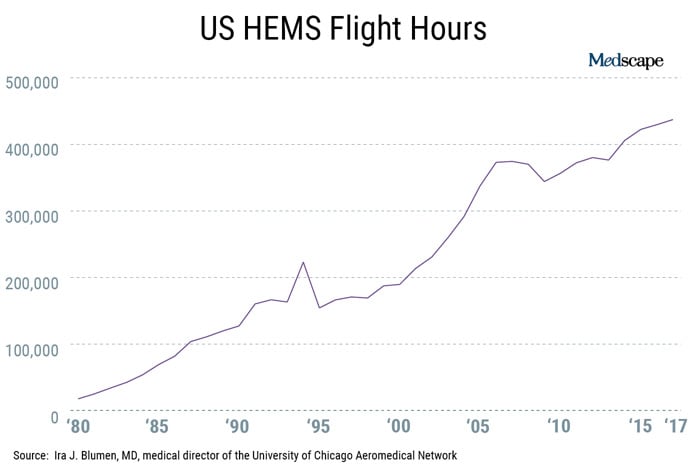 As the industry has grown, it has become dramatically more expensive. According to the Government Accountability Office, the median charge for a HEMS flight increased from around $15,000 in 2010 to $30,000 in 2014. The largest operator, Air Methods, increased its price per transport from $13,000 in 2007 to $49,800 in 2016 (an increase of 283%).
One reason costs have spiraled is that there are effectively no controls to limit prices.
Patients have no say in whether they'll be transported by helicopter, or which company will transport them. "In a normal market, if people are not happy with a price, they will not buy," says Bai. "Consumers are putting price pressure on the seller. But with air ambulances, no matter how high they put the price, it doesn't affect demand."
Sky's-the-limit prices have drawn private investors to the industry. "Many of these helicopters are placed because of financial potential," says Mike Abernethy, MD, the chief flight physician at the University of Wisconsin School of Medicine and Public Health. "It's basically financial speculation." Two of the largest operators — Air Methods and Air Medical Group Holdings — are owned by private equity firms. (KKR, which owns Medscape's parent company Internet Brands, also owns Air Medical Group Holdings.)
The profit-seeking dynamic inevitably leads to higher prices, Abernethy says. If a private company enters a market where one or two helicopters are already operating, the incumbents will see their usage drop. The only way to retain profitable margins will be to charge higher prices.
Says Abernethy, "Can you imagine if a McDonald's started selling fewer Big Macs, and instead of lowering prices, they said, 'We're going to double the price?' Obviously people would just go away — they wouldn't buy them anymore. But in the HEMS business, the consumer doesn't have a choice."
Not everyone pays astronomical prices for HEMS transportation. If the patient is covered by Medicare, then the operator will be reimbursed a relatively modest amount. In 2015, the median amount was $5,998.
Some insurance companies have made arrangements with operators and will cover the bill for a patient's transport. But if the operator is out-of-network, insurers generally will only pay the Medicare amount, leaving the patient to cover the difference out of pocket — a practice known as balance billing.
This practice can be financially catastrophic for patients, but it can be lucrative for operators. In 2016, the last year for which it made figures available, Air Methods made a profit of $98 million, or about $1000 per transported patient, on air-ambulance revenue of $1.1 billion.
Shopping for a Helicopter
Critics say that the relentless drive for profits contributes to the industry's relatively poor safety record. "When you have a profit motive in a system where quality costs money, there is no financial incentive for quality," says Abernethy. More data from Blumen at the University of Chicago Aeromedical Network show there were an average of 5.4 HEMS accidents per year in the decade between 1988 and 1997, but more than twice as many (11.2) in the two decades that followed.

One way that the profit motive undermines safety is by encouraging operators to cut costs. While European HEMS operators are required to use twin-engine helicopter for air ambulance missions, for instance, most of the US HEMS fleet consists of single-engine helicopters, which are a lot more vulnerable in the event of mechanical failure.
Another way is by incentivizing operators to accept flights when the weather is marginal. "I'm a libertarian, I love competition, but competition also has a dark, ugly side," Cline says. "There's pressure to accept flights you have no business accepting. You don't want to die, but you also don't want to lose your job."
Helicopter shopping is precisely why this crew died.
One result of intense competition is a practice called "helicopter shopping." If a dispatcher calls a HEMS provider and is told that they won't fly due to dangerous weather, he or she might call around to competitors until one is willing to say yes. "It's a horrible practice," says David Tan, MD, president of the National Association of EMS Physicians (NAEMSP). The risk is that the operator who accepts the job might be the outlier in understanding the gravity of the risks.
In the St. Louis area, where Tan is the chief of EMS at Washington University School of Medicine, an informal agreement has essentially ended the practice since 2006: "If one service turns down a flight for safety reasons, everyone else will say no automatically." Dispatchers ask callers requesting a flight if they've contacted another service, and pilots log weather-related turndowns on a website shared with more than 650 programs nationwide. The area helicopter services are working on formal protocols Tan hopes will be in place in the next year.
Unfortunately, this protocol is not universal. This past January, a Survival Flight medical helicopter en route to pick up a patient crashed 15 minutes after takeoff near Columbus, Ohio, killing the pilot and two flight nurses. Subsequent investigation revealed that before Survival Flight accepted the assignment, two other HEMS operators had turned down the flight because of weather concerns.
"Helicopter shopping is precisely why this crew died," says Tan.
In response to the high rate of accidents, the National Transportation Safety Board has conducted a number of studies and issued recommendations to make the industry safer. It has then fallen to the Federal Aviation Administration (FAA) to decide whether to turn those recommendations into binding rules. In 2014, the FAA took its most aggressive action to date by issuing a broad set of regulations aimed specifically at HEMS operators. They didn't implement all of the NTSB's recommendations, but they did include most of them.
Among other things, the new rules required air ambulance helicopters to be outfitted with terrain-avoidance avionics and flight data monitoring systems; mandated that operators implement risk-management programs; and established heightened safety procedures for flying at night, in bad weather, or when landing away from airports.
Whereas the US has had 29 fatal accidents since 2008, Canada has had just one and the UK has had none.
The measures were phased in gradually, and as they came into effect, the accident rate decreased. "The FAA views these rules as being responsible for an overall reduction in the helicopter air ambulance rate from 2.72 accidents per 100,000 hours in 2013 to 1.31 per 100,000 hours in 2018," the agency said in a statement to Medscape. "The fatal accident rate dropped from 1.05 fatal accidents per 100,000 hours in 2013 to 0.22 in 2018."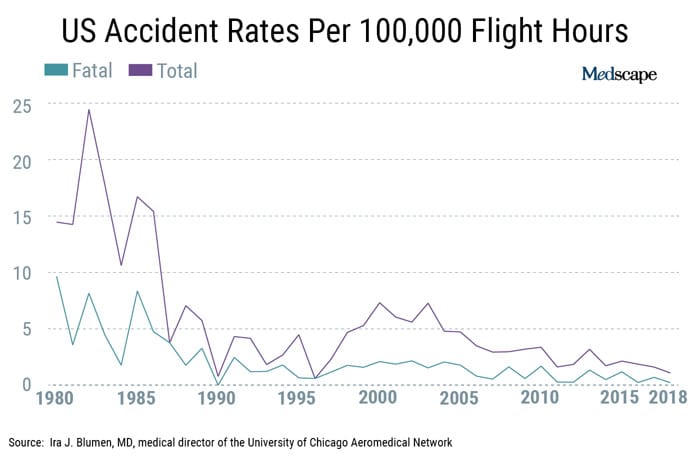 Critics point out, however, the United States HEMS industry remains significantly more dangerous than other developed countries. It's impossible to make an exact one-to-one comparison, because each country has its own population density, healthcare system, and culture of risk tolerance. But whereas the US has had 29 fatal accidents since 2008, Canada has had just one and the UK has had none.
In neither country are air ambulances run as for-profit services. "I do a lot of work in the UK," says Abernethy. "They have 26 helicopters. They're largely charities. So they operate on donations. The National Health Service doesn't pay anything for helicopter services. And the patient is not billed for them. And I'll tell you, the quality is amazing."
In response, industry advocates say that it's unfair to compare the US to other countries where very different levels of service are offered. "Countries like Canada do not fly at night," says Maryam Sabbagh, director of communications for the trade group Association of Air Medical Services. "Less flights, less risks, but less lives saved."
Regulation Resistance
Advocates have a wish list of things that could be done to address the industry's safety and affordability problems. One idea would be to regulate the size of the HEMS industry so that too many operators don't chase after too few patients. "Right now, we have 1100 helicopters in the United States," says Abernethy. "We need about 500 or 600."
Past attempts to regulate air ambulance service at the state level have fallen afoul of the federal Airline Deregulation Act of 1978, which forbids states from regulating any kind of air service. Over the years, various bills to exempt HEMS have been put forward, but all have failed.
"The air ambulance industry is very powerful. And their lobby effort is significant. So it's very hard to do anything," says Bai.
Air ambulance operator Global Medical Response spent more than $800,000 this summer on TV and radio advertisements opposing a bill to stop balance billing, according to the Center for Responsive Politics, and Air Medical Group Holdings spent $1.2 million on lobbying from July through September. With that, plus more than $28 million from other private-equity backed physician staffing companies under the umbrella of a group called "Doctor Patient Unity," the legislation has stalled.
Last year, when a bill reauthorizing the FAA came before Congress, some lawmakers tried to attach a provision that would allow states to regulate HEMS service. That effort was thwarted thanks to industry pressure. It was replaced with a measure authorizing a task force called the Air Ambulance and Patient Billing Advisory Committee.
With members drawn from a broad range of stakeholders, from patient advocates and insurance regulators to air ambulance operators and insurance regulators, the group is charged with coming up with recommendations to Congress on how best to protect consumers from balance billing and unfair charges. The committee's members were named in September but at time of publication have not yet met.
At this point there's no telling how aggressive their recommendations will be, or whether Congress will turn those recommendations into law. But as the public becomes increasingly aware of the financial ruin that awaits the unlucky, Bai feels a political tipping point may be at hand. "As there are more and more cases, I feel there will be enough political will to push for change," says Bai. It might just come down to the right person finding themselves on the wrong end of an air ambulance fee. "If the senator or the congressman got struck with this kind of bill," she says, "there might immediately be political will."
Jeff Wise is a freelance science writer who specializes in psychology, technology, and aviation. His most recent book is "The Taking of MH370 " about the Malaysian airliner that went missing in March 2014.
Follow Medscape on Facebook, Twitter, Instagram, and YouTube
Medscape Medical News © 2019

Cite this: US Air Ambulances: Expensive, Risky, and Regulation-Averse - Medscape - Nov 20, 2019.