The heated debate over the 5-year results of a trial comparing stents and coronary artery bypass grafting (CABG) surgery in patients with left main coronary disease deserves mention not only because we want to know the best way to treat patients but also because of the larger lessons it teaches about the communication of science.
In September, Gregg Stone, MD, from Mount Sinai in New York presented 5-year results of the EXCEL trial at the Transcatheter Cardiovascular Therapeutics (TCT) 2019 conference. The New England Journal of Medicine (NEJM) simultaneously published the results, with the conclusion that "there was no significant difference between percutaneous coronary intervention (PCI) and CABG with respect to the rate of the composite outcome of death, stroke, or myocardial infarction at 5 years."
About a week later, at the European Association of Cardiothoracic Surgery (EACTS) meeting, numerous speakers questioned this no-difference claim. The consensus from the discussion at this surgical conference was that PCI looked worse than CABG in longer-term follow-up.
Steve Stiles has excellent news coverage of the EXCEL controversy. My take is that the topline finding—that both treatments are essentially similar—is misleading and could potentially lead to future harm.
EXCEL Revisited
Recall that EXCEL investigators randomly assigned about 1900 patients with left main disease of low to intermediate anatomic complexity to PCI with drug-eluting stents or CABG surgery. The primary endpoint was a composite of death, stroke, or myocardial infarction (MI).
After 5 years, 22.0% of the patients in the PCI group and 19.2% of the patients in the CABG group experienced a primary endpoint. The higher rates of events in the PCI arm did not meet statistical significance.
At EACTS, the most notable critique came from surgeon David Taggart, MD, PhD, from the University of Oxford in the United Kingdom. Taggart, who was chair of the surgical committee of EXCEL, said he "believed the data in EXCEL was manipulated by using a changed definition of myocardial infarction to try and prove that for the composite endpoint, there's no difference." Taggart felt so strongly that he withdrew his name from the NEJM manuscript.
Both Stone and the second author, surgeon Arie Pieter Kappetein, MD, PhD, originally from Erasmus University Medical Center in the Netherlands, but now at Medtronic, denied Taggart's claim that endpoints were changed.
I will not wade into the accusations of malfeasance, but they should not distract us from the actual data. Despite the printed conclusion, the longer-term results from EXCEL suggest caution in choosing PCI as an alternative to CABG in patients with left main disease.
Bias in Handling of the MI Signal
A serious criticism of EXCEL centers on the MI component of the composite endpoint. The two big questions are 1) how to define MI and 2) whether to include periprocedural MI in the primary endpoint.
First the definition issue: Results of an observational cohort study from a Korean center using serial creatine kinase–MB (CK-MB) measurements from more than 7600 patients who had undergone PCI or CABG showed widely disparate rates of MI depending on the definition used. They ranged from 19% for PCI vs 3% for CABG with use of the second universal definition of MI to 5.5% for PCI vs 18.3% for CABG if the Society for Cardiovascular Angiography and Interventions (SCAI) definition was used.
The authors explain that the second and third universal definitions of MI use different CK-MB criteria for PCI- or CABG-related MI, whereas the SCAI definition uses the same CK-MB cutoff for both procedures. Because cardiac surgery involves far more manipulation of the heart, cardiac enzyme levels will naturally be higher after CABG than PCI. What's more, the SCAI definition of periprocedural MI largely relies on biochemical changes such as CK-MB levels.
EXCEL used the SCAI definition of MI. This is crucial because the 37% higher rate of periprocedural MI in the CABG arm of EXCEL likely drove the comparative event rates. The Kaplan-Meier curves in the EXCEL paper show that rates of MI are higher in the PCI group as the trial progresses. Compared with PCI, there were 22 more MIs in the CABG arm in the first 30 days, but 29 fewer MIs after 30 days.
During EACTS, Taggart showed an analysis of EXCEL that excluded periprocedural MI—CABG was the clear winner. The odds ratio of the primary endpoint was now 44% higher in the PCI arm. While this is a post hoc analysis done after knowing the results, it's not an unreasonable way to look at outcomes.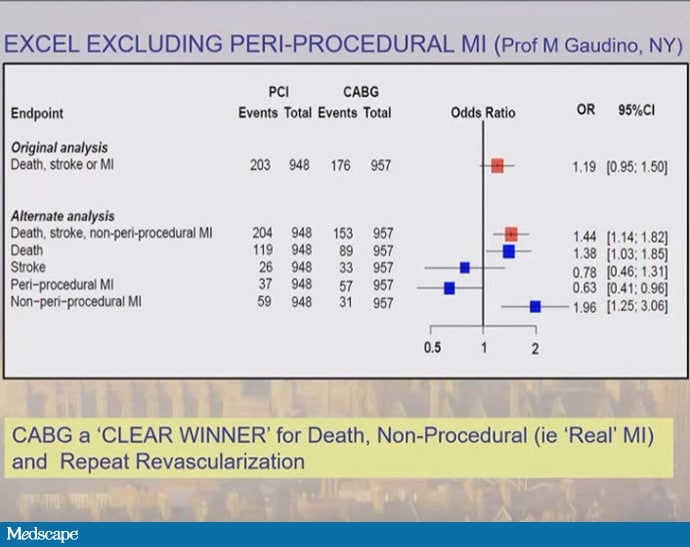 The NOBLE trial, another randomized controlled trial comparing PCI and CABG in just over 1200 patients with left main disease, excluded periprocedural MI in the analysis. Investigators found that nonprocedural MI was nearly threefold higher in the PCI arm.
Death Rates Diverge Late in EXCEL
Let's note that the mean age of patients enrolled in EXCEL was only 66 years. That's important because their lifespan is likely to be far greater than 5 years. Although PCI clearly offers less up-front morbidity than does surgery, death rates at 5 to 10 years are highly relevant to a 66-year-old with left main disease.
Overall mortality was a secondary endpoint in EXCEL, and the trial was not powered to detect a difference in mortality. That said, 119 patients (13%) in the PCI arm vs 89 patients (9.9%) in the CABG arm were dead at 5 years.
Taggart emphasized that the 3.1–percentage point absolute difference was less worrisome than the Kaplan-Meier curves showing a wider gap in death rates over time. The post hoc landmark analysis showing outcomes at three time points confirms this worry: 10% of patients died in the PCI arm vs 6.6% in the CABG arm from year 1 to year 5.
Also at EACTS, Nick Freemantle, PhD, a statistician from University College London, reiterated the concern over late deaths with PCI. He combined the 5-year data from EXCEL with the longest follow-up data available from the SYNTAX trial (PCI vs CABG in patients with multivessel or left main disease). He came up with a 23% higher risk for death with PCI vs CABG (pooled relative risk, 1.23; 95% CI, 1.07 - 1.41).
Freemantle's conclusion that there is a signal of increased long-term mortality for PCI vs CABG is difficult to dismiss. His point of view was as a trialist and statistician, not a clinician. He does neither PCI or surgery and has no "turf" to defend.
In response to a robust discussion on Twitter, EXCEL principal investigator Stone showed a slide of a 2018 Lancet meta-analysis of 11 PCI vs CABG trials. The image depicted a Kaplan-Meier curve showing no difference in all-cause mortality in the subgroup of patients who had left main disease.
Despite Stone's influence as an academic leader and his 53 retweets and 130 likes, Freemantle said this claim was incorrect. In a letter to the Lancet editors, the statistician wrote that the meta-analysis found a statistically significant 20% higher rate of death with PCI vs CABG overall. And, crucially, the meta-analysis found no subgroup that had a significant P value for interaction. Freemantle then stated clearly that the authors' conclusion of no advantage for CABG over PCI in patients with left main disease was "methodologically incorrect and their publication in a major journal surprising."

Conclusion
When you have left main disease and are facing an intervention, the two most relevant outcomes are MI and death. EXCEL is the largest, longest, and most contemporary clinical trial of PCI vs CABG in patients with left main disease.
A nuanced review of its results reveals that both the MI and mortality signal favor CABG. Swiss surgeon Patrick Myers wrote on Twitter that NEJM should retract the article. His reasoning is that while statistical rhetoric can be used to justify the current conclusion, it misleads readers and will be used in influential guideline documents.
Retraction is a serious step. I would favor a rewrite—with more cautious conclusions. The results are clear; the problem is the interpretation.
Counting periprocedural MI clearly bolsters the claim of no difference between the procedures. If the excess early MIs in the CABG group were a true clinical finding (and not an artifact of the definition used), this would have driven an excess rate of death in the CABG arm over time, but this was not observed.
My biggest worry with leaving this paper as written is that it will surely lead to an increase in the number of PCI procedures in patients with left main disease. If patients are told that the two procedures have equal outcomes at 5 years, who would choose surgery?
If the statistician Freemantle is correct about the robust signal of excess mortality with PCI, lots of people worldwide will be harmed from the increase in left main PCI procedures.
And if that were to happen, the cause would not be faulty science; it would be faulty communication of science. That could easily be corrected.
John Mandrola practices cardiac electrophysiology in Louisville, Kentucky, and is a writer and podcaster for Medscape. He espouses a conservative approach to medical practice. He participates in clinical research and writes often about the state of medical evidence.
Follow John Mandrola on Twitter
Follow theheart.org | Medscape Cardiology on Twitter
Follow Medscape on Facebook, Twitter , Instagram, and YouTube
© 2019 WebMD, LLC

Any views expressed above are the author's own and do not necessarily reflect the views of WebMD or Medscape.
Cite this: John M. Mandrola. PCI vs CABG in Left Main Disease -- The Surgeons and Statisticians Are Right - Medscape - Nov 08, 2019.