President Donald J. Trump has announced his intention to nominate Stephen Hahn, MD, who is currently chief medical executive of the MD Anderson Cancer Center, Houston, Texas, to be the next commissioner of the US Food and Drug Administration (FDA), according to a White House statement.
Department of Health and Human Services Secretary Alex Azar announced in a separate statement today that, "pending what the administration hopes will be the expeditious confirmation of Dr Stephen Hahn," Admiral Brett Giroir, MD, assistant secretary for health, will take over interim duties.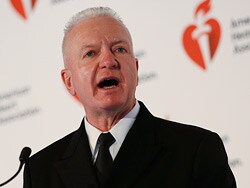 "As Assistant Secretary for Health, whose authorities include overseeing the US Public Health Service, he will be able to assume the delegable duties of the Commissioner at this time and ensure the FDA's work continues to move forward," Azar said about Giroir.
Hahn, who has specialized in lung cancer, is a timely choice, given the ongoing public health crisis related to vaping and the continuing debate over the FDA's role in regulating e-cigarettes.

For months, it has been rumored that he would be the choice, although many have supported current interim commissioner Norman "Ned" Sharpless, MD, for the position. In September, four former FDA commissioners ― Mark McClellan, MD, Robert Califf, MD, Margaret Hamburg, MD, and Andrew von Eschenbach, MD ― and some 50 medical organizations and other groups urged Trump and Azar to nominate Sharpless.
Sharpless — who was director of the National Cancer Institute (NCI) ― was moved into the interim FDA slot after Scott Gottlieb, MD, resigned in April. Under federal personnel rules, Sharpless could only serve as interim commissioner until November 1. Azar said today that Sharpless will be returning to his role as director of the NCI.
Hahn, however, is the president's choice. He still must be confirmed by the Senate.
"Inspired Choice"
The 59-year-old Hahn received his medical degree from Temple University, Philadelphia, Pennsylvania. He conducted his internship at the University of California, San Francisco, and completed a residency in internal medicine at UCSF, a residency in radiation oncology at the National Cancer Institute (NCI), Bethesda, Maryland, and a fellowship in medical oncology at the NCI.
When Hahn took over at MD Anderson as chief medical executive in 2018, he was given a daunting task. The cancer center had begun 2017 by cutting some 1000 staff in an attempt to stop ongoing losses. President Ronald DePinho, MD, had resigned in March 2017, after what is considered a fairly rocky 5-year tenure, as reported by Medscape Medical News.
In the years since, Hahn has been credited with restoring the cancer center's financial stability and boosting morale. But he has also had his own challenges.
In June, MD Anderson had to issue a corrective plan after a patient died from contaminated blood, and the Centers for Medicare & Medicaid Services documented numerous deficiencies at the center.
Hahn first joined MD Anderson in 2015 as a division head, department chair, and professor of radiation oncology. He was moved up to deputy president and chief operating officer in February 2017.
Before coming to MD Anderson, Hahn practiced in Santa Rosa, California, after which he became professor and then chair of radiation oncology at the University of Pennsylvania School of Medicine, Philadelphia.
He has served as a member of the boards of the American Society of Clinical Oncology and of the American Society for Radiation Oncology (ASTRO).
ASTRO board chair Paul Harari, MD, FASTRO, in a statement called Hahn "an excellent and inspired choice for Commissioner," adding that "he has broad experience as a clinician, researcher, educator and administrative leader."
While on the ASTRO board, Hahn spearheaded "educational initiatives such as the creation of a leadership development program focused on diversity and steering the selection of top science for ASTRO's Annual Meeting," noted Harari.
"He is exceptionally versatile in his understanding of medicine and public health and would bring enormous energy and creativity" to the job, he said.
Advocacy Group Questions
Although Hahn seems to be well liked, at least one group, Restore Public Trust, which bills itself a "nonpartisan public interest group" but has also been called a "progressive oversight group" by the Daily Beast ― has raised questions about what it says are his ties to the healthcare industry and "questionable" ethics.
"At the heart of the matter is this: Can we trust Hahn to put Americans' health ahead of the drug companies' bottom lines?" asked Lizzy Price, director of Restore Public Trust, in a statement. She implored Congress to give "proper scrutiny" to whether Hahn would "work to make medications more affordable."
Her group said Hahn needs to say whether he will support "referential pricing" as a way to control rising drug costs. Price said Hahn has previously supported such pricing.
She also questioned MD Anderson's decision in April to fire three Chinese scientists over concerns about espionage. She said the firings may have been racially motivated. Others have raised the same concern about the risk of racial profiling at many organizations, not just MD Anderson, owing to the enhanced scrutiny of Chinese scientists, according to the New York Times.
In addition, Price said Hahn needs to assure the nation that he would not repeat what she labeled ethically questionable behavior; in 2012, MD Anderson was awarded $18 million from the Cancer Prevention and Research Institute of Texas without going through peer review.
Hahn would take a significant pay cut if he accepts the commissioner position. In fiscal 2019, his salary was $933,600, and his total compensation at MD Anderson was $1.3 million, according to public records. The FDA commissioner makes about $160,000.
Hahn is married and has four adult children.
Follow Medscape on Facebook, Twitter, Instagram, and YouTube
Medscape Medical News © 2019

Cite this: Trump to Nominate Dr Stephen Hahn to Head FDA - Medscape - Nov 01, 2019.