Barbara Roberts, MD, then a 36-year-old cardiologist, was fearful and anxious when she entered the Rhode Island police barracks to meet Raymond Patriarca Sr, head of the notorious New England mafia crime family. Patriarca had indictments for drug trafficking, racketeering, armed robbery, white slavery, and loan sharking and had allegedly ordered several murders. J. Edgar Hoover called him "Boston's toughest hoodlum."
Yet Roberts had agreed to undertake his medical care. He had a long history of heart disease, heart attacks, angina, and diabetes and had developed osteomyelitis after suffering the amputation of a gangrenous toe. This was 1980, and that decision would change the course of her life.
"I had heard so much about Ray Patriarca and seen him on television testifying over the years," Roberts told Medscape Medical News. "I had the typical picture of a mob boss that everyone did at that time: Marlon Brando, Don Corleone. But when I first laid eyes on him, I thought, Oh my god, he's so tiny!"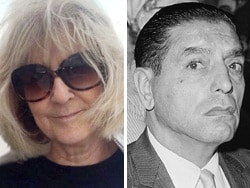 Roberts realized that Patriarca needed immediate medical care. With the FBI bearing down, Roberts got Patriarca admitted to a hospital, and she repeatedly testified that he was unfit to stand trial. After he was released from the hospital, she made house calls.
Her actions infuriated law enforcement officials. Ultimately, Roberts came to care about Patriarca, and he treated to her like a daughter.
This formerly devout Catholic schoolgirl also carried on a secret love affair with Louis Manocchio, a handsome, high-ranking mob member who was convicted of a double murder and later became a top mafia boss.
Different Worlds Collide
How did this Ivy League–educated woman become involved with mob criminals?
Roberts and Patriarca came from very different worlds. Roberts was the oldest of 10 children in a very religious family, with an emotionally abusive alcoholic father. "My dad worshipped priests and doctors, and only one of them was an option for me," she joked.
Strong-willed Roberts went into medicine and graduated from Barnard College and Case Western Reserve School of Medicine. She rebelled against the church, rejecting their positions on abortion and women's rights. As a resident at Yale New Haven Hospital, she helped found the Women's National Abortion Action Coalition and was the keynote speaker at the first national pro-choice demonstration in Washington, DC, in November 1971.
A twist of fate brought Roberts into contact with Patriarca. Through a physician colleague, Roberts became friendly with noted criminal defense attorney Jack Cicilline. That led to meeting Patriarca's son, Raymond Jr, who was dissatisfied with his father's medical care and asked Roberts to be his doctor.
Asked why Roberts took on Patriarca's medical care, given his criminal background, "I always wanted to stand up for the underdog," she said. "In this situation, I felt that Raymond was the underdog, because he was frail, sick, and frightened," said Roberts. "I also believed in the Hippocratic oath: first do no harm, but also, set aside judgments and put your patient's needs first. And I love taking care of people with heart disease." Roberts, now 75, looks back on her mafia medical care and her secret love life in The Doctor Broad: A Mafia Love Story (Heliotrope Books, New York).
Other aspects of Roberts' personal life held turmoil and turbulence that left her deeply depressed. The father of her youngest child was battling to get custody of their daughter. Roberts was arrested on trumped up charges of breaking and entering when she and her new boyfriend tried to remove her daughter from the father's house after he threatened not to bring her home.
Love at First Sight
Battered by pressures, Roberts went to lunch with attorney Cicilline at a popular Providence, Rhode Island, restaurant. There she met the host, Louis Manocchio. Manocchio was a high-ranking member of the Patriarca crime family. Manocchio had fled from the law and had hidden for 10 years after being charged with double murders, but he had returned to the US. Manocchio was 17 years older than Roberts.
"The chemistry was instant," says Roberts. And it was mutual.
"Louis was handsome, dignified, cultured, and had an aura of power about him," said Roberts. "I had a lot of trepidation about going out with him, but within a few weeks we were lovers," said Roberts. "He was wonderful to me."
Roberts wrestled with the dichotomy of her life. "For one part, I was a single mom, a physician, I worked at the local Planned Parenthood, I was a sailboat racer," she said. "For the other part, I was the secret love of an 'alleged' mafioso."
A Prison Term Changes the Future
Unsurprisingly, life did not stay calm. The FBI revived their charges against Manocchio; he was convicted and sent to prison for 30 months.
"It broke my heart," Roberts said. "It was one of the worst things that happened to me in my life. I went into a severe depression." Roberts visited Mannochio regularly in jail, but the experience was draining, and the relationship foundered. Mannochio's conviction was appealed and reversed, and he was released from prison. But Roberts ended the romantic relationship, although the two are still friends.
Roberts realized that something in her life had to change. That realization made her reexamine her life direction.
"I realized that I was not cut out for mob life," said Roberts. "I didn't have what it took to live life in the shadows." Roberts worried not just for herself but also that her mafia alliances could create problems for her children as well.
Around that time, Patriarca died of a heart attack at age 76. The FBI reports that he had the fatal heart attack while visiting his secret "girlfriend."
Activism and Accomplishment
Roberts moved forward with her career as a cardiologist and as an activist and feminist. She published three books about statins and women's heart disease. She became more involved with radical politics. "I didn't want my daughter to face the same discrimination that I had experienced," she said.
Roberts became known for her public work. She was named Physician of the Year in 2003 by the Rhode Island Heart Association, an affiliate of the American Heart Association. In 2000, she was selected by the Rhode Island Medical Women's Association as Physician of the Year and by Brown University School of Medicine as Teacher of the Year.
"I think it's important for women today to know what women of my generation went through to obtain women's rights," she said. "We went through so much to get Roe v Wade, and are in danger of having it reversed."
Roberts' book doesn't paint her as an angel. But she wanted to give others the message that she herself learned: "I want young women to know that you can get through it, you can survive your own tragedies," she said. "You can suffer trauma and turmoil and still get your life into a direction you want it to go."
Follow Medscape on Facebook, Twitter, Instagram, and YouTube
Follow Leslie Kane on Twitter at Leslie_Kane@twitter.com
Medscape Medical News © 2019

Cite this: The Cardiologist and the Mafia Gangster - Medscape - Oct 29, 2019.