At the hospital where I work, procalcitonin (PCT)-guided treatment has become the standard of care. The infectious disease service, in collaboration with our intensive care unit (ICU) director, just released new antibiotic prescribing guidelines that include using PCT levels in ICU patients. This raises the question of whether PCT fulfills the enormous "biomarker promise" of providing an objective measure of ongoing bacterial infection, or is just another lab test that's inferior to clinical judgement.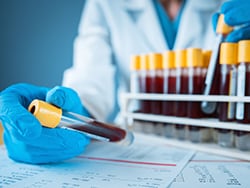 In attempting to answer this question, I found three meta-analyses of PCT-guided treatment published in the critical care literature in 2018 alone.[1,2,3] Each had a different design, with subtle differences in the outcomes assessed. Systematic reviews and meta-analyses are powerful tools for evaluating evidence and making good clinical decisions.[4] However, as one of my research mentors told me more than a decade ago, it's a messy business. Which is to say, there are countless pitfalls that must be avoided when data is combined across studies. I set out to review each study, see how each differs from the others, and figure out how PCT should be used in the ICU.
The first paper was a patient-level meta-analysis.[1] The authors included 11 randomized controlled trials that used PCT levels to guide initiation or cessation of antibiotics for patients admitted to the ICU with infection. The authors found that PCT management strategies reduce mortality and antibiotic duration in patients admitted for sepsis. Overall, hospital length of stay was not affected, but subgroup analyses of patients with the highest illness severity or who required renal replacement therapy found that PCT management strategies actually increased length of stay.
For the second paper, data were combined at the study level.[2] Ten randomized controlled trials were included, all patients had suspected or confirmed sepsis, and studies using PCT levels for initiation and/or cessation of antibiotics were combined. The authors found that PCT-guided therapy reduces antibiotic duration, but has no effect on mortality or length of stay.
It's important to note that both of these meta-analyses had the same senior author, and nine of the randomized controlled trials included in both studies were the same. Why would anyone publish a patient- and a study-level meta-analysis on the same topic that assesses the same outcomes, using data from essentially the same studies? Your guess is as good as mine.
In the third paper, the authors predetermined that they would perform separate analyses based on how PCT was used (ie, for antibiotic initiation, cessation, or both).[3] Again, only randomized controlled trials were included, and studies had to enroll critical care patients in whom PCT measurements were used to guide antibiotic use. The data were combined at the study level. The authors included 15 studies and found that a cessation strategy reduces mortality and antibiotic use, but not hospital or ICU length of stay. The combined initiation and cessation strategy reduced antibiotic use; the initiation strategy by itself did not affect any outcome.
What Can We Conclude From These Studies?
First, meta-analysis truly is a messy business. These trials were published within a few months of each other, yet they included different studies, used different designs, and obtained different results. If the authors of the third study are to be believed, the first two studies provide misleading results by combining PCT strategies.
Second, if you believe the "noise" across studies, PCT levels can safely be used to guide cessation, and this will reduce antibiotic use, may improve mortality, and will not affect length of stay. In fact, this is what's recommended in the most recent version of the Surviving Sepsis Guidelines.[5] The American Thoracic Society/Infectious Diseases Society of America guidelines on hospital- and ventilator-associated pneumonias also recommend using PCT levels to guide antibiotic cessation.[6]
Finally, which PCT cut-off or percent reduction threshold should be used to trigger cessation? Who knows? Clinical judgement still reigns supreme, as evidenced by the low rates of physician compliance with PCT protocols across the randomized controlled trials included in all three meta-analyses.
Dr Aaron Holley is an associate professor of medicine at Uniformed Services University and program director of pulmonary and critical care medicine at Walter Reed National Military Medical Center. He covers a wide range of topics in pulmonary, critical care, and sleep medicine.
Follow Medscape on Facebook, Twitter, Instagram, and YouTube
Medscape Critical Care © 2019 WebMD, LLC

Any views expressed above are the author's own and do not necessarily reflect the views of WebMD or Medscape.
Cite this: Aaron B. Holley. Does Procalcitonin Fulfill the 'Biomarker Promise' in the ICU? - Medscape - Oct 25, 2019.