NEW ORLEANS — If physicians want to reduce their administrative burdens and, in turn, lessen professional burnout, they should not be looking toward Washington, DC, says Sen. Bill Cassidy, MD (R-LA), who is both a policy maker and a gastroenterologist.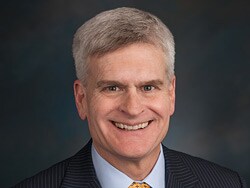 Cassidy made his remarks at the opening session of the Medical Group Management Association Annual Conference here on Sunday, October 13.
Responding to an audience member's question about a solution to reduce the various paperwork-related stressors on the nation's physicians, Cassidy revealed his own struggles with how medicine works today.
Cassidy, who worked as a hepatologist, said that there was a simple reason he stopped going to clinic: use of the electronic health record (EHR) system. "I couldn't do the EHR," he said. "I just didn't use it enough to be able to handle it."
That's why he believes that it's important to allow doctors to return to the role of patient advocate, as opposed to data-entry clerk. Cassidy stressed a risk-based, capitated model that aligns financial and health-related incentives to lower administrative costs: "If you were judged on outcomes vs process, you'd shave down your administrative overhead," he said. "That's more time to talk to the patient vs checking one more dadgum box."
Cassidy, elected to the US Senate in 2014, added that he strongly opposes Medicare-for-all models being discussed in Washington, DC, and by some politicians campaigning for president.
"Do not rely upon the government to reduce your administrative burden. That ain't going to happen," he said.
"[Under this model,] you become someone spending their entire time checking boxes as opposed to looking into a patient's eyes, helping her manage her husband's complicated medical condition," he said.
More Medical Expertise Needed in DC
Cassidy said healthcare remains of critical importance. He said there "is a lot more good happening than being reported." As an example, he pointed to bipartisan legislation, which his office authored, that passed in the Senate last month and that closed a $3.1 billion Medicaid rebate loophole.
The next major bipartisan measure, he noted, will be a solution on surprise medical bills. Currently, two proposed bills are under consideration. Cassidy is a co-sponsor of the STOP Surprise Medical Bills Act, which in part prohibits balance billing, for which surprise billing occurs the most, and institutes an arbitration process for settling billing and rate disputes. A competing House bill mirrors an approach being used in California, Cassidy stated. That bill has generated some anger among physicians.
"I'd say this issue will be decided by the end of the year," Cassidy said. "It will be soon.
"Unless we in healthcare ― physicians and those familiar [with what is going on] ― bring our expertise to the policy debate, we'll end up with public policy that does not work," he said. "If we do, we serve our patients and professions in a different way, but a very powerful way."
He urged physicians, administrators, and others to invite their representatives to their office to meet everyone and start a dialogue before anger becomes the main driver for conversation.
"It is our mutual obligation to use our knowledge for the benefits of our patients in the exam room, in the administrative office, or in public policy," he said. "If not, our nation, our practice, and most importantly, our patients suffer."
Cassidy noted that healthcare constitutes 20% of the nation's gross domestic product, and there are plenty of issues in the sights of the Trump administration, from reducing surprise medical bills to curbing opioid abuse to finding a solution to keep Medicare from going bankrupt.
Follow Medscape on Facebook, Twitter, Instagram, and YouTube
Medscape Medical News © 2019

Cite this: Doc-Senator: Don't Rely on DC to Reduce Physician Burden - Medscape - Oct 14, 2019.