A panicked parent calls. Her vigorous, active toddler was recovering from a cold when he suddenly began to have trouble walking, crying as though in pain. His face "looks funny," the parent reports. Could this be your first patient with acute flaccid myelitis (AFM)?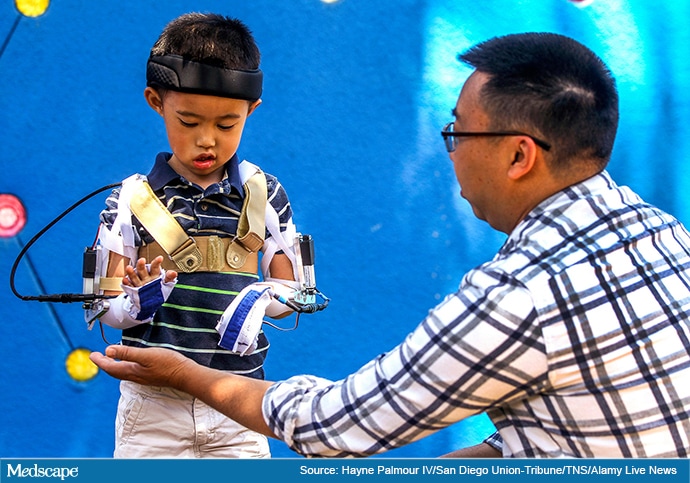 Figure. Five-year-old Max Ng, whose arms are paralyzed due to acute flaccid myelitis, is able to lift his hand and touch the hand of his father, Ted Ng, thanks to a custom motorized orthotic brace that mechanical engineering undergraduate students at UC San Diego have created. This took place during a demonstration of the brace at Rady Children's Hospital on June 14, 2019, in San Diego, California.
AFM is a serious neurologic condition that affects mostly children. It is characterized by rapid onset of flaccid weakness in one or more limbs and distinct abnormalities of the spinal cord gray matter as seen on MRI. AFM is one of several conditions resulting in acute flaccid paralysis, which is the sudden onset of flaccid weakness without features typical of an upper motor neuron disorder. There are many types of acute flaccid paralysis, including AFM, Guillain-Barré syndrome, acute transverse myelitis, toxic neuropathy, and muscle disorders.
Here are five key things to know.
1. Most cases of AFM occur among children in late summer or early fall.
Outbreaks of AFM have occurred in the United States every 2 years since 2014, when the Centers for Disease Control and Prevention (CDC) started surveillance for this condition. Since 2014, CDC has confirmed nearly 600 cases in 48 states and the District of Columbia, and has observed a seasonal pattern to AFM, between August and October. Over 90% of AFM cases have been children younger than 18 years old.
In the most recent and largest AFM outbreak, in 2018, the median age of patients was 5.3 years, with a range of 6 months to 81.8 years. Over half (58%) of confirmed cases occurred in boys. Upper limbs–only involvement was more common than cases in which only the lower limbs were affected. Most patients experienced a prodromal illness with respiratory symptoms or fever within the 4 weeks preceding onset of limb weakness.
Clinicians should be alert to patients presenting with sudden onset of arm or leg weakness accompanied by loss of muscle tone and decreased reflexes. Some patients may also have cranial nerve palsies, which manifest with facial droop or weakness, difficulty moving eyes, drooping eyelids, difficulty swallowing, or slurred speech. Pain in the neck, back, arms, or legs is common. In rare cases, patients may also have transient numbness or tingling, or be unable to pass urine.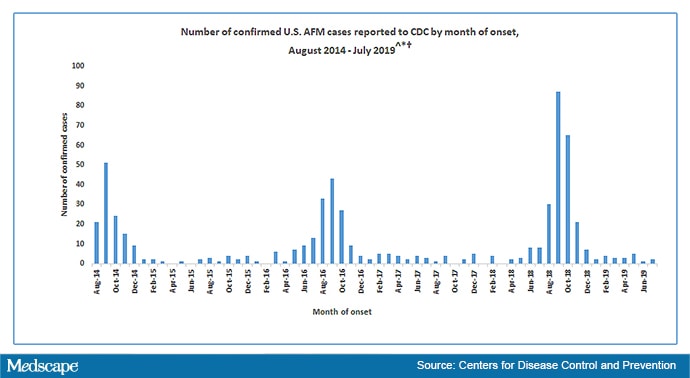 2. AFM can progress rapidly and require urgent medical intervention.
Symptoms of AFM can progress quickly and require urgent medical intervention, including respiratory support. Children with signs and symptoms of AFM should be immediately hospitalized so that they can be closely monitored.
In the 2018 AFM outbreak, most patients were hospitalized, with 60% admitted to an intensive care unit. More than a quarter (27%) of confirmed AFM cases required respiratory support, with the majority of these (87%) requiring mechanical ventilation. In 2018, no deaths were reported during the acute illness of patients with confirmed AFM; however, two of the affected children died months after the onset of limb weakness.
CDC has implemented a systematic process for determining the level of recovery of patients with AFM at 2, 6, and 12 months after limb weakness onset to better assess their health outcomes.
3. A diagnosis of AFM is made on the basis of a thorough physical and neurologic exam and MRI of the spinal cord.
There is no laboratory test available yet to diagnose AFM. A multidisciplinary team, including neurology and infectious disease specialists, makes the diagnosis after performing a comprehensive assessment which includes close review of the symptoms, physical exam findings, MRI of the spinal cord, and other test results.
AFM should be considered in any patient with acute onset of flaccid weakness and predominantly gray matter abnormalities on MRI of the spinal cord.
Neurologists who specialize in AFM can help with diagnosis and management. They can be found through the AFM Physician Consult and Support Portal.
Clinical diagnosis and management of a patient with suspected AFM should not be dependent on, or wait for, CDC's case classification. CDC classifies suspected cases of AFM using case definitions that were created for the purpose of conducting national AFM surveillance. These surveillance case definitions are specific and intended to provide a set of consistent criteria so that it is possible to monitor trends in AFM over time and compare the burden of illness in different populations.
As part of CDC's case classification process, experts in AFM surveillance review all of the available patient medical information. This process can take place weeks to months after a patient's illness onset. CDC's case classification is not meant to override a doctor's diagnosis of a patient's illness or their treatment and rehabilitation plan.
4. There is currently no proven treatment for AFM.
There continues to be a paucity of published evidence for treatment of AFM, currently limited to case reports and case series. On the basis of observations and input from experts, as well as a review of available scientific literature, no targeted therapies or interventions currently have enough evidence to endorse or discourage their use. For more information, see Interim Considerations for Clinical Management.
CDC's AFM Task Force is focused on evaluating the current understanding of causes of AFM and strengthening the knowledge base about the best ways to support patients through treatment and rehabilitation.
5. Prompt recognition and reporting of AFM are critical for providing patient care and understanding the condition.
Early recognition is critical for providing urgent medical intervention (e.g., respiratory support) and rehabilitation. This requires that clinicians promptly recognize and consider the potential for AFM in patients who present with acute onset of flaccid weakness. If started early, rehabilitation may improve long-term outcomes for these children.
All suspected cases of AFM, regardless of any laboratory results or MRI findings, should be reported immediately to health departments. Rapid reporting helps CDC to identify and respond to outbreaks early, and to alert other clinicians and the public.
Specimens, which should be collected as soon as possible after symptom onset, include cerebrospinal fluid, serum, whole stool, and nasopharyngeal or oropharyngeal swab. Submission should be coordinated with the local health department and sent to CDC for testing in order to optimize pathogen detection, better understand possible causes, and hopefully develop a diagnostic test.
In the 2018 AFM outbreak, we identified multiple types of enteroviruses, including EV-A71 and EV-D68, and rhinoviruses, mostly in the respiratory and stool specimens of about 50% of the cases. Of the cases with a cerebrospinal fluid specimen, only two were positive for enteroviruses (EV-A71 and EV-D68). All stool samples submitted to CDC since 2014 have tested negative for poliovirus. CDC and other scientists are continuing to investigate how enteroviruses, including EV-D68, might trigger AFM.
Clinicians across the United States play a critical role by promptly recognizing AFM symptoms and rapidly reporting suspected cases to the health department. Working with health departments to investigate AFM, CDC examines each case, tests every specimen we receive, and analyzes seasonal patterns.
CDC continues to learn about AFM through these ongoing efforts and by conducting research with the National Institutes of Health and universities. This work will help lead to more answers about this serious illness, such as why some children develop AFM and why these outbreaks are occurring.
Follow Medscape on Facebook, Twitter, Instagram, and YouTube
Public Information from the CDC and Medscape
Cite this: 5 Things to Know About Acute Flaccid Myelitis - Medscape - Oct 15, 2019.