In her second career as a bioethicist, a former general practitioner is reshaping the scientific literature of organ transplantation.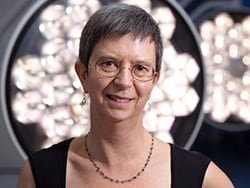 From 1983 to 2000, Wendy Rogers, BMBS, practiced primary care medicine in different settings in the United Kingdom and Australia. In the latter country, the single mother of two grew disillusioned with the fee-for-service system, so while she was pondering her future, she decided to change course, leaving practice to take a degree in English literature and philosophy that led to a doctorate in philosophy.
Medicine's loss was medical ethics' gain. Now a professor of clinical ethics at Macquarie University in Sydney, Australia, Rogers' work to draw attention to scientific research that used organ transplants from executed prisoners in China have led to at least 20 retractions, and counting.
This past June, a people's tribunal convened by the International Coalition to End Transplant Abuse in China (ETAC), a nongovernmental organization for which Rogers chairs the international advisory committee, concluded that "forced organ harvesting has been committed for years throughout China on a significant scale." The Chinese government officially banned the practice in 2015, but estimates of the number of transplants in the country suggest it is still done.
For China, procuring organs from prisoners disposes of two problems at one stroke, Rogers said. "The evil genius of this is that it gets rid of troublesome dissidents and at the same time sources an unlimited supply of organs for transplant," she explained.
Finding Her Cause
Rogers came to embrace this cause after seeing Ken Stone's 2015 documentary film on transplant organ abuse, Hard to Believe, while speaking at a conference on the ethics of organ donation after death determined by circulatory criteria alone.
In February of this year, she was lead author of a study in BMJ Open that urged English-language journals to repudiate more than 445 studies involving 85,477 organ transplants performed in China. "The body of literature contains a large number of papers that certainly or almost certainly include data from executed prisoners," Rogers and colleagues wrote in the article, many being prisoners of conscience.
The analysis found that 412 (92.5%) of the studies failed to report whether or not the organs were sourced from executed prisoners, and 439 (99%) neglected to confirm that organ donors gave consent. Only 73% specified approval from an institutional review board. Of articles declaring that no prisoners' organs were forcibly harvested for transplant, 19 of them involved 2688 transplants performed before 2010, when China had no established program of volunteer organ donation.
  Her tireless efforts and rigorous investigation have weighed heavily on our collective consciences.   
Rogers and coauthors rapped the knuckles of the international transplant research community as well as reviewers, editors, and publishers for their "significant lack of vigilance and failure to stick to accepted ethical standards," faulting them for disseminating and benefiting from research based on executed prisoners' biomaterials.
Rogers' campaign has had a personal effect on some of her colleagues, says surgeon James Shapiro, MD, PhD, who holds the Canada Research Chair in Transplant Surgery and Regenerative Medicine at the University of Alberta in Edmonton, Canada. In 2015 he had plans to collaborate with a Chinese university on islet cell transplant for patients with diabetes. "By chance, I discovered her papers and statements in the public media, and editorials relating to retraction of scientific articles, and these helped me resolve not to collaborate with such institutions until these potential ethical breaches are fully and irreproachably resolved," Shapiro said. "Her tireless efforts and rigorous investigation have weighed heavily on our collective consciences."
Retractions Add Up
Rogers's efforts are yielding tangible results as more medical publishers express concern and editors retract articles for which Chinese investigators could not furnish proof of the sources of transplanted organs.
Since the Clinical Journal of the American Society of Nephrology published an expression of concern in June about a 2008 Chinese kidney transplant study, journals have retracted at least 20 articles, including 10 in PLOS One, seven in Transplantation, and one each in Abdominal Imaging, Genetics and Molecular Research, and Transplantation Proceedings. Liver International retracted an article in 2017, and Kidney International expressed similar uneasiness about studies published in its pages. More journals continue to get on board.
Despite being gratified by the scholarly repudiations, "the lack of engagement and leadership from the transplant community is disappointing," Rogers said.
Jean-Pierre Mongeau, executive director of the Transplantation Society (TTS) international headquarters in Montreal, Quebec, Canada, takes issue with Rogers's criticism. He notes that the TTS did officially condemn forced organ donation in 2006. And this past June, it published an editorial in Transplantation responding to Rogers's study and reiterating its position that its journals will not knowingly publish any material derived in any part from the use of organs from executed people. It shored up that position in another editorial in August.
"The TTS's China Relations Committee is a testament to our commitment to this issue, but we must be realistic as far as how much we can expect to influence public policy beyond our scientific activities," he told Medscape Medical News, adding that the TTS will take action as a society in response to the committee's reports and recommendations.
"While we cannot attest that every single transplant is performed through a legitimate source in such a vast country as China...when we and others have brought concerns to the attention of the Chinese government, the potential transgressions have been investigated," Mongeau said.
A "Long Way" to Go
China has denied taking organs from prisoners after 2015, but Rogers is unconvinced. "I don't think the Communist Party will admit to mistakes or wrongdoing even with pressure," she said.
Independent investigations suggest many more than the official Chinese figure of 16,000 transplants in 2017 are being performed yearly. A 2016 report estimated the annual number of transplants at 60,000 to 100,000, far outstripping any plausible number of voluntarily donated organs. The United States, with 130 million registered voluntary organ donors, performs an average of approximately 6000 liver transplants a year, according to a 2018 report by the US-based nonprofit China Organ Harvest Research Center. In China, despite the paucity of volunteer donors, a few hospitals could match this number.
Although she is pleased to see the growing response from the publishing community, "We're still a long way from putting concerted international pressure on China to stop killing prisoners for their organs."
Rogers strongly advocates setting new international guidelines for journals on the handling of transplant research from China. "In my view, it should all be banned until there's independent evidence that organs are being ethically procured in line with international guidelines," she said.
In her academic role, Rogers identifies as a feminist bioethicist, with a strong interest in power relations and a broad contextual approach to issues. "I take account of context and the views of multiple stakeholders, the resources and circumstances of the patient," she said. "I'm neither a utilitarian nor a libertarian but rather take a pluralistic view — in which all things are considered."
She believes the complex ethics of contemporary medicine is insufficiently stressed in MD training programs. "There are really important issues to do with the goals of medicine, conflicts of interest, and commercial pressures on practice that are not discussed or addressed," she said.
Going forward, Rogers and colleagues at ETAC plan to continue to raise awareness of forced organ donation in China as highlighted in the June tribunal judgment. They hope the United Nations will take a stand; the tribunal's legal counsel presented its findings to the UN Human Rights Council in September and called for the body to investigate.
Also in their lobbying sights are universities and hospitals, "so they don't engage in transplant collaborations with China," Rogers said. They will ask governments to ensure that, unlike now, all transplants their citizens have received in foreign countries are recorded in registries and to make it illegal for citizens to go abroad for organ grafts. "We need to get governments to close all those loopholes," she said.
But the biggest win of all, she added, would be this: "If, with enough pressure, we could get China to stop this practice in the next 5 years, that would be amazing."
Follow Medscape on Facebook, Twitter, Instagram, and YouTube.
Medscape Medical News © 2019 WebMD, LLC

Send comments and news tips to news@medscape.net.
Cite this: Former GP Spurs 20+ Retractions Over Forced Transplants From Chinese Prisoners - Medscape - Oct 09, 2019.