BARCELONA — Advanced cholangiocarcinoma, a rare form of cancer of the bile ducts for which there are limited treatment options, may respond to a novel gene-targeted therapy, even in cases that have progressed with standard chemotherapy.
The finding, which comes from trial data with ivosidenib (Tibsovo, Agios Pharmaceuticals), was described as "breakthrough" and "unprecedented" by experts here at the European Society for Medical Oncology (ESMO) 2019 Annual Meeting.
Ivosidenib is an oral, targeted, small-molecule inhibitor of mutations in the isocitrate dehydrogenase–1 (IDH1) gene.
The drug was approved in the United States in 2018 for the treatment of relapsed or refractory acute myeloid leukemia in adults with IDH1 mutations who are chemotherapy naive.
These mutations also occur in cholangiocarcinoma. They are found in the tumors of approximately 20% of patients and are associated with a poor prognosis.
An earlier phase 1 trial in 73 patients with previously treated cholangiocarcinoma with IDH1 mutations (mIDH1) showed that the drug was beneficial.
This led to a phase 3 placebo-controlled trial, known as ClarIDHy, which was presented at the meeting.
It was conducted in 185 patients with advanced mIDH1 cholangiocarcinoma who had previously received one or two lines of treatment, including at least one gemcitabine- or 5-fluorouracil-containing regimen.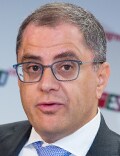 Trial leader Ghassan K. Abou-Alfa, MD, a clinical oncologist at Memorial Sloan Kettering Cancer Center, New York City, said that to find these patients with mIDH1 mutations, the team screened 780 patients in 40 countries.
Patients were randomly assigned in a 2:1 ratio to receive either ivosidenib in continuous 28-day cycles or placebo. Patients who experienced radiographic disease progression were permitted to cross over to active treatment.
By the data cutoff of January, 31, 2019, 57.4% of the patients who received placebo had crossed over to open-label ivosidenib.
The results showed that median progression-free survival (PFS) was significantly longer with ivosidenib than placebo, at 2.7 months vs 1.4 months (hazard ratio [HR], 0.37; P < .001).
On intention-to-treat analysis, the median overall survival (OS) was longer with ivosidenib than placebo, at 10.8 months vs 9.7 months. The 6-month survival rate was 67%, vs 59% with placebo; the 12-month survival rate was 48%, vs 38% with placebo.
However, this difference was not satistically significant (P = .06), despite an HR of 0.69. Abou-Alfa commented that it became significant when the crossover from placebo to active treatment was taken into account.
Separation of the survival curves began at the time of the first CT scan, at 6 weeks, and was dramatically different between the two arms, with ivosidenib showing a "long tail" of continued efficacy during follow-up of longer than 18 months, he noted.
This was underlined by the fact that the disease control rate was 53% with ivosidenib, vs 28% with placebo.
These results demonstrate "for the first time the feasibility and clinical benefit of targeting a molecularly defined subgroup in cholangiocarcinoma," Abou-Alfa commented in a statement.
"It shows that targeting mutated IDH1 with ivosidenib significantly improves progression-free survival and gives a favorable trend in overall survival in patients with advanced IDH1-mutated cholangiocarcinoma," he added.
The clinical implication is that "all patients with cholangiocarcinoma should be tested for IDH1 mutation," he said.
All patients with cholangiocarcinoma should be tested for IDH1 mutation.
"Tumor mutation profiling should be a new standard for the care for patients with this heterogeneous tumor type," he added.
"Unprecedented and Clinically Relevant"
Discussant Chris Verslype, MD, PhD, University Hospital Leuven, Belgium, commented that the results are "really unprecedented" and "clinically relevant," despite the usual caveat regarding the fact that the patients in this trial had good performance status.
"We previously had no options for patients with cholangiocarcinoma who failed systemic therapy, and they had very limited survival. These are important data," he said.
This is "precision medicine brought to the clinic, and it's very likely to change clinical practice. It will, for sure, drive the further development of targeted therapy for this disease," he said.
Commenting for ESMO, Angela Lamarca, MD, PhD, consultant in medical oncology, Christie NHS Foundation Trust, Manchester, United Kingdom, noted that the median PFS benefit "may seem short, and some people may question whether this is clinically meaningful.
"However, for researchers working in cholangiocarcinoma, it is a breakthrough. A treatment that increases the chance of being free from progression by 30% at 6 months after starting treatment and that prolongs survival...is definitely meaningful for our patients with cholangiocarcinoma and their families," she said.
Ivosidenib appeared to be associated with better physical and emotional functioning than placebo, as indicated from responses on quality-of-life questionnaires, Abou-Alfa reported.
Treatment-related adverse events of grades ≥3 were more common with ivosidenib than placebo, at 46.2% vs 35.6%. The most common events were ascites, anemia, and increased bilirubin and aspartate aminotransferase levels.
Another Mutation, Another Drug
Also presented at the ESMO meeting was a trial that involved cholangiocarcinoma patients whose tumors had a mutation different from the IDH1 mutation and that was treated with a different drug.
The phase 2 FIGHT-202 trial was conducted in a subgroup of patients with fibroblast growth factor receptor (FGFR2) gene alterations. This mutation is also found in about 20% of patients with cholangiocarcinoma. The patients were treated with the investigational drug pemigatinib (under development by Incyte), which is a selective FGFR inhibitor.
In this trial, the median OS was 21.1 months, the median PFS was 6.9 months, and the disease control rate was 82%.
These results have led the manufacturer to launch a phase 3 trial, known as FIGHT-302. That trial will compare pemigatinib to standard-of-care gemcitabine/cisplatin chemotherapy in the first-line treatment of patients with metastatic or surgically unresectable cholangiocarcinoma and activating FGFR2 rearrangements.
The results with pemigatinib in patients with FGFR2 mutations appear to be much better than those seen with ivosidenib in patients with IDH1 mutations
When asked about this at the ESMO press conference, Abou-Alfa, who is senior author on FIGHT-202, said that it would be "unfair" to compare the two subgroups of patients, because these two genetic changes are "mutually exclusive."
In addition, there is some evidence from retrospective studies that patients who have tumors with FGFR2 fusion alterations may have a significantly better prognosis than patients with other cholangiocarcinomas, pointed out Lamarca.
She also noted that, inasmuch as cholangiocarcinoma is such an aggressive disease, it is important to "look beyond the median" when it comes to assessing the impact of ivosidenib on PFS and that this "will need to be taken into account when economic evaluation is performed."
Abou-Alfa agreed, saying that although the terminology being used to describe its effect is familiar, "we're using it for something that's rather novel to us."
Consequently, the "spread of the curve and the continuation of that spread" is more important than the median, "even though it was positive," he commented.
The study was funded by Agios Pharmaceuticals, Inc. Abou-Alfa has relationships with 3DMedcare, ActaBiologica, Agios, Alignmed, Amgen, Antengene, Aptus, Array, Aslan, Astellas, Astra Zeneca, Bayer, Beigene, Bioline, BMS, Bridgebio,Carsgen,Casi, Celgene, Cipla, CytomX, Daiichi, Debio, Delcath, Eisai, Exelixis, Genentech, Genoscience, Halozyme, Hengrui, Incyte, Inovio, Jazz, Jansen, Kyowa Kirin, LAM, Lilly, Loxo, Mabvax, Merck, Mina, Novartis,Novella, OncoQuest, Onxeo, PCI Biotech, Pfizer, Pieris, Polaris, Puma, QED, Redhill, Roche, Sanofi, Servier, Silenseed, Sillajen, Sobi, Targovax, Tekmira, Twoxar, Vicus, Yakult, and Yiviva. Other authors report numerous relevant financial relationships. Lamarca has relationships with Eisai, Nutricia, Ipsen, Pfizer, Merck, Incyte, Bayer, AAA, Sirtex, Novartis, Mylan, Delcath.
European Society for Medical Oncology (ESMO) 2019 Annual Meeting: Abstract LBA10_PR, presented September 30, 2019.
For more from Medscape Oncology, follow us on Twitter: @MedscapeOnc
Medscape Medical News © 2019

Cite this: 'Unprecedented' Results in Biliary Tract Cancer - Medscape - Oct 03, 2019.