Patient Profile
A 32-year-old woman wants to establish care and discuss her recent diagnosis of Sjögren syndrome. The patient was in her usual state of health until approximately 10 years ago when she experienced dry eyes, dry mouth with frequent dental caries, and impaired concentration. She also felt generalized fatigue that became extreme after sun exposure. Approximately 1 year before her Sjögren syndrome diagnosis, she developed intermittent hand and elbow pain without swelling that responded to ibuprofen as needed. She now complains of patches of skin soreness that occur intermittently without erythema or ecchymosis. She also describes feeling generalized fatigue and weakness.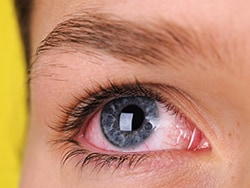 Her past medical history includes alopecia areata that was diagnosed in childhood. Her only current medication is ibuprofen, as needed. She has no family history of autoimmune diseases. She is a former cigarette smoker, does not drink alcohol, and has not traveled recently. She denies weight loss, shortness of breath, chest pain, or history of thrombosis, and she has never been pregnant.
On examination, she appears well, with a 1.5-cm patch of alopecia on the left side of her scalp. She has no rash or synovitis. Her strength and sensation are fully intact throughout. Her cardiovascular, pulmonary, and abdominal examinations are unremarkable.
Serum serologic test results are positive for antinuclear antibodies (titer of 1:320, speckled pattern) and SSA (anti–Sjögren syndrome-related antigen A) and SSB (anti–Sjögren syndrome-related antigen B) antibodies, and negative for rheumatoid factor and anti–double-stranded DNA antibodies, ribonucleoprotein antibodies, Smith antigen, and antiphospholipid antibodies.
Laboratory evaluation reveals lymphopenia (absolute lymphocyte count, 1.0/nL) and transaminitis, with an alanine aminotransferase (ALT) level of 83 IU/L (normal range, 7-56 IU/L) and aspartate aminotransferase (AST) level of 182 IU/L (normal range, 5-40 IU/L). Her creatine kinase (CK) level is significantly elevated to 9613 IU/L (normal range, 30-135 IU/L). Her bilirubin and gamma glutamyltransferase levels are within normal limits. Subsequent extended myositis antibody test results, which included the anti–Jo-1 antibody, are negative. Her complement levels, renal function, serum inflammatory marker levels, and urinalysis results are unremarkable.
Making the Diagnosis
Musculoskeletal complaints are common in patients with primary Sjögren syndrome; however, inflammatory myositis is observed in only 1%-6% of patients.[1,2] Patients with Sjögren syndrome and inflammatory myositis typically have mild, slowly progressive muscular weakness and modest elevations in CK (< 2000 IU/L). This patient had a higher CK elevation with normal serum inflammatory markers.
Upon further questioning, the patient adds that she recently started taking an herbal supplement to augment her new weight-based exercise program. Cases of myopathy have been described in patients who take herbal supplements containing ma huang (Ephedra sinica) and exercise.[3] Other supplements have been linked to myopathy and rhabdomyolysis, including red yeast rice, which acts similarly to statin medications.[4] In addition, exercise in unaccustomed individuals, especially when performing eccentric contractions, may cause an elevation in CK level that improves with rest within days of reaching its peak level.[5,6]
The patient was advised to discontinue her supplements, maintain adequate hydration, and hold off on her current exercise training. Repeat laboratory tests at 5 and 20 days later revealed an improved CK level to 1027 IU/L and 48 IU/L, respectively. Her ALT and AST levels also normalized. During the subsequent nine months of follow-up, her muscle enzyme levels remained normal and her skin soreness fully resolved. She was started on hydroxychloroquine for arthralgia, brain fog, and fatigue, all of which significantly improved.
This case reminds us to keep nonautoimmune-related causes of muscle enzyme level elevation in the differential diagnosis for patients with rheumatic diseases. It also emphasizes the importance of obtaining a detailed medical history from patients that includes herbal supplement and complementary therapy use.
Follow Medscape on Facebook, Twitter, Instagram, and YouTube
Medscape Rheumatology © 2019 WebMD, LLC

Any views expressed above are the author's own and do not necessarily reflect the views of WebMD or Medscape.
Cite this: Unexpected Cause of Myopathy in Sjögren Syndrome: Crack the Case - Medscape - Oct 11, 2019.