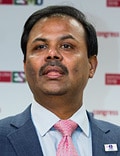 BARCELONA, Spain —The final overall survival (OS) results from the FLAURA study have now firmly established osimertinib (Tagrisso, AstraZeneca) as front-line therapy in patients with epidermal growth factor receptor-mutated (EGFRm) nonsmall cell lung cancer (NSCLC).
FLAURA showed that median OS was 38.6 months for patients on osimertinib and 31.8 months for patients receiving first-generation EGFR tyrosine kinase inhibitors (TKIs) such as gefitinib (Iressa, AstraZeneca) and erlotinib (Tarceva, Genentech/Astellas Oncology).
"The survival results are both statistically significant and clinically meaningful with first-line osimertinib for EGFR-mutated patients," commented lead investigator Suresh S. Ramalingam, MD, of the Winship Cancer Institute of Emory University, Atlanta, Georgia.
"This is the first time a TKI has proven to extend survival relative to another TKI in lung cancer therapy," he added in a statement.
These results were reported here at the European Society of Medical Oncology (ESMO) 2019 Annual Meeting (Abstract LBA5_PR).
Discussant Pasi A. Jänne, MD, PhD, of the Dana Farber Cancer Institute in Boston, Massachusetts, commented with a median OS improvement of 7 months, the results from FLAURA are practice changing. In fact, he added, "in the United States, practice has already changed."
He pointed out that at 36 months, 26% of patients were still receiving osimertinib compared with only 9% of patients who were still receiving other TKIs.
Medscape Medical News approached lung cancer expert Alice T. Shaw, MD, PhD, director of the Center for Thoracic Cancers at Massachusetts General Hospital, Boston, for comment.
Shaw explained that based on the primary progression-free survival (PFS) analysis of FLAURA, osimertinib became a standard first-line treatment for patients with advanced EGFRm NSCLC.
"Based on its overall efficacy, the CNS [central nervous system] efficacy, and importantly the tolerability, I have already been prescribing osimertinib as first-line therapy for my patients," Shaw told Medscape Medical News. "These overall survival results help solidify the role of osimertinib as first-line therapy," she added.
FLAURA Results
FLAURA was a double-blind, phase 3 study that randomized patients with exon 19 deletion or L858R EFGR mutations to receive oral osimertinib once daily (n = 279) or a first-generation EGFR TKI (n = 277) until disease progression. At progression, crossover was allowed in the EGFR TKI arm and patients could then receive open-label osimertinib.
The median PFS was significantly higher for patients on osimertinib: 18.9 vs 10.2 months for patients on EGFR TKI.
With a hazard ratio of 0.799 (95% CI, 0.641 - 0.997; P = .0462), patients on osimertinib had a significantly 20% decreased risk for death or progression.
Three-year OS was 54% for patients on osimertinib and 44% on comparator EGFR TKI.
Ramalingam explained that the median OS of 31.8 months seen for patients receiving the first-generation EGFR TKIs were higher than historic standards in large measure.
Shaw explained that OS captures all treatments that patients received (not just the first treatment), so the fact that first-line osimertinib had a longer OS is important.
"There was crossover in the study, so a proportion of patients who started with a first-generation EGFR TKI still went on to receive osimertinib after progression," Shaw said.
Ramalingam reported that 47% of patients who received EGFR TKI went on to receive osimertinib as their next treatment after progression. In comparison, 29% of patients on osimertinib went on to receive EGFR TKIs other than osimertinib.
"The positive OS benefit in FLAURA argues that osimertinib should be given first-line, but the subgroup analysis suggests that certain patients may derive more benefit than others," Shaw said.
Unlike the PFS analysis that showed benefit across all patient subgroups, Shaw explained that Asian patients and patients with EGFR L858R mutations appeared to not derive OS benefit from first-line osimertinib versus first-generation EGFR TKI.
"The OS data are inherently more complicated than PFS data, as OS reflects not only first-line treatment but all subsequent lines of treatment as well," Shaw said. These findings do raise the possibility that perhaps some patients with EGFR mutations may derive more benefit from first-line osimertinib than others, and more work needs to be done to establish the optimal sequencing of EGFR TKIs, she explained.
Ramalingam also reported other data of consequence to clinical practice. Time to subsequent treatment was significantly longer, in fact almost twice as long: 25.5 months for patients on osimertinib versus 13.7 months for those on EGFR TKIs (hazard ratio, 0.478; P < .0001).
With respect to their first subsequent treatment after progression, 31% of patients on osimertinib never received any treatment compared with 30% of patients who never received treatment after their EGFR TKI therapy. Chemotherapy was the first subsequent treatment for 68% and 22% of patients progressing on osimertinib and EGFR TKI, respectively.
At an ESMO press conference where the new data were highlighted, Pilar Garrido, MD, of Hospital Universitario Ramón y Cajal, Madrid, Spain, noted that for clinicians OS results are relevant.
"More than 50% of patients on the osimertinib arm of the study are still alive [after 3 years] and no new safety signal was seen. These data are clinically relevant," Garrido said.
In an ESMO statement, she added that the magnitude of benefit in OS is also relevant for the debate about the best sequence of treatment as osimertinib is the only TKI approved for second-line treatment in patients who develop resistance because of T790M.
"If osimertinib is used as first-line therapy, there is no TKI available when the disease progresses," she pointed out. "Patients should be told that osimertinib offers an overall survival advantage and is well tolerated, but when the treatment fails, the only option is chemotherapy."
Should the Best Treatment Be Given First?
Ramalingam pointed out that in FLAURA a sizeable patient population on EGFR TKIs never had an opportunity to receive osimertinib.
Jänne agreed. He calculated that when one takes into account the 47% of patients who crossed over to receive osimertinib after progression on EGFR TKI, only 31% of all patients in the EGFR TKI arm of the study received osimertinib while 30% received no other therapy.
At the press conference, Ramalingam was emphatic: "These patients [30%] never had a chance to get osimertinib. Give the best drug first or roll the dice and lose the opportunity to provide osimertinib to one out of three patients."
Jänne acknowledged that in some patients where a biopsy is not feasible, chemotherapy is warranted.
For patients who progress on osimertinib, Shaw said, "We are still learning about resistance mechanisms to first-line osimertinib, but studies to date suggest that a small percentage of patients may develop the EGFR C797S mutation, for which earlier generation EGFR inhibitors may be active."
She also noted that another targetable mechanism of resistance that may develop in 15-20% of patients is MET amplification. "For these patients, combination EGFR and MET inhibitors may be active based on data from the TATTON study."
However, for a large fraction of patients, resistance may be driven by off-target mechanisms, including other bypass pathways and also histologic transformation, Shaw explained. "For these patients, standard chemotherapy or chemoimmunotherapy are reasonable options," she said.
Ramalingam has received honoraria and served as an advisor/consultant for AstraZeneca, Amgen, Bristol-Myers Squibb, Merck, Roche/Genentech, Loxo, Nektar, and Tesaro. He also reports institutional research/funding from AstraZeneca, Amgen, Bristol-Myers Squibb, Merck, Tesaro, Advaxis, and Takeda. Shaw reports receiving honoraria from Pfizer, Roche, Genentech, Novartis, Guardant, and Foundation Medicine; serving in a consulting or advisory role for Pfizer, Roche, Genentech, Chugai, Novartis, Ariad/Takeda, Ignyta, Daiichi Sankyo, Taiho Pharmaceutical, EMD Serono, Loxo Oncology, Blueprint Medicines, KSQ Therapeutics, Natera, TP Therapeutics, and Bayer; and research funding from Pfizer, Roche, Genentech, Novartis, Ignyta, Ariad, TP Therapeutics. Jänne is a consultant for AstraZeneca, Boehringer Ingelheim, Pfizer, Genentech/Roche, Chugai Pharmaceuticals, Merrimack Pharmaceuticals, Ariad, ACEA Biosciences, Ignyta, Loxo Oncology, Eli Lilly, Araxes Pharmaceuticals, Mirati Therapeutics, SFJ Pharmaceuticals, Daiichi-Sankyo, Biocartis, Takeda Oncology, Novartis; receives research support from Astellas, AstraZeneca, Daiichi-Sankyo, PUMA, Eli Lilly, Boehringer Ingelheim, Takeda Oncology; is a stockholder for Gatekeeper Pharmaceuticals, Loxo Oncology; and receives post-marketing royalties from LabCorp.
ESMO 2019 Annual Meeting. Presented September 28, 2019. Abstract LBA5_PR.
For more from Medscape Oncology, join us on Twitter and Facebook.
Medscape Medical News © 2019 WebMD, LLC

Send comments and news tips to news@medscape.net.
Cite this: FLAURA Establishes Osimertinib as 1L Therapy in EGFRm NSCLC - Medscape - Sep 29, 2019.