BARCELONA, Spain — The landscape of ovarian cancer treatment is changing rapidly, as PARP inhibitor (PARPi) drugs move into the first-line treatment space.
Three new clinical trials with three different drugs show substantial benefit when a PARPi is used in patients with newly diagnosed ovarian cancer, leading experts to urge clinicians to use these drugs upfront in the treatment of these patients.
The new results with niraparib (Zejula, GlaxoSmithKline), olaparib (Lynparza, AstraZeneca/MSD), and veliparib (under development by AbbVie) were presented here at the European Society of Medical Oncology (ESMO) 2019 annual meeting.
"We are witnessing a paradigm shift in the first-line treatment for advanced ovarian cancer," concluded Ana Oaknin, MD, from the Vall d'Hebron Institute of Oncology (VHIO), Barcelona, Spain, after reviewing the new data here during a presidential symposium.
"There is a robust reduction in the risk of progression...that strongly justifies moving PARPi to first-line," she said.
"The only opportunity to 'cure' our patients with advanced ovarian cancer is with first-line therapy," she added. "The main goal in ovarian cancer is to avoid relapse after first-line therapy because otherwise the probability of cure is quite low," she explained.
"Yes, the time has come to come to offer all patients a PARPi," concluded another discussant, Mansoor Raza Mirza, MD, chief oncologist at Rigshospitalet, Copenhagen University Hospital, Denmark.
Changes in Treatment Landscape
Mirza set the scene by summarizing how the treatment landscape has changed in recent years.
Patients with newly diagnosed ovarian cancer are treated with surgery and 6-8 weeks of chemotherapy, but while most patients respond to chemo, they eventually become resistant, and the disease is characterized by multiple relapses, he explained.
In 2011, the addition of the anti-angiogenic agent bevacizumab to chemotherapy changed the landscape, Mirza said, and then PARPi drugs moved onto the scene, showing benefit in patients with recurrent ovarian cancer. Three PARPi drugs are now approved for use in recurrent ovarian cancer.
Last year, these drugs started the move into first-line therapy for ovarian cancer, when a PARPi stole the show at ESMO 2018, showing "outstanding" progression-free survival (PFS) with olaparib maintenance therapy after chemotherapy in the SOLO-1 trial.
However, the SOLO-1 trial was conducted in a select group of patients who had advanced ovarian cancer and the BRCA mutation, he pointed out.
These new trials are in all-comers, Mirza emphasized, and show that patients without the BRCA mutation also derive benefit from a PARPi.
Each of the three trials tested a different drug and a different way of incorporating the drug into current treatment. In one trial, the PARPi was used alone, in another it was added onto bevacizumab, and in the third it was added to chemotherapy.
PARPi Used Alone — Niraparib PRIMA Trial
PRIMA is the first trial of a PARPi used in patients with newly diagnosed ovarian cancer irrespective of whether they had a BRCA mutation or not, said lead investigator Antonio González Martín, MD, head of medical oncology at the Clínica Universidad de Navarra in Madrid, Spain. He presented the results (abstract LBA1) here during the presidential symposium, and they were simultaneously published online in the New England Journal of Medicine.
The trial enrolled 733 patients with newly diagnosed advanced ovarian cancer who had a response to platinum-based chemotherapy and were then randomized to receive niraparib once daily or placebo for 36 months.
Niraparib significantly improved PFS when compared with placebo.
In the overall population, the median PFS was 13.8 and 8.2 months (hazard ratio [HR] for disease progression or death, 0.62; 95% CI, 0.50 - 0.76; P < .001).
At the 24-month interim analysis, the rate of overall survival was 84% in the niraparib group and 77% in the placebo group (HR, 0.70; 95% CI, 0.44 - 1.11).
The benefit from niraparib was even greater in a subgroup of patients with homologous-recombination deficiency (HRD). All patients in this trial had their tumors tested with the Myriad myChoice test and half (50.9%) were found to have HRD.
In the HRD subgroup, median PFS was double that seen with placebo, at 21.9 vs 10.4 months (HR for disease progression or death, 0.43; 95% CI, 0.31 - 0.59; P < .001).
Adverse events in the trial were similar to what has been reported for niraparib, González Martin commented. Treatment was discontinued because of adverse events by 12% of patients on niraparib (4.3% of whom discontinued because of thrombocytopenia), compared with 2.5% on placebo, he reported.
"Niraparib monotherapy after first-line platinum chemotherapy should be considered a new standard of care," González Martin concluded.
PARPi With Bevacizumab — PAOLA Trial With Olaparib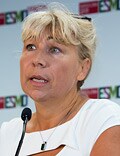 A different approach was presented by Isabelle L. Ray-Coquard, MD, PhD, from the Centre Leon Bérard, Université Claude Bernard, Lyon, France, who reported results from the academic-sponsored PAOLA study. Here, women with newly diagnosed ovarian cancer treated with platinum-based chemotherapy and bevacizumab then continued on bevacizumab (which is standard of care) with or without the addition of olaparib.
The addition of olaparib added significant benefit. Median PFS was 22.1 months in the olaparib group and 16.6 months in the placebo group (HR, 0.59; 95% CI, 0.49 - 0.72; P < .0001).
"This study reports the greatest HR (0.59) and longest progression-free survival we have ever seen," Ray-Coquard said in an ESMO press release.
"Patient selection was not restricted by surgical outcome or BRCA mutation status, so participants represent the general population of women with advanced ovarian cancer," she continued.
Even greater benefit was seen in certain subgroups of patients, in particular, in patients with BRCA mutations and patients with HRD; in both subgroups, median PFS reached 37.2 months.
Ray-Coquard said the addition of olaparib did not impact on bevacizumab tolerability and quality of life, but discussant Oaknin noted that 20% of patients in the olaparib and bevacizumab group discontinued because of adverse events, the highest rate of discontinuation she has seen in such trials, she said.
Commenting for ESMO, Oaknin said this trial is "a significant step forward" and suggested that "the combination of bevacizumab and olaparib as maintenance therapy should become a new standard of care for patients with advanced ovarian cancer."
PARPi Added to Chemo — VELIA Trial With Veliparib
Yet another approach was reported by Robert L. Coleman, MD, from the MD Anderson Cancer Institute in Houston, Texas, who presented results from the VELIA study with veliparib added onto chemotherapy (abstract LBA3), which was simultaneously published online in the New England Journal of Medicine.
This trial was conducted in 1100 previously untreated patients with advanced ovarian cancer, all of whom received first-line induction chemotherapy with carboplatin and paclitaxel. Patients were randomized to one of three groups that received veliparib in addition to chemo followed by veliparib maintenance treatment (veliparib-throughout), or received veliparib with chemo followed by placebo for maintenance (veliparib combo only), or the control group, which received only chemotherapy.
There was a significant benefit from adding veliparib to chemotherapy and maintenance; however, the benefit of adding veliparib to chemo but not using it in maintenance also was less clear, Coleman reported.
He also noted that the addition of veliparib to chemotherapy led to a higher incidence of anemia and thrombocytopenia, as well as nausea and fatigue overall.
In the intention-to-treat population, median PFS was 23.5 months with veliparib-throughout vs 17.3 months for chemo only (HR, 0.68; 95% CI, 0.56 - 0.83; P < .001).
Again, certain subgroups of patients showed even greater benefit.
In patients with BRCA mutations, median PFS was 34.7 months in the veliparib-throughout group and 22.0 months in the control group (HR for progression or death, 0.44; 95% CI, 0.28 - 0.68; P < .001). In patients with HRD, PFS was 31.9 and 20.5 months, respectively (HR, 0.57; 95 CI, 0.43 - 0.76; P < .001).
"Veliparib in combination with chemotherapy should be considered a new treatment option for women with newly diagnosed, advanced-stage serous ovarian cancer," Coleman concluded.
All Three Trials Are "Milestones"
Commenting for ESMO, Oaknin said all three current trials, and the SOLO-1 trial from last year, are integrating PARPi drugs into the first-line treatment of ovarian cancer and represent "a milestone for patients."
"After decades studying different chemotherapy approaches, it is the first time we have meaningfully prolonged progression-free survival, and hopefully we will improve long-term outcome," she said.
Oaknin also noted that there were important differences between the trials, not only in the way that the PARPi was added onto treatment. "Therefore, comparisons between clinical trials should be made with caution due to their intrinsic differences," she said.
Looking to the future and what is next in this field, Oaknin said: "The 5-year overall survival for ovarian cancer is around 45% and we need strategies to improve that figure. I think the next approach is to incorporate immunotherapy as part of first-line therapy. Ongoing trials are expected to report in 2 to 3 years."
PRIMA was funded by GlaxoSmithKline, manufacturer of niraparib; VELIA was funded by AbbVie, manufacturer of veliparib; PAOLO was an academic-sponsored study. Many of the authors have many disclosures, as listed in the abstracts and articles.
ESMO 2019 Annual Meeting. All presented on September 28, 2019. Abstracts LBA1 (PRIMA/niraparib), LBA2_PR (PAOLA/olaparib), and LBA3 (VELIA/veliparib).
N Engl J Med. Published online September 28, 2019. PRIMA study, VELIA study
For more from Medscape Oncology, join us on Twitter and Facebook.
Medscape Medical News © 2019 WebMD, LLC

Send comments and news tips to news@medscape.net.
Cite this: PARP Inhibitors Move Into First-Line for Ovarian Cancer - Medscape - Sep 29, 2019.