Police arrested a bereaved mother last weekend at a vigil at Eli Lilly's US headquarters honoring people — mostly young and with type 1 diabetes — who have lost their lives after rationing their insulin.
Nicole Smith-Holt, whose son Alec Raeshawn Holt died at age 26 in 2017, notified the Indianapolis police that she planned an act of civil disobedience at the Lilly campus on September 14.
That Saturday evening, while some 100 to 150 people with diabetes and their families and friends chanted, "I demand justice," Smith-Holt — standing in the middle of a street on the Lilly campus — read off the names of those they had come to honor while her fellow protestors chanted, "No justice, no peace."
The police approached but let her finish — with her son's name read out last — before they placed her in handcuffs. Smith-Holt was given a citation for civil disobedience and may eventually have to pay a fine, depending on how the case is handled.
For its part, Lilly, the leading manufacturer of insulin in the United States, said it agrees that insulin costs too much.
"People should not have to pay the full list price for their insulin, and Lilly has taken several actions to remove that barrier," a spokesperson told Medscape Medical News.
"But more needs to be done to fix the healthcare system, and public demonstrations are an important part of that process," he said. "We will continue to push for the right reforms that can improve the system for everyone using insulin."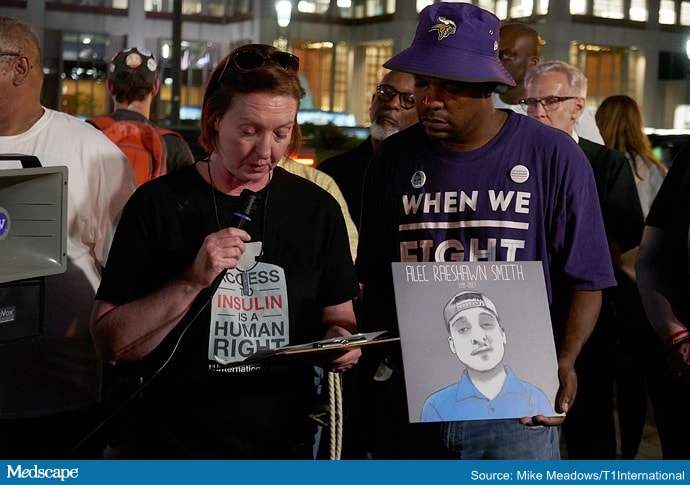 Financial, Emotional, and Physical Cost of High Insulin Prices
The vigil was organized by T1International, a global type 1 diabetes advocacy organization determined to keep the insulin pricing crisis in the United States in the spotlight.
Indeed, T1International contributes to a feature article published this week in the British newspaper the Guardian, entitled "'Medication or housing': Why soaring insulin prices are killing Americans," in which the newspaper highlights the issue for British readers.
A quarter of patients with diabetes in the United States are believed to regularly ration their insulin because they can't afford the skyrocketing prices. Numerous patients with type 1 diabetes have died as a result of complications that developed because of insulin rationing.
T1International, which does not accept money from industry, launched the #insulin4all campaign in 2014. In the United States, the campaign has grown to a national grassroots movement of 34 state chapters filled with activists who continue to pressure insulin manufacturers and federal and state legislators on the drug's cost.
The organization has also arranged the so-called Caravan to Canada, where patients can buy insulin much cheaper, and people also regularly travel to Mexico for the same purpose.
Smith-Holt said she has no regrets about being arrested and believes this year's vigil — along with protests at Lilly each of the previous 2 years — will raise awareness about the financial, emotional, and physical price people with diabetes pay for their insulin.
"We continue to voice our stories, we continue to put pressure on our legislators, and we continue to work at both the state and federal levels to create these laws that will ultimately lower the price of insulin," she told Medscape Medical News.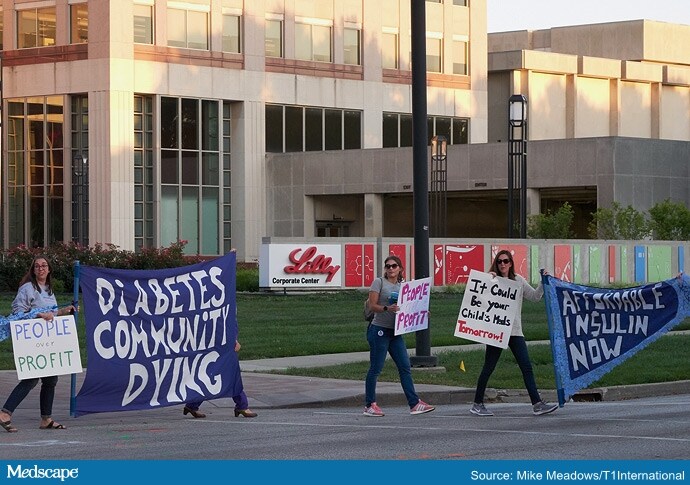 Insulin Crisis: Keeping Up the Pressure on Manufacturers
The Indianapolis event did not make national news but a video of the arrest posted by a Twitter user who also has type 1 diabetes has been viewed almost 17,000 times, and the story was covered by at least one local television station, which also tweeted out details.
https://twitter.com/T1dchick_/status/1173037100868014083
https://twitter.com/rtv6/status/1173250504723505159
And the video posted by T1International on its Facebook page has had more than 6000 views.
Abigail Hansmeyer, who has type 1 diabetes and works as an outreach coordinator for the Minnesota chapter of #insulin4all, also attended the vigil. She said she felt it was an effective way to reach the public and send Lilly a message.
"It's kind of a really more aggressive stance to be there right at their building, telling our stories, showing how many people care about this crisis, and demanding a need for a change in the price of insulin," Hansmeyer told Medscape Medical News.
Antionette Worsham, whose daughter, Antavia Worsham died in 2017, was also at the Indianapolis vigil.
Just ahead of this, she published an essay about the struggles her daughter had paying for her insulin and her concerns that her other daughter, Antanique, who also has type 1 diabetes, will likely face soon.
"In 2017, Antavia began to ration her insulin because she could not afford the $1200 price tag for a 90-day supply on her minimum wage job," wrote Worsham. "She died in her sleep at age 22 after she went into diabetic ketoacidosis, or DKA."
Antanique, a 19-year-old pre-law student, is still covered by her mother's insurance and Ohio's Children With Medical Handicaps program.
But she will grow out of that program when she turns 21, said Worsham. "When Antanique graduates, she will have insurance, but the deductibles and copays are likely to be astronomical," she said.
"I worry that she will be forced to choose between tuition, diabetic medical supplies, and the medication that keeps her alive."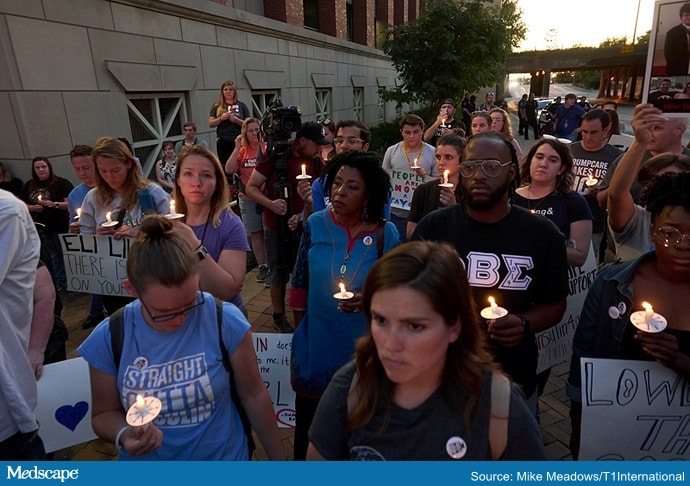 Countless Lives Lost Prematurely
Likewise, Kayla Davis of Owensboro, Kentucky, was on her grandparents' insurance until she turned 23. She was then able to get Medicaid coverage, but a few years later, ran into a typical snag for many people with type 1 diabetes.
Davis had to get approval from her physician and insurer for the particular type of insulin she needed. Knowing that it could be a wait — and that she was already out of insulin — she came up with a rationing plan.
The plan, which she shared with some friends in June this year, didn't get her through. Within days, the 28-year-old died from DKA.
And #insulin4all's Hansmeyer had a similar scare this summer. She has insurance, but an insulin pump malfunction meant that she had to add a long-acting insulin to her regimen. She had to wait on a prior authorization request for the long-acting insulin. The request was approved, but it turned out that the new insulin was not on the formulary and would cost her $1200 a month out of pocket.
So, she turned to what she calls the black market. "I just asked around in our community and said, 'Hey, does someone have excess, does someone have something they can trade?'" she told Medscape Medical News.
This type of exchange remains common among people with diabetes, she said.
An investigation by Spotlight on America published this week backs up Hansmeyer's claims. It also found plenty of evidence for a "bustling online black market" for insulin being sold on sites like Craigslist and Reddit.
And although Hansmeyer says Facebook has removed posts from diabetes community pages where people make requests for others' unused insulin, patients have found ways around this, she notes.
Sometimes they use code words for types of insulin, and at other times, they simply remove a letter from the name and replace it with a character.
Other speakers at the Indianapolis vigil continued to tell the tragic tales of those who were not able to find ways to get their life-saving insulin.
These included Janelle Lutgen, who lost her son, Jesse Lutgen, in 2018; Mindi Patterson, sister-in-law of Meaghan Carter, who died in 2018; Erin Weaver, whose son Josh Wilkerson died in June 2019; Joanne Koepp, the mother of Micah Fischer, who passed away in 2018; Cindy Scherer Boyd, the mother of Jesimya Scherer-Radcliff, who died in June 2019; Nicole Hood, who lost her son, Allen Rivas, in 2018; and Jazmine Baldwin, whose sister Jada Louis died in June 2019.
The vigil also honored Andrew Reamy, Shane Boyle, Melissa Coen, Kayla Davis, and "countless others who prematurely lost their lives to a treatable illness because they could not afford the insulin they needed to stay alive," said T1International in a statement provided to Medscape Medical News.
To Hansmeyer and Smith-Holt, this is an untenable situation, one that should not exist in a developed country such as the United States.
They intend to keep up the pressure.
"I think it has brought light to our legislators that there is an issue and it has increased the possibility that we're going to see some legislation in place that's going to help curb the cost of insulin," Smith-Holt told Medscape Medical News.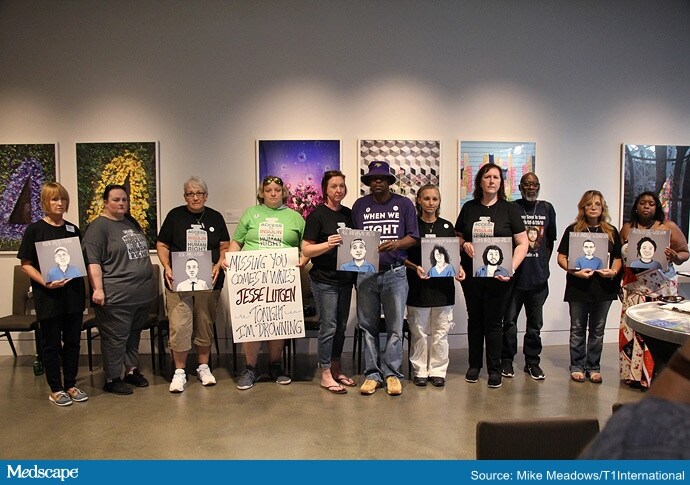 Authorized Generics Have Not Helped So Far
Just before the Indianapolis vigil, another major manufacturer of insulin, Novo Nordisk, announced a new affordability initiative in the United States.
Beginning in January 2020, Novo will begin selling a generic version of Novolog at half its current list price. Novo will also introduce a $99 cash card. Patients can use the card to buy three vials or two packs of pens of Novo's analog insulins.
But T1International met the announcement with skepticism, having seen Lilly introduce a lower-priced generic version of its Humalog product, insulin lispro, earlier this year.
That generic is not covered by many insurers and is not easily found at pharmacies, according to the group.
"Time will tell whether Novo Nordisk's new half-price product will be more widely available or covered by insurance plans, but so far, authorized generics have not helped," said T1International. "We must still fight for transparency legislation and, ultimately, price controls to ensure that prices go down and stay down."
For more diabetes and endocrinology news, follow us on Twitter and Facebook.
Medscape Medical News © 2019 WebMD, LLC

Send comments and news tips to news@medscape.net.
Cite this: Diabetes Activist Arrested at Vigil on Insulin Pricing Crisis - Medscape - Sep 24, 2019.