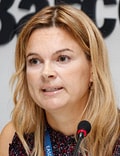 BARCELONA — Certain unskilled workers such as factory employees, cleaners, and truck drivers were two to three times more likely to have type 2 diabetes than skilled workers such as teachers and engineers in a national study of the 30 most common occupations in Sweden.
The work "is by far the most comprehensive overview of the relationship between occupation and type 2 diabetes" yet published, note Sofia Carlsson, PhD, Institute of Environmental Medicine, Stockholm, Sweden, and colleagues.
Carlsson presented the findings during a press briefing and as a poster here at the European Association for the Study of Diabetes (EASD) 2019 Annual Meeting. The study was also simultaneously published in Diabetologia.
This higher risk for diabetes among workers in certain occupations goes beyond the already established risk associated with having poor socioeconomic status, Carlsson told Medscape Medical News.
We "show that job title is a much more specific indicator of type 2 diabetes risk than socioeconomic status alone," Carlsson and her colleagues stress.
This all indicates that if companies set up workplace wellness programs to target particular employees at high risk of diabetes, this could potentially have a big impact on improving population health, said Carlsson, adding, "It's primarily…obesity that we need to target."
Emma Elvin, senior clinical advisor at Diabetes UK, said the new study provides insight into the relationship between a person's job and their risk of diabetes, although she emphasized that it doesn't mean that "doing manufacturing, driving, or cleaning jobs directly increase your risk of type 2 diabetes."
Nevertheless, "These findings add to the evidence that workplaces may provide an important target for lifestyle interventions. Workplace initiatives could help support employees adopt healthier habits or lifestyle changes which, in turn, could help minimize their risk of developing" diabetes.
Most Comprehensive Overview of Occupation and Diabetes
She cited a recent study of over 400,000 individuals that estimated healthy body mass index (BMI), waist/hip ratio, and diet together with not smoking could prevent 75% of all cases of type 2 diabetes, as reported by Medscape Medical News.
Carlsson and coauthors set out to identify potential groups of workers at high risk of diabetes to "hopefully inspire employers to implement diabetes prevention programs tailored to their workforces."
From a national Swedish register, they identified 4,550,892 adults aged 35-67 years (born in 1937-1979) who were gainfully employed in 2001-2013.
Among these almost half a million adults, 201,717 individuals were diagnosed with diabetes between 2006 and 2015, as identified through the Prescription Register and Patient Register.
Researchers also obtained information on BMI, physical fitness, and smoking from the National Conscription register and Medical Birth Registers.
"With the register data, we could show that individuals in high-risk occupations were more likely to be overweight, smoke, and have lower physical fitness than those in low-risk occupations, and this most likely contributes to a high prevalence and incidence of type 2 diabetes," the authors write.
"Interestingly, these differences were already seen at young ages, at the time of first pregnancy in women, and in men at the time of military conscription, which was at the age of entering the labor market," they state.
In 2013, the overall prevalence of type 2 diabetes was 5.2% in men and 3.2% in women in the Swedish working population.
The occupations with the highest incidence of diabetes were also the jobs that had the lowest socioeconomic status.
For example, the prevalence of diabetes was above 7% in male truck drivers and factory workers but only 2.5% in male computer scientists.
And among women, the prevalence of diabetes was highest in factory workers (6.4%), cleaners (5.1%), and kitchen assistants (5.5%), and lowest among managers (1.2%).
As would be expected, the prevalence of diabetes in the subset of people who were 55 years or older was even higher: more than 14% in male truck drivers and factory workers, and more than 8% in female factory workers, cleaners, and kitchen assistants.
Use Job Title to Indicate Risk and Institute Workplace Programs
But it wasn't all about socioeconomic status, Carlsson reiterated.
For example, construction workers, with a poor socioeconomic status, had an intermediate (rather than high) risk of diabetes, likely because they were more physically fit and less likely to be obese, she said.
"If job title can be used as a risk indicator of [type 2 diabetes]," Carlsson and colleagues state, "It can be used to identify groups for targeted interventions, and hopefully inspire employers to implement diabetes prevention [programs] tailored to their workforces."
Workplaces that institute wellness programs, "which could be only 1 hour per week for some lifestyle advice, and maybe an hour per week for some organized physical activity, would do miracles if you could get people to participate," Carlsson concluded.
The authors have reported no relevant financial relationships.
EASD 2019 Annual Meeting. Presented September 19, 2019. Abstract 378.
For more diabetes and endocrinology news, follow us on Twitter and Facebook.
Medscape Medical News © 2019 WebMD, LLC

Send comments and news tips to news@medscape.net.
Cite this: Cleaners and Factory Workers Have High Rates of Type 2 Diabetes - Medscape - Sep 19, 2019.