The Data on Use of Epinephrine in Digits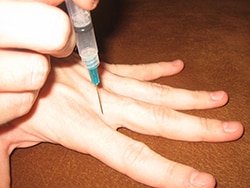 The conventional wisdom was clear: Epinephrine should never be used in an end-arterial field (eg, digits, pinna, nose, penis) owing to the risk for necrosis.[1] But is that really a concern?

A prospective, randomized, double-blind trial compared use of lidocaine with and without epinephrine augmentation in digital block procedures.[2] A total of 60 digital block procedures were performed; 31 were randomly assigned to receive lidocaine with epinephrine and 29 to receive plain lidocaine. One patient in the epinephrine group required an additional injection compared with five of the patients who were given plain lidocaine (P = .098). Bleeding control required use of a digital tourniquet in 20 of the procedures performed with plain lidocaine. However, a tourniquet was needed in only nine of the procedures in which epinephrine, which exerts a temporary hemostatic effect, was used (P < .002). Two of the patients receiving lidocaine-only blocks experienced complications, whereas no complications occurred in the group that received lidocaine plus epinephrine.
Granted, a single small study is not likely to change our practice. However, a relatively recent literature review examined the safety of epinephrine 1:100,000-200,000 (5-10 μg/mL) with local anesthetics in digital nerve blocks in both healthy patients and those with risk for poor peripheral circulation.[3] In total, the authors examined nine reviews, 12 randomized controlled trials, and 18 other articles that, in aggregate, reported on almost 3000 digital nerve blocks. No study reported digital necrosis or gangrene attributable to epinephrine, either in healthy patients or in patients with risk for poor peripheral circulation, though only two of the papers included patients with vascular comorbidities.
Now let's turn to the experts. What is the standard of care for the professionals—the hand surgeons—who do this all day?
A prospective study examined the incidence of digital infarction and phentolamine rescue in a large series of patients who were injected with epinephrine in their fingers and hands.[4] From 2002 to 2004, nine hand surgeons recorded 3110 consecutive case of elective low-dose epinephrine injection into the hand and finger. There were no instances of digital tissue loss. Phentolamine was not required to reverse the vasoconstriction in any patients.
Anecdotally, podiatrists with whom I speak indicate that the use of digital blocks with lidocaine plus epinephrine on the toes for removal of nails and other procedures is common and without complications. One small, randomized trial assessed use of local anesthesia combined with epinephrine for a surgical procedure of the foot and did not identify any adverse events.[5]
What about the worst-case scenario: accidentally injecting oneself with an epinephrine autoinjector? There are reports of patients with a history of bee sting allergy who—understandably—are anxious after a sting and accidentally use the autoinjector incorrectly. A case series[6] examining 28 accidental parenteral injections of epinephrine by autoinjector reported to two regional poison control centers over a 2-year period is reassuring. Even with these bigger doses, there were no reports of significant ischemia or major problems.
Bottom line: Use of epinephrine in digits appears to be safe and may in fact be beneficial. Whether this same degree of safety translates to use of epinephrine in other areas, such as ears or genitalia, is unknown.
Douglas S. Paauw is the Rathmann Family Foundation Endowed Chair in Patient-Centered Clinical Education and a professor of general internal medicine at the University of Washington. He was elected to Mastership in the American College of Physicians in 2009. He is a frequent lecturer at the ACP annual meeting, yearly presenting standing-room-only lectures on drug interactions and medical myths.
Follow Medscape on Facebook, Twitter, Instagram, and YouTube
Medscape Internal Medicine © 2019 WebMD, LLC

Any views expressed above are the author's own and do not necessarily reflect the views of WebMD or Medscape.
Cite this: Suturing Fingers: OK to Use Epinephrine? - Medscape - Sep 17, 2019.