LANGLEY, British Columbia — It was a perfect summer morning when North America's first residential "dementia village" held its open house, an apt but also odd event, given the premise of the place. Open doors are the theme and fundamental principle here at The Village Langley, billed as "a small community, nestled in a quiet neighbourhood, where people with dementia live life their way in cottage-style households." And yet, one important door will always remain locked: the exit to the "real" world.
The project, inspired by the first dementia village named Hogeweyk that opened 10 years ago in the Netherlands, is the triumph and life's work of Elroy Jespersen. He envisioned a different kind of dementia care, one that sheds the "surplus of safety" that burdens most traditional facilities and embraces the "dignity of risk."
As he guides me around the five-acre property, he is proud to point out that there are no barriers. Doors and gates are open so that people can go where they wish, or at least believe they can. "People with dementia don't just wander —they're looking for something —a place to go with a purpose," he says, showing me the village's "purposeful places": a barn for petting animals, a vegetable patch, a café and bistro, a salon, and a community center.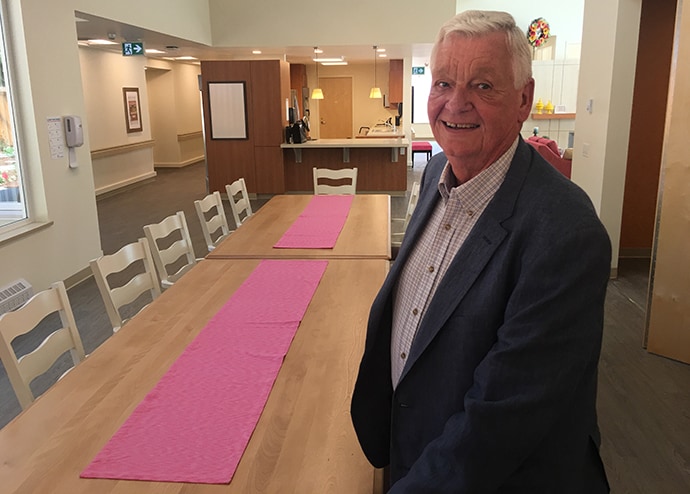 Elroy Jespersen, Dementia Village founder
Within each of the village's six "cottages" there are 12 or 13 private bedrooms and en suite bathrooms, as well as shared spaces, including a dining room with a long harvest table, a staffed kitchen, a living room with a fireplace and library, sunrooms, and activity rooms. Beyond the cottages' unlocked doors are gardens, park benches, and picnic tables that promote a sense of freedom.
That sense of freedom is an illusion. Though residents are indeed free to wander around, they can't actually get out of the village. It is a gated, locked-down facility. Behind the scenes, the security system is on alert, designed to preempt problems with the use of smart bracelets to track residents' whereabouts, vital signs, and risk of falling. There is roughly one health care aide per every six residents, as well as one around-the-clock registered nurse, licensed practical nurses, and a general practitioner on site.
As we wander through the soon-to-be-occupied homes, bedrooms waiting for personal furniture, and common areas appointed with stylish armchairs and colorful cushions, there is an odd sense that we are in a dress rehearsal before the premiere. Gardeners scurry about putting the final touches on the landscaping, and sparkling stemware is arranged in the café.

The village is designed for people who are losing their cognitive connections to the world. While in some ways it is a care facility like most others, in other ways it is a deliberate and elaborate performance aimed at recreating what age and illness have stolen.
"If they want to go shopping down the street or meet a friend for a coffee or a beer, they can do that," says Jespersen, leading me into the general store. Here, the cash register is an antique "prop"; instead of paying for their purchases, residents will be able to "charge" their accounts, he explains, with a wink.
"But isn't that deception?" I ask, echoing a common concern in dementia care. When the truth is too harsh, or difficult to grasp for those with dementia, "therapeutic lies" are commonly accepted as appropriate. Many nursing homes across the continent endorse controversial approaches, such as "covert medication" — hiding patients' pills in food or drink — and "reminiscence therapy ," aiming to time-warp failing minds back to an era of more clarity. Doll therapy and robot pets also bring smiles and purpose to the fading, fragmented reality of dementia. I myself have recently negotiated around many loving lies while transitioning my mother into Alzheimer's care. But is it dishonest?
"We're all being deceived by some people all the time; we just don't know it," answers Jespersen, as we sit in a cheerful sunroom. He describes a common scenario: a woman with dementia insisting on phoning "home" to speak to her long-deceased husband. Rather than breaking the same sad news to her every day, the caregiver instead helps her "leave him a voicemail" — which she does, with great tenderness. We both get teary as he relays the touching story, but I can't help questioning whether reality is something that we have the right to give or take from a person at will. Aren't we all entitled to the truth, however harsh?
What to Make of Make-Believe
There will never be consensus on where to draw the line between truth and deception in dementia care because the illness is different for each person, says Karen Tyrell, the village's dementia specialist and author of Cracking the Dementia Code – Creative Solutions to Cope with Changed Behaviours. "We have to try and meet each person in their current reality, not try to get them to meet ours," says the certified dementia practitioner (CDP), who trains front-line workers in dementia care.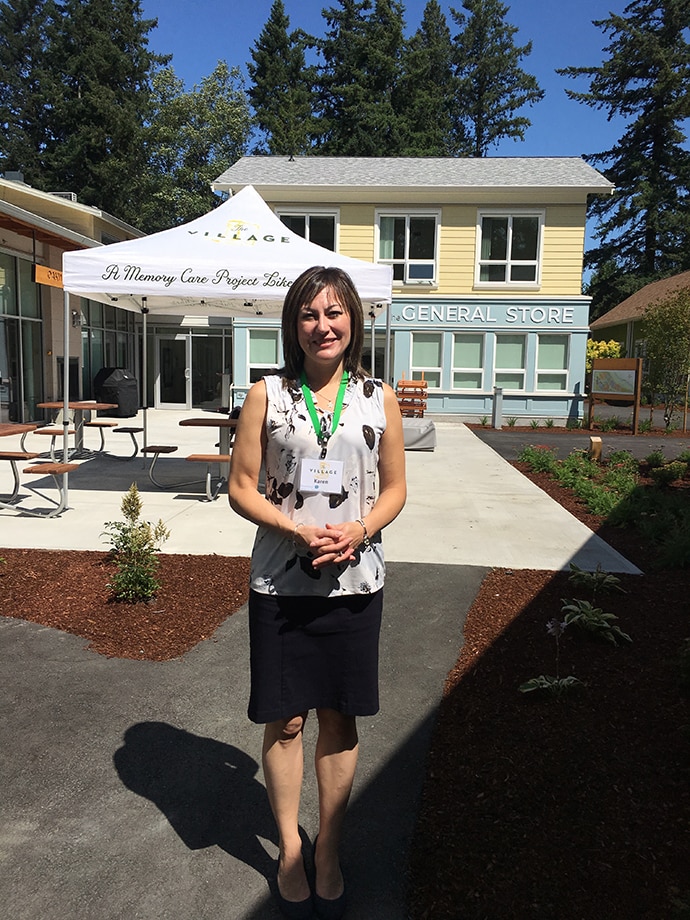 Karen Tyrell, dementia specialist
Remarkably, as a growing number of Generation X'ers agonize through innumerable lies and half-truths with their aging parents, there seems a dearth of professional guidance about it in North America. And in the gap, the "artificial reality industry," as some experts call it, is blossoming. Construction has already started on the Donald S. Sussman EmpathiCare Village in Miami, which is set to open in 2020. And America's first reminiscence therapy daycare program has already opened in Chula Vista, California. Designed like a 1950s stage set, the Glenner Town Square employs "prompts and props" to transport dementia patients back to their youth. The prototype fake town is now being franchised out, billed as "an attractive investment opportunity for entrepreneurs looking for exceptional corporate support and an exciting franchising concept in a booming industry." The business plan projects 100 new locations within the next couple of years.
In 2016, the British Mental Health Foundation tackled some of the thornier questions about deception in dementia with an 18-month inquiry. "There are no official guidelines in the UK that justify 'not telling the truth' to people living with dementia," says the final report, entitled What is Truth? An Inquiry about Truth and Lying in Dementia Care. "Many organisations state that using untruths is unethical or poor practice. Yet research shows that many carers, staff and professionals (eg psychiatrists) do often lie and also consider lying justifiable. One common example of using an untruth was not telling a person with dementia that their loved one was dead when they were asking for them."
The report acknowledges that while most people do not want to lie or be lied to — and people with dementia are no exception — there may be value in telling certain untruths. "If the person wants to see someone who is no longer alive, or believe they are still in a role or job they did earlier in their lives, this could be very meaningful in terms of giving the person a sense of self and purpose," it noted.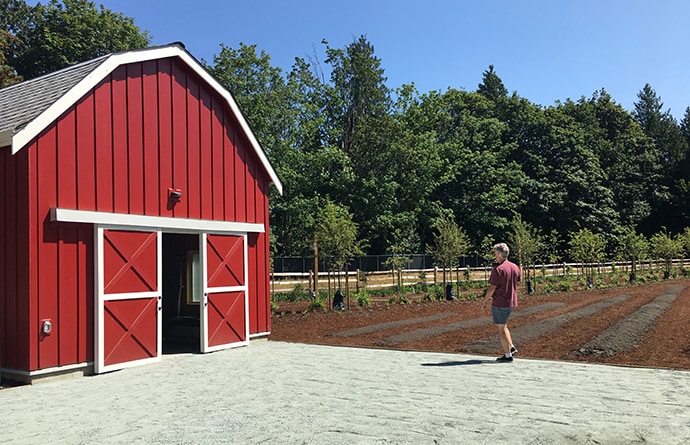 The Village Langley barn
For clinicians, the concept of delivering anything but the truth to patients is rarely entertained. But when faced with dementia, the ethical landscape deserves more scrutiny, according to Dutch philosophers Ruud Hendriks, PhD, and Ike Kamphof, PhD, from Maastricht University. In their 2-year research project entitled Make-believe Matters, Hendriks and Kamphof zeroed in specifically on objects of deception, exploring "the therapeutic role of illusions" and the "moral intricacies" of make-believe in 13 dementia residences across the Netherlands and Belgium.
"Deceiving people threatens their dignity. It constrains their freedom of choice by supplying them with false information, and it may somehow make what people experience less true or authentic. Yet, make-believe in dementia care is also a complex issue. Surely, not all pretending is wrong. Having fun together can involve make-believe, as well as some forms of non-overt support," they write.
"To condemn the entire 'artificial reality industry,' as the Mental Health Foundation condescendingly calls it, as a threat to person-centered care seems to be throwing out the good with the bad," they note in a book about their research.[1]
Yet the philosophers agree that "questions of when and how to be truthful in dementia care form a moral grey area." While "props" such as The Village Langley's antique cash register or old-fashioned telephone may be calming, comforting, or even entertaining, illusions — such as camouflaged exits or fake bus stops — may be confusing or frightening. On the other hand, certain "aids," like the bright-red toilet seats at The Village Langley, have a practical purpose to ensure both accurate aim and safety.

The State of the Evidence
With strengthening roots in Europe and tentative seedlings in North America, "dementia-friendly communities" will be increasingly under the microscope in terms of evidence-based practices. With fees starting at around $5500 USD per month, The Village Langley is an option only for the wealthy, but other programs, including daycare settings, might offer much of the same idea more affordably. Either way, with dementia care tagged by some entrepreneurs as a "$400-billion industry and counting ," practitioners and the public will be anxious to see if there's any bang for those bucks.
The research so far is limited. A recent abridged Cochrane systematic review looking simply at the impact of reminiscence therapy found "small and inconsistent effects" but a hint of promise on outcomes such as quality of life, communication, depression, and cognition.[2] Another review suggests that early studies are "qualitative and exploratory by nature and do not evaluate how dementia-friendly communities impact health and quality of life of people living with dementia."[3]
One important step will be defining the meaning of benefit for people with dementia. In that regard, Jespersen believes that healthcare takes a backseat to happiness. "They are not patients; they are people," he emphasizes, explaining that here, caregivers are called "Elfs" (enriched living facilitators), to keep the focus on living and away from care. "I'm asked, 'Are we going to have therapy animals here?' Probably not, but we're going to have animals," he adds. "Are we going to have therapeutic recreation? No, but we're going to have fun. Everyone labels it with this medical view but we come from a living point of view. A lot of people need a lot of physical healthcare in order to live, but it's not about the healthcare; it's about the living."
As I leave The Village Langley, it's the same perfect summer day, but the sheen of the new paint and manicured gardens stirs an uneasiness about this manufactured utopia. What will it really be like when the residents move in? What happens when a resident does something unexpected and unusual, as people with dementia tend to do? The bright-red toilet seats are evidence that the brains behind this project are prepared for accidents -- that they are realistic more than idealistic -- and then, as I reach for the door to leave the property, I get my final reassurance: I am locked inside.
Follow Medscape on Facebook, Twitter, Instagram, and YouTube
Medscape © 2019 WebMD, LLC

Any views expressed above are the author's own and do not necessarily reflect the views of WebMD or Medscape.
Cite this: 'Dementia Village' Creates Artificial Reality - Medscape - Sep 11, 2019.