Updated: September 17, 2019
In April 2019, Washington University School of Medicine (Wash U) in St. Louis announced a bold plan to stop debt from burdening its future students. Beginning with the 2019-2020 entering class, as many as half of future students will receive free tuition, while others are receiving greater tuition support. Not 6 months later, Weill Cornell Medicine announced that it too would cover all costs (tuition, housing, food) for students who qualify for financial aid, starting this year. These institutions join an increasing number of schools that have embraced an ambitious solution to the rising cost of medical education (Figure).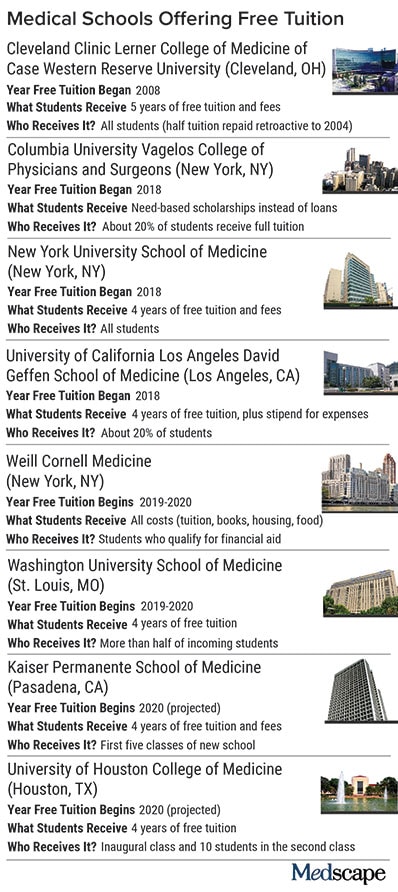 Although reducing the anxiety of debt is clearly a goal of the free-tuition movement, the change is also intended to attract more students from disadvantaged backgrounds and to remove student loans as a factor in choosing a medical specialty. In part, the hope is also that more students will choose primary care, considering that the percentage of primary care positions filled this year by fourth-year US medical students was the lowest ever recorded. When it comes to impact, however, few tuition-free programs provide specific targets by which to measure success. And while some students have enjoyed great relief, the vast majority in medical school still face loans as big as a home mortgage. So what do early returns actually suggest about how the free-tuition movement is reshaping the physician workforce?
Those Left Behind
Wash U's announcement was a celebratory moment, but some people were upset—namely, those students already taking on crushing loans. As the news traveled on social media, so did misinformation about where the money came from and who would benefit. "Everyone agrees this is a great thing for the university. It will definitely help the future generation," says Connie Gan, president of the class of 2021 at Wash U. "But some students had a feeling of being left behind."
Nationally, students carry a median medical school debt of $194,000 at graduation, and many are clearly troubled by the burden of repaying it. "When I started this work [in medical education] more than 20 years ago, debt was hardly ever a major part of the conversation," says Eva Aagaard, MD, senior associate dean for education at Wash U, of her interactions with students. "Now it's a huge part." Thus, it is understandable that reactions to the news of free tuition for some, but not others, have varied.
When she was in her second year of training at Wash U, Eliza Thompson heard about free tuition for future students in a private message from a friend. Facing possible cumulative debt of at least $250,000, Thompson had already been talking to someone in the financial aid office about getting more support. Maybe this announcement would help in some way, she thought, even as it seemed to exclude current students. "I'm waiting to get super upset because I figure they have to address us at some point," she texted her friend after hearing the news.
Thompson lives in a "donut hole," an in-between demographic that is neither wealthy enough to freely afford tuition nor disadvantaged enough to receive major aid. As with many students from middle- and upper middle–class families, her parents aren't paying for medical school, even if financial aid formulas expect them to do so. Wash U recognizes that the most debt-burdened students in medical school are not necessarily the most economically disadvantaged and, by providing additional funds to the new free-tuition program, has been able to help some current students like Thompson.
Around the country, free-tuition announcements have been met with a pained wistfulness. The specter of debt dissuades some from pursuing medicine altogether, says Isaiah Cochran, MD, a recent graduate of Wright State University Boonshoft School of Medicine, who has more than $150,000 in debt. "It doesn't make sense to put up such a barrier to people," he says. Cochran is president of the American Medical Student Association (AMSA), which advocates for greater state and federal support of medical education.
Although he won't directly benefit himself, he sees the movement toward free tuition as many in medicine do: "It's great. I wish every school could do it."
Medscape Med Students © 2019 WebMD, LLC

Any views expressed above are the author's own and do not necessarily reflect the views of WebMD or Medscape.
Cite this: Is Free Medical Tuition Actually Working? - Medscape - Sep 16, 2019.