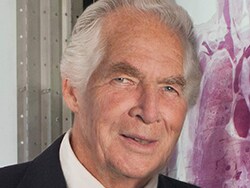 Donald A.B. Lindberg, MD, FACMI, former director of the National Library of Medicine (NLM) for over three decades who was widely regarded as "the country's senior statesman for computers and medicine," died on August 16 at age 85.
Lindberg, director emeritus at the NLM within the US National Institutes of Health, and a trailblazer in the application of computer technology to healthcare as the founding president of the American Medical Informatics Association (AMIA), died of head injuries after falling at his home, according to a family obituary published online August 21 in the Columbia Missourian.
"One of the longest-serving leaders at the National Institutes of Health," he was director of the NLM for 31 years, from 1984 to 2015, Francis S. Collins, MD, PhD, director, National Institutes of Health, and Patricia Flatley Brennan, RN, PhD, director, NLM, write in a joint statement on the National Institutes of Health website.
Early on, Lindberg recognized the value of computer technology and medical informatics. "When he joined the NLM as director in 1984, Don predicted that computers would become increasingly useful in biomedical research and patient care, medical informatics would emerge as a formal research field and academic discipline, and progress in cancer research and molecular biology would become a matter of immediate personal concern," Collins and Brennan write.
George D. Lundberg, MD, editor-at-large of Medscape, first met Lindberg in 1966 when Lundberg attended a week-long course on computing for physicians that Lindberg was teaching in Poughkeepsie, New York. He remembered thinking, "This is going to change the course of human events." That course changed Lundberg's life because he went back to his own clinical laboratory and automated it.

Lundberg is also currently editor-in-chief and chief medical officer for CollabRx, president and chair of the board of directors of the Lundberg Institute, and a consulting professor at Stanford University in California.
Both pathologists, they began working with computers in the early 1960s — Lindberg in 1960 and Lundberg in 1963. "I considered Don Lindberg one of my very best friends in the world and for a very long time," he told Medscape Medical News. "There were so many similarities in our careers that we kept bumping into each other."
"Nineteen years later, when I became the editor of JAMA...[and] comprised my editorial board...I asked Don Lindberg to be a member," he explained. Again, in 1999, he asked Lindberg to be on his "inaugural editorial board of Medscape."
"The Big Miss"
A "Renaissance man" who understood "that medicine was an art and a science," Lindberg was a "fantastic photographer" with a sharp eye as clearly focused in his photography as in his work at the NLM, Glenorchy P. Campbell, managing director, BMJ Americas, told Medscape Medical News.
Campbell said that in Scotland, when a beloved person dies, they call it "the big miss" and he believes that expression describes Lindberg perfectly. "Don Lindberg is the 'big miss,'" he said.
They came to know each other when Campbell was on the executive council of the Professional Scholarly/Publishing Division of the Association of American Publishers and Lindberg was at the NLM. They met regularly to discuss issues regarding Medline and MedlinePlus as well as other technical issues.
"When I go back to that first meeting it could have been a very contentious meeting...but his approach from the beginning with me and with others was to find common ground and identify the ways in which we could meet each other's needs in order to advance biomedical communication, research, and patient care," Campbell recalled.
Lindberg was a person who was "interested and interesting," Campbell said. "He wanted to hear you and he wanted to engage with you so that he could learn from you."
Although he was brilliant, Lindberg was the "least condescending person I ever met," generous with his time and knowledge, he added.  
"Consummate Planner"
Lindberg was a "consummate planner" who championed the Internet at the NLM, Collins and Brennan write, adding that he worked hard to give the public, healthcare providers, and scientists access to medical literature, clinical trial information, and consumer health information.
Lundberg said Lindberg invented PubMed, calling it his "crowning achievement."
He brought free access to clinical trial information and results with ClinicalTrials.gov, addressing a "huge need in the clinical research community for clinical trial information," Lundberg said.
"It changed the world in terms of [how a doctor can] find a clinical trial for a patient to go on," he said, adding that ClinicalTrials.gov has improved the lives of individual patients and of the whole world.
"He saw it all so far in advance of everybody else. And he was so strategic in his thinking and in his vision, and he would launch these projects individually, but he would keep the whole in mind...as a result of that he transformed the [NLM]," Campbell told Medscape Medical News.
During his time as director of the NLM, the agency also introduced "widely used online repositories of genetic and genomic sequences; and the Unified Medical Language System," which "integrates diverse biomedical vocabularies, which enables searchable terms and fosters interoperability among computer systems," according to his obituary. "Lindberg also supervised the free use of clinical terminology standards for electronic health records, as well as the diffusion of specialized resources in diverse fields including toxicology; health services research; public health; consumer health; disaster and emergency response; and the history of medicine."
Lindberg was instrumental in establishing the National Center for Biotechnology Information and was the "first director of the government-wide Office of High-Performance Computing and Communications," the statement by Collins and Brennan continues.
Lindberg "was incredibly well read, in medicine and beyond," Collins and Brennan recall. "A discussion about one of the NLM's many products and services would inevitably be informed by insight from the latest book he was reading, about history, sailing, or the latest medical breakthrough. His thirst for knowledge made him ideally suited to lead the largest biomedical library in the world."
Lindberg's love of pathology never left him, Lundberg said. "He took a dead body, sliced the entire dead body piece by piece...and rebuilt it as a 3-D computer model that people could come to the NLM and use punch buttons to look at every little anatomic detail of an actual human body," resulting in the Visible Human Project, which has a 3D computer model of a male and female body.
Distinguished Career
Lindberg was a board-certified pathologist who received his medical degree from Columbia University College of Physicians and Surgeons, New York City, in 1958, and his AB from Amherst College, Massachusetts, in 1954.
He began his career at the University of Missouri-Columbia in 1960, where he was professor of Information Science and professor of Pathology until 1984, according to biographical information on the AMIA website.
He was the founding director of the National Coordination Office for High Performance Computing and Communications in the Office of Science and Technology Policy from 1992 to 1995. While there, he and his team "helped coordinate the technical standards for then-new high-speed digital communication networks (that expanded information technology and the Internet's viability as a mass medium)," his obituary explains.
Lindberg was appointed by the department of Health & Human Services to be the US coordinator for the G7 Global Health Applications Project within the Global Information Infrastructure Initiative from 1996 to 2000, according to the AMIA website.
More recently, Lindberg held medical faculty appointments at the University of Maryland and University of Virginia, his family notes in the obituary.
Lindberg is the author of three books (The Computer and Medical Care, Computers in Life Science Research, and The Growth of Medical Information Systems in the United States), several book chapters, and more than 200 articles and reports. He was an editor and editorial board member of nine publications, among them JAMA.
He was a frequent speaker who gave "more than 50 invited and named lectures on four continents during the 21st century's first decade," according to his obituary.  
Lindberg is survived by his wife, Mary Musick Lindberg; brother Charles Frank Lindberg (Oregon); sons Donald Allen Bror Lindberg II (Indiana), Jonathan Edward Moyer Lindberg (Oregon); daughters-in-law Amy Leigh Frank Lindberg (Oregon), Kelly McGee Lindberg (Washington); and grandchildren Frances Marie Musick Lindberg (Washington) and Christopher Martin Jurgen Lindberg (Oregon).
A memorial service will be held in the future. His family requests that donations be made to Montgomery County Hospice. 
Follow Medscape on Facebook, Twitter, Instagram, and YouTube.
Medscape Medical News © 2019 WebMD, LLC

Send comments and news tips to news@medscape.net.
Cite this: Dr Donald Lindberg, Pioneer in Medical Informatics, Dies at 85 - Medscape - Aug 23, 2019.