Thomas Benzoni, DO, an emergency medicine physician from Des Moines, Iowa, says he's been getting more and more demoralized by working with electronic health records (EHRs).
"I think physicians feel they are losing control of their profession," he says. "EHRs are symptoms of that disease, so even if you fix the EHRs and don't fix the loss of control, it will simply show up somewhere else. It's a game of Whack-a-mole. What you are seeing is the symptom, not the problem."
It's no secret physicians have a love-hate relationship with EHRs.
Some physicians are pleased to have EHRs for their patients with the ability to call up information in seconds, prescribe electronically, and share notes via a patient portal. Others feel trapped in an endless maze of drop-down menus and pop-ups and would rather stick with paper.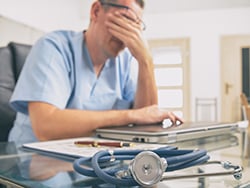 Having practiced for 21 years, Mark Turpen, MD, an emergency medicine physician in Gallup, New Mexico, has witnessed firsthand the evolution of the EHR. In his opinion, although computer systems work well for banking and checking accounts that rely on numbers, industries that need narratives and explanations—such as healthcare—have yet to master health IT. The result is preventing doctors from focusing on the patient.
"The things we used to focus our mental power on we can't anymore because we are focused on clicking boxes and charting so we get paid and not punished by [the Centers for Medicare & Medicaid Services (CMS)] for some metric we didn't meet," he says. "They've taken what was the most stressful job [being a physician] and made it untenable."
Benzoni, Turpen, and more than 500 physicians nationwide recently shared their thoughts on EHRs for Medscape, highlighting key deficiencies of the systems and how they would fix them. Here are the five most commonly cited deficiencies.
1. EHRs Don't Do What Docs Need Them To Do
In the Medscape poll, nearly 60% of physicians said they did not have any input in the system they are currently using for patient care. Twenty-two percent either selected their current product or were part of a committee to make the final decision, and only 4% provided direct insight into selecting an EHR.
Turpen was involved with the selection of his first EHR but said his current system was "forced upon" the doctors. His own informal poll of about 50 of his peers found that the only thing they liked about the system was that they could access old medical records faster than a clerk could retrieve them.
With that as the main upside, Turpen says that improving the rest of the systems needs to start with physicians. They should consult vendors on how the system can best assist in patient care by improving documentation quickly and more accurately and accessing diagnostics faster and more efficiently than most EHRs do now.
[T]hey took away the Corvette and gave us a unicycle or a three-legged horse to run the Kentucky Derby. Everything done so far hasn't improved patient care.
"We [physicians] were expected to get smarter and faster through this technology," he says. "But they took away the Corvette and gave us a unicycle or a three-legged horse to run the Kentucky Derby. Everything done so far hasn't improved patient care."
Physicians seem split on this point. In the Medscape poll of physicians, 40% said their EHR system decreased the quality of patient care they provided. However, nearly the same amount (35%) said the computer programs benefitted patient care.
Some doctors say a key issue with EHRs is that systems were designed around regulations and billing, which does not really maximize patient care. EHRs were first meant to satisfy the CMS Meaningful Use programs, but they are now expected to generate data for the Medicare Shared Savings Program as well as assist with physician payments from private and commercial payers.
Rather than call them EHRs, Benzoni refers to the systems as "electronic billing systems." He says that although "medical" devices are approved by the US Food and Drug Administration, these systems are certified, thereby approved by the CMS, "the billing arm of the federal government."
2. EHRs Are Likely to Contribute to Burnout
In Medscape's National Physician Burnout, Depression & Suicide Report 2019, nearly one third of physicians noted increasing computerization of their practices via EHRs as a main contributor to feeling burned out.
Yet it's not just the notes physicians create themselves that is causing professional dissatisfaction. A recent study in Health Affairs found a correlation between inbox messages generated by EHR algorithms and physician burnout. According to researchers, doctors who received a high number of these messages were more likely to have symptoms of burnout.
Medscape Business of Medicine © 2019 WebMD, LLC

Any views expressed above are the author's own and do not necessarily reflect the views of WebMD or Medscape.
Cite this: Keith L. Martin. Doctors' 5 Biggest Gripes About EHRs - Medscape - Aug 26, 2019.