The National Institute of Allergy and Infectious Diseases (NIAID), part of the National Institutes of Health (NIH), has awarded the University of Alabama at Birmingham (UAB) roughly $10 million to study the natural history of acute flaccid myelitis (AFM), a rare polio-like illness that causes muscle weakness and paralysis primarily in children.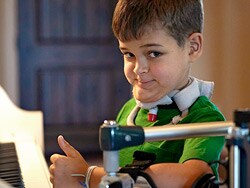 UAB will organize and implement the study to learn more about the incidence and distribution of AFM and to better understand how the disease develops and progresses in children, the NIH said.
David Kimberlin, MD, professor of pediatrics and co-director of the division of pediatric infectious diseases at UAB, will serve as principal investigator for the study, and Carlos Pardo-Villamizar, MD, professor of neurology and pathology at Johns Hopkins University in Baltimore, Maryland, will serve as co-principal investigator.
The study will be conducted at 38 or more sites across the United States, Canada, the United Kingdom, and Peru.
The study will enroll children with symptoms of AFM and follow them for 1 year. Household contacts of children with suspected AFM will also be enrolled and followed as comparators. The study is expected to begin enrollment by this fall, and more details about the design and sites will be available at that time.
Cause Remains a Mystery
The US Centers for Disease Control and Prevention (CDC) began tracking AFM in 2014 when the first outbreak, involving 120 cases, occurred. Another outbreak, which involved 149 cases, occurred 2 years later. An outbreak occurred again in 2018.
The 2018 outbreak, which involved 233 cases in 41 states, has been the largest so far. So far this year, 11 confirmed cases have been reported in eight states; 57 cases are under investigation.
AFM has so far followed a seasonal and biennial pattern, with cases spiking between August and October every other year.
The cause of AFM remains unknown. Mounting epidemiologic evidence suggests that enterovirus-D68 (EV-D68) could play a role. More than 90% of the patients with AFM had a mild respiratory illness or fever consistent with a viral infection before they developed AFM.
"Since at least 2014, children have been at risk of developing a polio-like syndrome likely due to enteroviruses, and this study will provide the basis for understanding the cause of those children's paralysis," Kimberlin said in a UAB news release.
"Knowledge gained from this study hopefully will provide the foundation for future treatment studies of antiviral drugs. We hope to better understand why acute flaccid myelitis occurs and which children are most at risk, and to develop the biorepository and associated clinical database to understand what we can do about it in the future," said Kimberlin.
The CDC has established an AFM Task Force to help with ongoing efforts to define the cause of AFM and improve outcomes for those affected.
CDC researchers are helping to design and implement the new NIAID-funded study, which will address knowledge gaps outlined by the AFM Task Force. This includes identifying potential risk factors and further characterizing associated symptoms.
In a statement issued earlier this month, CDC Director Robert Redfield, MD, urged physicians to be vigilant for symptoms and report suspected cases to help "accelerate efforts to address this serious illness."
The CDC has published interim considerations for clinical management of AFM on its website.
For more Medscape Neurology news, join us on Facebook and Twitter
Medscape Medical News © 2019

Cite this: NIH Awards $10 Million for Acute FlaccidMyelitis Study - Medscape - Jul 25, 2019.