"It's simply not worth it."
These words—spoken by an attendee at a program I recently gave on navigating the Merit-based Incentive Payment System (MIPS)—hung in the room. Soon, the physician was joined by more attendees expressing similar consternation after hearing the government's announcement that MIPS bonuses would be, at best, 1.68% for those who demonstrated exceptional performance.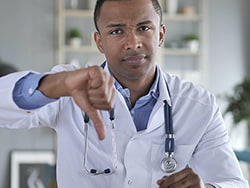 For all the work involved in reporting for MIPS, many physicians and practice managers across the country are coming to recognize that the 1.68% bonus given from the government's payment program may not be worth the time and resources required to participate. I agree—although I would add that the program, an amalgamation of a series of poorly executed initiatives, was doomed from the start.
The Quality Payment Program (QPP), the "corporate" name given to the federal government's program, includes MIPS as well as participating through an Advanced Alternative Payment Model. The dual-track QPP was formed by merging three programs created under the Obama administration. These included the EHR Incentive Payment System (fondly known by its fundamental requirement, "meaningful use"), the Value-based Payment Modifier, and the Physician Quality Reporting System.
Each had its challenges, even before being wrapped into the QPP. Physicians were frustrated by the endless changes to the requirements for the EHR Incentive Payment Program, often issued late in the reporting year.
The Value-based Payment Modifier had only just gotten off the ground when it was pivoted into the QPP. Sadly, it exacted some fairly significant penalties in the 2 years after the program merger. The Trump administration rolled back some of the heavy penalties because (1) it had just launched, (2) it was known by several names, and (3) no one really understood it.
The Physician Quality Reporting System had been around for nearly a decade in different forms, so it was the most recognized part of the program and one that physicians had become comfortable with, despite some frustrations.
The government felt compelled to throw in a fourth (new) category: Improvement Activities. Notably, this was the easiest part of the QPP with which to comply. We could elaborate on some of the complexities of the program—participating as a MIPS Advanced Payment Model through an Accountable Care Organization, for example—but such detours just take us down more rabbit holes.
Medscape Business of Medicine © 2019 WebMD, LLC

Any views expressed above are the author's own and do not necessarily reflect the views of WebMD or Medscape.
Cite this: Elizabeth Woodcock. Disappointed Docs Say: MIPS Is Not Worth It! - Medscape - Aug 20, 2019.