LOS ANGELES – Sexual or gender minorities (SGM) are almost 30% more likely to report subjective cognitive decline compared to the non-SGM population, new research shows.
The results underline the need to educate healthcare professionals about the importance of screening the SGM community for memory problems, study investigator Jason Flatt, PhD, Institute for Health & Aging, University of California San Francisco (UCSF), told Medscape Medical News.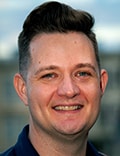 The study is also a reminder to clinicians to ensure that healthcare is inclusive. "That means changing health forms and making sure you ask about people's gender identity and sexual orientation, but it also means being open, and asking questions that aren't so focused on traditional heterosexual norms," Flatt said.
The findings were presented here at the Alzheimer's Association International Conference (AAIC) 2019.
First Sign of Alzheimer's
SGM encompasses lesbian, gay, bisexual, transgender and two-spirit (LGBTQ2-S) populations as well as those whose sexual orientation, gender identity and expression, or reproductive development varies from traditional, societal, cultural, or physiologic norms, said Flatt
There are currently 2 to 3 million adult Americans aged 50 and over who identify as SGM. This number is expected to grow to 7 million by 2014, said Flatt.
Up to 350,000 SGM adults in the US are living with Alzheimer's disease (AD) or a related dementia, he said.
Subjective cognitive decline — self-reported frequent confusion or memory loss — affects an estimated 11.2% of adults aged 45 and older in the US and is often the first sign of AD.
The study used the 2015 cognitive decline and sexual orientation and gender identify module of the Behavioral Risk Factors Surveillance System (BRFSS) of the Centers for Disease Control and Prevention (CDC). This is an annual telephone survey that recruits through random digit dialing.
Respondents were asked about sexual orientation and whether in the last 12 months they experienced confusion or memory loss that is occurring more often or is getting worse.
If they answered yes to this question, they were then asked if they had difficulties performing activities of daily living or caring for themselves. They were also queried as to whether they had talked to their doctors about these issues.
Trouble With Everyday Tasks
The study included 1253 SGM subjects and 42,288 non-SGM subjects aged 45 years and over from nine US states.
The SGM group was somewhat younger (mean age 62.1 years vs 63.5 years). They were also significantly more likely to identify as a racial or ethnic minority (19.3% vs 16%), to be unmarried (57.8% vs 41.9%), unemployed (17% vs 10.5%), uninsured (5.3% vs 3.8%), and to have low household income (22.8% vs 15.6%).
"More people in the SGM group made less than $20,000 a year, so there is some economic disparity," commented Flatt.
The study found that 1 in 7 SGM adults (14%) reported subjective cognitive decline compared to 1 in 10 non-SGM adults (10%).
After accounting for demographic characteristics, SGM adults were 29% more likely to report subjective cognitive decline compared to non-SGM adults (odds ratio [OR], 1.29; 95% confidence interval [CI], 1.08 - 1.56; P < .001).
"What also really stood out was that the LGBTQ people who reported subjective decline also reported more problems with their everyday tasks compared to non-LGBTQ people," said Flatt.
For example, the SGM respondents were more likely to report giving up daily activities (39% vs 29%; P = .003) and to need help with household tasks (44% vs 35%; P = .01).
Earlier Screening Warranted?
In both groups, more than 50% did not talk to their healthcare provider about their cognitive symptoms. Although the percentage was about the same, "still, less than half in both groups talked to their doctor" about this issue, noted Flatt.
Because this data was collected at just one point in time, the results cannot explain why more SGM adults report cognitive decline. However, Flatt surmises that it could have something to do with the SGM community facing more health challenges, such as more vascular conditions like heart disease.
Flatt also noted that members of the SGM community are more prone to mental health problems and are more likely to report depression, which is linked to increased dementia risk.
"If you have depression, you have a 2 to 3 times higher risk for dementia compared to those without depression," said Flatt.
In the past, the SGM community has had to overcome stigma and isolation, and has had problems accessing health services.
The fact that the SGM group was somewhat younger than the heterosexual group "makes me think of what we see in other vulnerable populations — what we call accelerated aging — where people look older than their chronological age," said Flatt.
"We need to do more research on this, but if that's the case, we need to be screening for dementia earlier, maybe at age 50 years," he added.
More Risk Factors
Commenting on the research for Medscape Medical News, Maria C. Carrillo, PhD, chief science officer at the Alzheimer's Association, said that the results showing SGM subjects having more subjective cognitive decline "is an interesting finding."
Although she agreed it is unclear as to why, she noted that it "does tend to make sense" because SGM subjects have more risk factors associated with cognitive decline.
"They have more obesity, and higher cardiovascular risk factors like cholesterol and high blood pressure," Carrillo said.
While those in mid-life today are "much more open" about gender fluidity and related issues, an SGM individual who is now 60 or 70 years old has had to experience discrimination for a lifetime, said Carrillo, which may help explain why that person is reluctant to talk to a doctor about cognitive decline, or seek assistance with it.
She noted the launch of the Aging with Pride Innovations in Dementia Empowerment and Action (IDEA) study. The study will compare an LGBTQ-specific intervention to a preexisting standard dementia program among SGM older adults living with dementia.
The 9-week intervention will encourage participants to talk about their gender identity and the things that may be affecting them, said Carrillo. "The intervention aims to help them with mobility and independence, physical activity, and also behavioral well-being."
At UCSF, a new center for LGBTQ clinical practice and health research has just received funding, said Flatt. The center's aim is to develop programs for LGTBQ seniors who may have dementia or are at risk for dementia.
The study was supported by the National Institutes of Health. Flatt and Carrillo have disclosed no relevant financial relationships.
Alzheimer's Association International Conference (AAIC) 2019: Oral Session 04-07-04. Presented July 14, 2019.
For more Medscape Psychiatry news, join us on Facebook and Twitter
Medscape Medical News © 2019

Cite this: Sexual, Gender Minorities Report More Subjective Cognitive Decline - Medscape - Jul 24, 2019.