A hospital system in Columbus, Ohio, has fired 23 employees — including physicians and nurses — and the chief executive officer is stepping down in the wake of the conclusion of an internal investigation into the deaths of at least 29 critically ill patients from fentanyl overdoses, according to media reports and a company statement issued Thursday.
It is the latest turn of events in a months-long drama that has not yet finished. The system — Mount Carmel — is still embroiled in civil suits relating to the alleged criminal activity of William Husel, DO, who worked as an intensive care physician at Mount Carmel from 2013 until he was fired in December.
According to its statement, Mount Carmel's investigation determined that Husel was involved in the care of 35 patients who may have died as a result of potentially fatal doses of fentanyl, either alone or in combination with hydromorphone or midazolam.
The New York Times reported that the hospital system said that 29 patients most likely died from the overdoses, while the drugs were not likely the cause of death for the other six patients.
Husel is also under criminal investigation and pleaded not guilty on June 5 to 25 counts of murder. The prosecutor only brought charges in cases where patients received 500 micrograms or more of fentanyl, according to a WOSU radio report.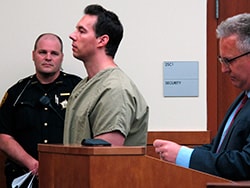 The hospital system initially identified 48 nurses and pharmacists whose actions it reviewed and reported to nursing and pharmacy boards. At that time — in March — the system put 30 employees on administrative leave; 18 no longer worked for Mount Carmel, according to a company statement.
Mount Carmel announced in Thursday's statement that one employee would continue on administrative leave, but that it was firing 23 people, including five physician, nursing, and pharmacy management team members. Eleven others who had been involved in medication administration in some capacity will be allowed to return after completing additional training and education.
Ed Lamb, president and chief executive officer of Mount Carmel Health System, also announced that he would be stepping down July 25, and that Richard Streck, MD, executive vice president and chief clinical officer, would retire in late September.
"This was a difficult decision, but one that is in the best interest of our organization, our colleagues and the people we serve," Lamb said.
He apologized and said the system was "working to provide reasonable settlements with affected families."
Legal Ramifications
Mount Carmel said in an April statement that it had resolved three lawsuits. The hospital has already paid out nearly $4.5 million in settlements, the Associated Press reported.
Mount Carmel Health System said it would not publicly discuss the details of those settlements.
More than 25 families of patients have filed lawsuits against Mount Carmel, the New York Times reported. In late June, local Columbus, Ohio, TV station WBNS reported that 30 wrongful death suits had been filed against the hospital system and Husel.
The Columbus Dispatch reported that Mount Carmel received the first formal report about Husel in October 2018 and that by late November had received a third formal report. The system removed Husel from patient care on that day, and then fired him on December 5. The hospital notified the affected families of its initial findings on December 27.
In the ensuing months, the hospital made changes "to prevent the improper actions that may have led to the deaths of patients under Dr. William Husel's care," Lamb said in a March statement.
Lamb said in the July statement that if accords could not be reached with families, "we will work through the court process."
He added, "While we will continue to be forthcoming on changes we make to our system to strengthen patient safety and quality of care, we will not be able to comment on the legal cases except through the legal forum."
For more news, follow Medscape on Facebook, Twitter, Instagram, and YouTube
Medscape Medical News © 2019

Cite this: Ohio Hospital System Fires 23, CEO Resigns in Wake of OD Deaths - Medscape - Jul 12, 2019.