I really didn't see the death of short-acting beta-agonists (SABAs) coming. Sure, I'd read the SYGMA trials,[1,2] and yes, I was aware of lobbying from the "other side of the pond" (Europe).[3] So I knew there was a trend toward using as-needed inhaled corticosteroid (ICS)/long-acting beta-agonist (LABA) combination therapy in lieu of SABAs.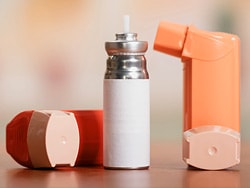 I didn't expect the 2019 Global Initiative for Asthma (GINA) guidelines would recommend as-needed ICS/LABA therapy over SABA as step 1 treatment for mild asthma.[4] This is a major change to the way we've been practicing for many years.
The rationale for the change seems reasonable and is outlined nicely in a piece published in the European Respiratory Journal this year.[3] Unfortunately, I see challenges ahead, particularly for physicians working in the United States.
First, ICS/LABA isn't approved for as-needed use by the US Food and Drug Administration (they only approved it as a maintenance medication). Second, almost all data on as-needed ICS/LABA for asthma come from a dry-powder inhaler (DPI) formulation of budesonide/formoterol that isn't available in the United States.[5] (Only the oral inhalation dosage form is approved for use in the United States.) This is problematic, because all LABAs are not the same.
Formoterol is thought to be rapid-onset (as far as LABAs go), and the immediate symptomatic response that comes with it is considered key to compliance. Simply switching to an alternative ICS/LABA may not produce the same outcomes. The GINA guidelines suggest that SABA can be used instead of formoterol (or other LABA) when administering ICS as needed, but currently there are no ICS/SABA preparations available. That means carrying two different inhalers, with potentially different designs. Again, this hurts the compliance argument inherent to switching to ICS/LABA as step 1 therapy for mild asthma.
Another issue was brought to light in a paper published this month in the New England Journal of Medicine.[6] In a study aimed to compare ICS with a long-acting muscarinic antagonist for patients with mild asthma and high versus low sputum eosinophils, the authors found:
76% of the patients had noneosinophilic asthma (NEA), and

ICS didn't do much, compared with placebo, for patients with NEA.
A 76% prevalence is higher than that seen in other studies.[7] Still, these results suggest that a substantial portion of patients won't benefit from the "ICS for everybody" approach being advocated by GINA 2019.
Do We Stick to the Old or Go With the New?
Where do we go from here? The National Heart, Lung, and Blood Institute is updating its asthma guidelines (last published in 2007). Given that they're a US-based organization, it'll be interesting to see what they recommend for step 1 therapy. Until then, US physicians can prescribe as needed ICS/LABA (other than budesonide/formoterol DPI) therapy and hope they get good results. Or, they can tell their patients to use ICS monotherapy anytime they're using a SABA.
As for targeting patients on the basis of sputum eosinophils, forget it. At this time, it's not at all practical for general practitioners (who will manage the majority of patients with mild asthma) to obtain sputum eosinophils.[8] In reality, it's not practical for most specialists either. Serum eosinophils can easily be measured and have moderate correlation with sputum,[6,7] and that's as much biomarker targeting as can be done at this time.
Follow Medscape on Facebook, Twitter, Instagram, and YouTube
Medscape Critical Care © 2019 WebMD, LLC

Any views expressed above are the author's own and do not necessarily reflect the views of WebMD or Medscape.
Cite this: Aaron B. Holley. The Demise of Short-Acting Beta-Agonist Therapy - Medscape - Jul 11, 2019.