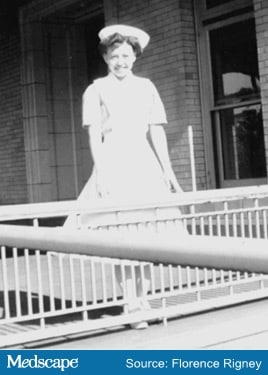 Florence "See See" Rigney graduated in 1946 from the nursing program at Tacoma General Hospital, in Washington, where she still works 2 days a week at age 94. The secret to her long career?
"I keep telling people it's my Polish heritage," Rigney said with a laugh, "I don't know. I just keep going." Indeed, Rigney said her Fitbit routinely clocks her as walking 2-3 miles a day when she is working. Keeping active is See See's secret weapon.
Rigney has spent much of her long nursing career in the surgical setting. These days, her responsibilities include setting up the operating room and getting patients ready for surgery.
Believed to be the oldest nurse still practicing in the United States, Rigney has seen major changes take place in the field of surgery. Increasingly sophisticated techniques now allow for quicker recovery and a shorter hospital stay, she explained. "When I started as an operating room nurse, procedures took a lot longer, and patients were hospitalized for a week to 10 days," Rigney said. "Now many patients go home the same day, even after relatively big procedures."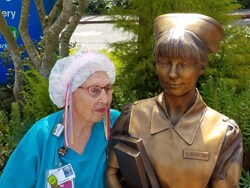 Rigney also has seen the profession of nursing grow in stature during her seven decades in the field. "Nurses have more say-so in giving information and ideas to our managers," Rigney said. "Back in the days when I was just starting out, you did as you were told."

Rigney stressed the need to be aware of how much new nurses have to learn. Laughing, she recalled the misplaced confidence she felt early in her nursing career. "When I was a student, I was working in the operating room with several other students from my class. We really thought we knew it all, but our nursing supervisor took us aside and made it clear how little we really knew."
It's something that never stops in nursing, said Rigney. "You are learning constantly, every day."
Rigney thinks the seed to pursue a nursing career was planted when she underwent a couple of surgeries as a child. "I was 6 years old," she recalled. "Maybe the nurses impressed me in some way." She said she briefly considered a teaching career but was strongly drawn to nursing. "I would rather take care of people. I'm kind of the nurturing type."
Her advice for men and women who are considering a career in nursing is simple: "People really have to deeply want to go into nursing. You treat your patients as you would want to be treated."
In recent years, when her May birthday rolls around, Rigney is often interviewed by local television stations and news outlets. Her long career as a nurse drew public attention when her colleagues at the hospital held a 90th birthday party for her.
"One of my coworkers made a video at the party and posted it on Facebook. That's how it all started. I don't do Facebook, but my granddaughter said, "Grandma, you've gone viral."
Florence's 'Unretirement'
Rigney retired briefly from nursing in 1990, but she came back to work within 6 months. Her motivation was at least partly financial because her retirement income "wasn't all that great." So she decided to return to work a couple of days a week.
Rigney's "unretirement" reflects a trend that's been seen among older workers, and among nurses in particular.
Many older workers report that earning money is the main inducement for delaying retirement or even seeking new jobs, according to Jennifer Schramm, senior strategic policy advisor with the AARP Public Policy Institute. In a recent study, 87% of adults said that continuing to generate income was an important reason to work past the conventional retirement age of 65 years.
Similar to Rigney, older nurses who stay in the workforce face the same challenges as their peers, including the need to continually expand and maintain their skills. In her 80s, Rigney had to adapt to the demands of electronic health records as they replaced paper charts.
"I'm not a whiz on the computer—I'll be the first one to tell you that. But I do try to keep up with my computer skills," she said, with a complaint heard frequently from healthcare professionals of all ages. "Every time you learn it, they change the program."
Rigney also faces a common challenge for nurses permanently employed by hospitals: the shortage of nurses. Rigney often has to help temporary staff, including traveling nurses who are assigned to the hospital for a few months only, to adapt to how things are done at Tacoma General.
Rigney worked initially at Tacoma General after graduating from the hospital's nursing program and then went to work in a doctor's office for about 4 years. She married during these years, and her husband, who was in the Air Force Reserve, went into active duty during the Korean War. She accompanied him to military assignments in Atlanta, Georgia; San Antonio, Texas; and Cheyenne, Wyoming.
"I stopped working when our children were young. When they got to high school I went back to work a few days a week. I worked, I retired, and then I came back again. And here I am."
When she takes time off, Rigney said she enjoys taking trips. She plans this fall to visit a former colleague from Tacoma General who now lives in Evansville, Indiana, with whom she has remained friends over the decades.
"Have bag, will travel," said Rigney.
Medscape Nurses © 2019 WebMD, LLC

Any views expressed above are the author's own and do not necessarily reflect the views of WebMD or Medscape.
Cite this: A Nonagenarian Nurse: The Secret to Florence Rigney's Long Career - Medscape - Jul 10, 2019.