Editor's Note: This article was adapted and updated from the Physician Business Academy course "Finding the Right Physician Job" by Koushik Shaw, MD. Additional reporting by Gail G. Weiss.
Networking is the heart of your job search. It will help you find potential jobs that aren't yet listed, and it can increase your chances of getting an interview. To find the best possible job, you need to reach out to many sources with the hope that at least some of them can point you to job possibilities and help you determine whether potential employers are a good fit.
Networking involves getting in touch with friends and colleagues, making new contacts, consulting job lists, using social media, attending meetings, and even reaching out to employers with whom you have no previous ties.
"Active networking has many advantages for all job hunters, but perhaps especially for new physicians just leaving training, or for physicians in jobs or specialties that don't involve a lot of natural interaction with colleagues in other job settings," says Laurie Morgan, MBA, senior consultant and partner with the practice management consulting firm Capko & Morgan.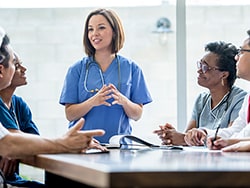 She adds, "As you build your network, you might learn about job opportunities before they're advertised. Or you might learn about a practice that needs part-time or moonlighting help, which can be a way to pay off student loans quickly, learn about a practice you might eventually join full time, or both."
4 Tips to Get Started
Have clear objectives. Make a checklist of your preferred job requirements, starting with size and type of practice, compensation model, location, and type of community. Update this checklist as you adjust your goals during the search.
Open a new email account. It's advisable to have an email account just for your job search. Separating job-related emails from personal and work accounts will simplify your life. Your job email username should sound professional; avoid "fun" names you might use for personal accounts.
Prepare a set of questions. Responses to job inquiries may roll in at any time, so it's a good idea to prepare a set of questions you can ask prospective employers during an initial call or email exchange.
According to Morgan, "Questions are an important way to show you are taking the process seriously." She suggests asking about:
The practice in general—the patient population, relationships with other practices and hospitals, what systems are in place, practice history, practice structure, special initiatives (eg, clinical trials), and call schedules.

Your role as a new physician in the practice. How does the practice market new physicians? What type of clinical staff support is offered? What type of reports and other information are available to help doctors meet productivity goals? How quickly does a new hire typically reach expected productivity?

Questions that demonstrate interest and show you've done your research: "I see you're participating in the [insert name] clinical trial. How do new physician staff members get involved?" or "Your practice has a lively online presence. Are new physicians able or expected to contribute articles or ideas?"
Even asking "What is a typical day like?" can be helpful, Morgan notes.
Medscape Business of Medicine © 2019 WebMD, LLC

Any views expressed above are the author's own and do not necessarily reflect the views of WebMD or Medscape.
Cite this: Koushik Shaw. Reaching Potential Employers: Effective Networking Tips - Medscape - Jun 28, 2019.