Editor's Note: This article was adapted and updated from the Physician Business Academy course "Finding the Right Physician Job" by Koushik Shaw, MD. Additional reporting by Gail G. Weiss.
Recruiters typically have a broader knowledge of available jobs than many physicians do. Although some recruiters may send you multiple emails and bombard you with job possibilities that don't quite fit, the right recruiters can be very helpful in your job search.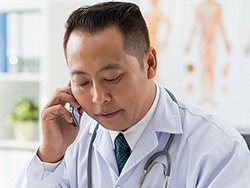 "The main reason to work with a recruiter is efficiency," says Tracy Zweig, president and chief executive officer of Tracy Zweig Associates, Inc., a California-based physician placement firm. "Recruiters often have direct contact with the hiring entity and will pave the way to introductions, interview arrangements, and contract negotiations."
The term "recruiter" refers to two very different kinds of services. Both categories of recruiter are paid by the employer and not by you.
Physician search firms encompass independent companies of all sizes—from small businesses to publicly traded companies—and contract with different employers. They can help you find job openings by consulting a variety of lists, including their own.
In-house physician recruiters work for a particular employer, such as a hospital or other large medical organization. Contact them if you're interested in that employer and want more information about the job, organization, and community. Unlike search firms, in-house recruiters cannot find you jobs outside their institutions.
Another differentiating factor among search firms refers to how they are paid. Retained firms are paid on the basis of the time they spend helping you. Contingent firms are paid only if you take a position. Some physicians feel that contingent firms may try to pressure clients into taking a job because otherwise they don't get paid.
According to Zweig, "An ethical and professional firm will not exert pressure. Physicians who feel they are being pressured should take a step back and examine their relationship with the recruiting firm."
How Effective Are Recruiters?
Recruiters are one of the most widely used methods for finding physician jobs, but they are not necessarily considered the most effective. Some job seekers maintain that the best way to find a job is through word of mouth. Zweig, who characterizes networking as "one technique among many," notes that "many jobs are found and filled this way."
In a 2013 survey of former job seekers, almost two-thirds of respondents cited recruiters as the number one source they used when looking for jobs.[1] However, in a 2011 survey of former job seekers by the New England Journal of Medicine CareerCenter, 79% of respondents cited personal references as "very useful."[2] Respondents to the latter survey also markedly preferred in-house recruiters to search firms, with 40% citing in-house recruiters as "very useful" versus 28% for physician search firms.
Why the large gap? Physicians judge search firms by the number of high-quality job openings they can find, but the entire universe of job listings available to search firms—their own leads, leads from other search firms, and other posted positions—has been estimated to be no more than 20% of available physician jobs. The rest of the jobs can only be found through word of mouth. A search firm may root out some of these leads, but it will miss many of them.
In-house recruiters, on the other hand, are judged by how much they can help physicians with positions they already know about. Their job is to provide more information about the position, employer, and community, such as referral patterns and the real estate market.
It pays to do as much research as possible and determine how recruiters want to be contacted. "In-house recruiters will show on their website how they want to be contacted," says Zweig. "If they say call, call. If they say submit a CV via email, do that. Respect their requested method and follow through in that way."
Medscape Business of Medicine © 2019 WebMD, LLC

Any views expressed above are the author's own and do not necessarily reflect the views of WebMD or Medscape.
Cite this: Koushik Shaw. Working With Recruiters: How to Get the Best Results - Medscape - Jun 14, 2019.